Last year, we got to experience a brand-new addition to the Cadillac Fairview holiday celebrations, called the Magic Gift Workshop. We went as a family to check it out at CF Carrefour Laval shopping mall. To check out our first experience, you can click here.
My boys loved the Magic Gift Workshop so much that when we started talking about Christmas, it came up. One of my boys said one of his best memories last year was with "the fluffy guys in the box". What he was referring to are the Tufties; the little fluffy characters inside the Magic Gift Workshop that are hard at work wrapping your presents.
And that is what it is – a unit has been built to go into with your family and what the Tufties wrap your gift! That's right. If you show up to one of their two locations (CF Carrefour Laval and CF Promenades St-Bruno) with your holiday presents, they will get magically wrapped!
I've mentioned before that I'm not a big fan of the store Santas. And while I can appreciate some families love that, I think this is an awesome alternative. And this might sound strange, but it's a moment inside the shopping mall during the busiest time of the year where you are quiet and alone with your children, enjoying something to cute. And when you get out, your presents are ready and wrapped!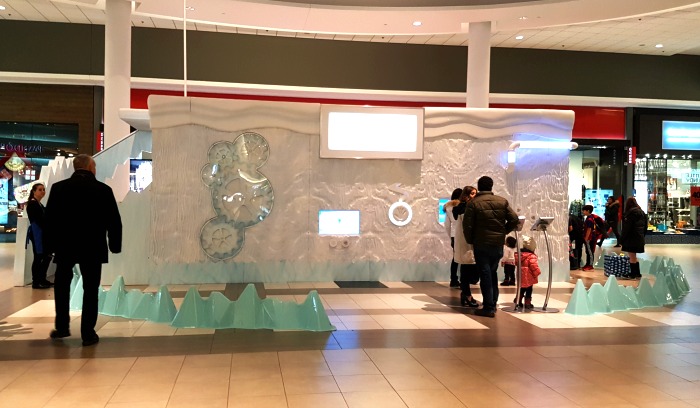 This year, I returned to CF Carrefour Laval with the boys and we bought Papa MOE a Christmas gift while he wasn't with us. It was a perfect opportunity for the boys to have fun while thinking of their father for Christmas.
Here is our experience:
LIVE on #Periscope: At @CFCarrefour for the #MagicGiftWorshop ! #Tufties https://t.co/AT7GLXMv7c

— Julia a.k.a.Mama MOE (@AskMamaMOE) November 29, 2016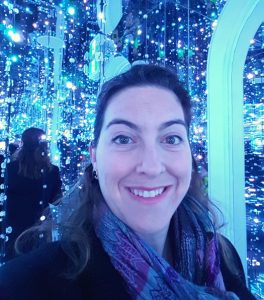 The actual workshop hasn't changed much. But there are new Tuftie characters and each one has a unique personality. My boys enjoyed the engineer the best. My favourite was the ninja! Inside, the final room where the present is waiting for you has changed. Now it's really festive with lights and mirrors all around! It's also a great place to take a selfie. 😉
New features surrounding the Magic Gift Workshop include:
a free mobile app (Android and iOS) with games for all ages. What I loved about this app was that it was very kid-friendly and visibly safe for children with messages prior to playing for parents.
"Users can climb the peaks of Snowy Mountain, dig through the depths of the Icy Cave or explore the winding paths of the Frozen Maze to find 'Holiday Magic' by activating the augmented reality portal on their device and identifying game markers located throughout all local CF shopping centres." Here is the link to the app: The Tufties Magic Gift App
this really sweet video that is available on location, online and will be played at select movie theatres before movies.
the Tufties Gift Wrapping Academy (will place link in name). Kids can play with the Tufties online. We tried it out and it's cute too – children can practice their dexterity and accuracy by "wrapping" the gift with the Tufties watching.
Now that the holiday season is full swing, I would suggest making an appointment for your Magic Gift Workshop experience. You can do so online by visiting the CF Carrefour Laval site here and the CF Promenades St-Bruno site here .
Disclaimer: I was compensated for this post by CF. All opinions are honest and my own.