The wait is over! My boys were excited to see the new Disney movie, Jungle Cruise when it was just a concept. Finally, the movie is out! We were fortunate to see a pre-screening at home. This review, as always, has no spoilers and it is our personal opinions of the movie. If you are looking to find out if this is suitable for your family and worth spending the Premier Access on, read on.
The Jungle Cruise movie is inspired by the original Disneyland ride. This classic ride is something we never miss when we visit Walt Disney World, not only because of the ride and the fun twists and turns with wild animal animatronics, but because no matter what skipper we get as our guide along the cruise, they have the best character with jokes that young kids would call cringe-worthy. I personally think it's hilarious and I try to catch each corny pun as we go along the ride.
When we first saw the trailer for the Jungle Cruise movie, we already knew it was going to be a thrilling adventure.
Join fan favourites Dwayne Johnson and Emily Blunt for the adventure of a lifetime on Disney's "Jungle Cruise," a rollicking thrill-ride down the Amazon with wisecracking skipper Frank Wolff and intrepid researcher Dr. Lily Houghton. Lily travels from London, England to the Amazon jungle and enlists Frank's questionable services to guide her downriver on La Quila—his ramshackle-but-charming boat. Lily is determined to uncover an ancient tree with unparalleled healing abilities—possessing the power to change the future of medicine. Thrust on this epic quest together, the unlikely duo encounters innumerable dangers and supernatural forces, all lurking in the deceptive beauty of the lush rainforest. But as the secrets of the lost tree unfold, the stakes reach even higher for Lily and Frank and their fate— and mankind's—hangs in the balance.
Have a look:
The film is directed by Jaume Collet-Serra and stars Emily Blunt, Dwayne Johnson, Edgar Ramírez and Jack Whitehall, with Jesse Plemons, and Paul Giamatti. The producers are John Davis and John Fox of Davis Entertainment; Dwayne Johnson, Hiram Garcia and Dany Garcia of Seven Bucks Productions; and Beau Flynn of Flynn Picture Co., with Scott Sheldon and Doug Merrifield serving as executive producers. The story is by John Norville & Josh Goldstein and  Glenn Ficarra & John Requa, and the screenplay is by Michael Green and Glenn Ficarra & John Requa. 
Is this film for young children?
Without giving anything away about the movie itself, if you are wondering if this movie is too scary for your young children, I would have to say yes. As you can see in the trailer, there are super-scary characters that show themselves within the jungle cruise adventure. Filled with skulls, snakes, darts, guns and even a torpedo, there are many scary elements to the film. The original storyline and cinematic effects are on the same playing field as the Pirates of the Caribbean film collection. As always, you know your children better than anyone. If you know they loved Captain Jack Sparrow and his pretty scary pirate adventures, then your children will love this film. If, however, those films scarred them, this is not the film for them just yet. I think this is a perfect film for tweens and teens that love action and adventure movies. There are tons of amazing special effects, great humor and the adventure story is new and exciting.
Speaking of the characters
I really loved Emily Blunt in this film. I haven't seen her in any film that really drew me to her (sorry, even Mary Poppins Returns), but in this film, she is perfection. I loved the strong female lead, and the defiant and confident woman she portrays in this film as Dr. Lily Houghton, set in 1916. During this time, women were not viewed as adventurers or even capable of anything. Blunt comes into this role as a female Indiana Jones and I love that in the film, and I love it for young boys and girls watching this film.
Dwayne, the Rock, Johnson is not the typical build of a skipper you would see on the Jungle Cruise ride and that is what makes this funny in my opinion. He is strong, funny and devious in his portrayal of skipper, Frank Wolff. Without giving anything away, I want to draw your attention to find the scenes where the Rock was able to show off his WWE moves. My boys spotted it right away and we loved it.
Comedian and actor, Jack Whitehall, plays Lily's brother, and his performance brings another comedic and dramatic aspect to the film. I've been a fan of Whitehall for years and it was wonderful to see him in this role.
Is this movie all it's hyped up to be?
This movie was created out of the 1955 attraction adventure! I mean, if you think about that, this movie had a lot to live up to. Fans all over the world have adventured on the Jungle Cruise ride in various Disney theme parks so this was a theme and story that had to be as fun, funny and innovative as the ride that opened over 50 years ago! Well, I can honestly say this movie was all those things. While I know this isn't the first movie created out of a ride, I have a feeling it won't be the last. The way that cinematics and storytellers imagined this film is very impressive. And without giving anything away, we LOVED the plot twist. This is a movie worth your time, money and you will really enjoy it.
Of course, the first thing my boys asked after the film was finished was "do you think they will add some of these ideas into the Jungle Cruise ride at Disney parks?". Knowing Disney, my guess is they are already thinking way ahead of that! It will be fun to see if they do.
If you are a star fan and love to see actors at their premieres, I wanted to let you know that Walt Disney Studios had this premiere filmed live for audiences at home. Here is the link: https://youtu.be/xKF7FsISj_w
And finally, if you are watching the new series Behind the Attraction (we are loving it!), stay tuned for episode 8 which is the story behind the Jungle Cruise ride. I loved learning just why and how this attraction was created. Watching Walt Disney in old films getting this ride up and running is fascinating. This series is so much fun! We love seeing the making of things and this is exactly what this series is all about – tons of insights, facts and problems that were faced when making the most amazing rides we all know and love.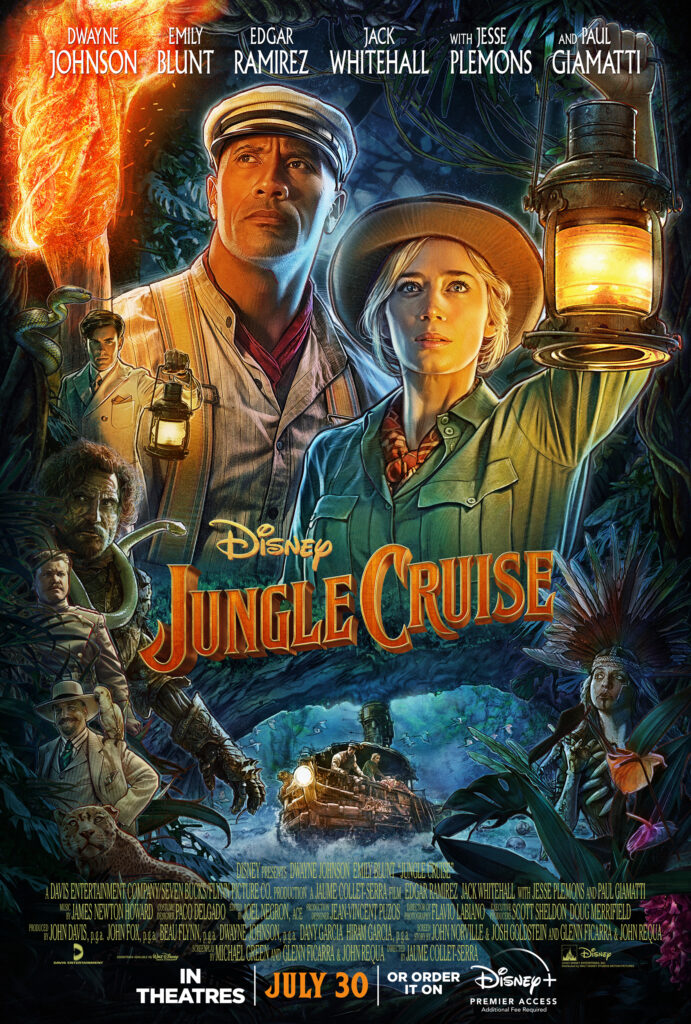 Disney's Jungle Cruise is now in theatres and on Disney+ with Premier Access.
To follow along:
Website and Mobile site: Disney.com/JungleCruise
Facebook: @WaltDisneyStudiosCanada, @DisneyPlusCA
Twitter: @DisneyStudiosCA, @DisneyPlusCA 
Instagram: @disneystudioscanada, @disneyplusca
Disclosure: I was invited to pre-screen this film to facilitate this review. All opinions are honest and my own.