If you have been reading my blog over the years, you know my family and I like a good board game. I've always enjoyed board games. I used to play them with my sister and parents when I was younger. I remember having a weekend long game of Monopoly going on the coffee table in the living room at my grandfather's cottage. And whenever we went away for a vacation, we always brought along at least one board game.
As a young child and early teen, it was a special time with my family, full of fun and bonding. As a parent, I can see it is a fantastic way to connect with your children, create a better understanding of team playing, good sportsmanship and all around patience.
So when Hasbro Canada approached me on this fun idea, I was more than excited to share it with YOU.
Right now (until August 31st), if you go into any Toy R Us with your Monopoly money, you can use it at the cash to receive 20% off Hasbro games! How cool is that?!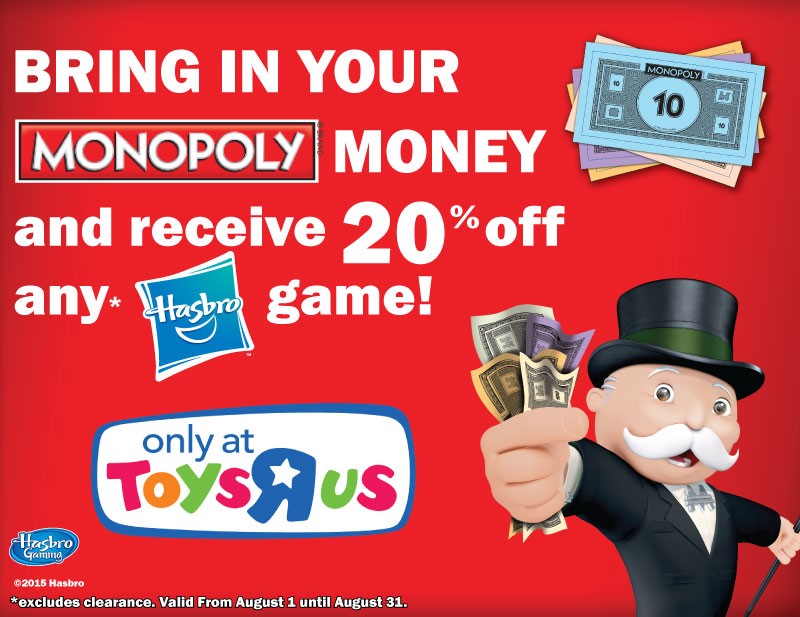 It's kind of every kids dream really, to be able to walk into a store a use Monopoly money as REAL money, right?!
It's the perfect time to pick up early birthday presents, or build up your own library of games for family game nights. And speaking of building up your game library…
Giveaway!
This is so great! Hasbro Canada is offering one lucky Ask Mama MOE reader an amazing package of classic Hasbro games! What does that include? I'll tell you: Monopoly, Scrabble, Game of Life, Trouble and Twister! I love it!
To enter, simply follow the instructions in the Rafflecopter below. This giveaway is open to Canadian residents only. Deadline to enter is September 4th, 11:59pm. Good luck to all!