What is Cinco de Mayo?
Cinco de Mayo is a celebration of Mexican heritage. The 5th of May celebration originates from the The Battle of Puebla in 1862 where Mexico defeated France.  The day has become a symbol of Mexican resistance, and became an inspirational celebration in the US during the Civil War. In fact, now Cinco de Mayo is celebrated more in the US and Canada than in Mexico. In areas of large Amercian-Mexican populations, Cinco de Mayo includes all sorts of celebrations of culture and heritage.
Celebrating at Home
Our family is not Mexican, however, my children are learning Spanish at school. So I thought it would be a fun way to extend their learning at home, by having a little celebration of our own. We will be celebrating a day early since #SFTH2015 is actually on the 5th!
Some Music
One great Spanish music album for children that I can suggest is: Mi Guitarri by Joel Valle
We ordered it online and my kids love it. The singer is articulate and the songs are fun and easy to sing along to.
Getting Crafty
After setting the tone with music, some decorations will make your celebration much more festive. My favourite craft that I found, was Cinco de Mayo paper flowers. I remember when I was young, my parents bought these for us when we were on a vacation (I think maybe Disney World) and I cherished it for years! So I'm reliving my youth and making these fabulous flowers for my children as a surprise for Cinco de Mayo.
I didn't think this would be a very hard craft…when I started. But I did not find one complete how-to video or post explaining everything to do from start to finish. So after some trial and error, here are some key points on how to make a large tissue paper flower, with a stem.
What you will need:
Many sheets of large, coloured tissue paper
Thin, bendable wire or a twist tie
Floral tape
Scissors
Wire cutters
A long stick for the stem (I chose 36 inch long sticks)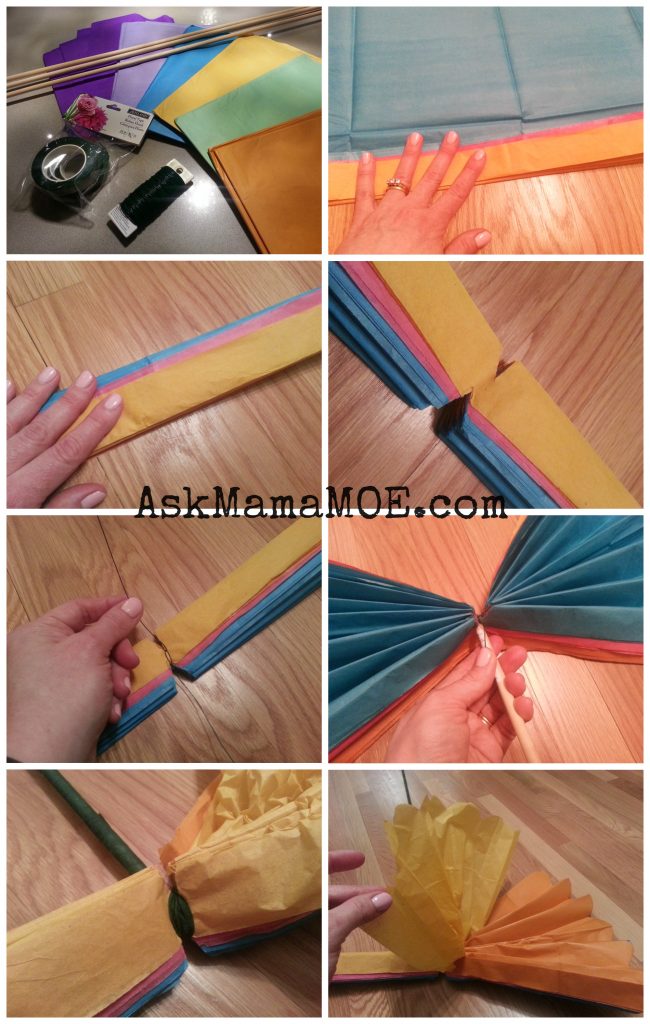 What to do:
Choose the colours of your tissues, and whatever colour you want in the center should be placed down first
Lay all the tissues down together, one on top of the other, 8-12 sheets is a good number
Fold the tissues together, accordion-style, back and forth
Bend the folded tissue in half to find the middle, then cut the tissue a bit on either side
Tie your wire in the middle, then cut the end of both sides of the tissue into a semi circle (to look like petals)
Take your stick, and hold the wire down on the stick, and begin to wrap the wire to the stick with floral tape
Wrap the tape all the way down the stick, to create the green stem
Now, take each piece of tissue and delicately separate from the fold
A little more placing/gathering, and you will have a beautiful tissue paper flower on a stem!
Tips:
don't give up with tissue rips, just cut the ripped pieces to look like a smaller petal
use the floral tape to wrap the center of the tissue to the stick for added support
if you want your tissue flowers to not droop down like mine, gather a bit of the tissue and tape it to the top of the stick (I like mine like this, though)
Want More Ideas?
I teamed up with two of my wonderful blogger friends to give you more ideas for Cinco de Mayo! Visit MontrealMom.com to discover her delicious watermelon granita and PositivelyPatty.com for a thirst-quenching pina colada.
Giveaway!!
You know what this party needs now, don't you? FOOD!
My family and I got to try the Quesada Home Edition – a full taco kit for a large family. It says it is a meal for four, but we had leftovers and we are five in the home. What I love about the Home Edition, is all the prep work for taco night is done for you. The meal is delicious, and I feel good giving it to my family since it is a healthy alternative to takeout. Quesada makes all their salsa and sauce from scratch on site – and you can taste the freshness when you dive into this meal. For more details on the Home Edition, you can visit my review post here.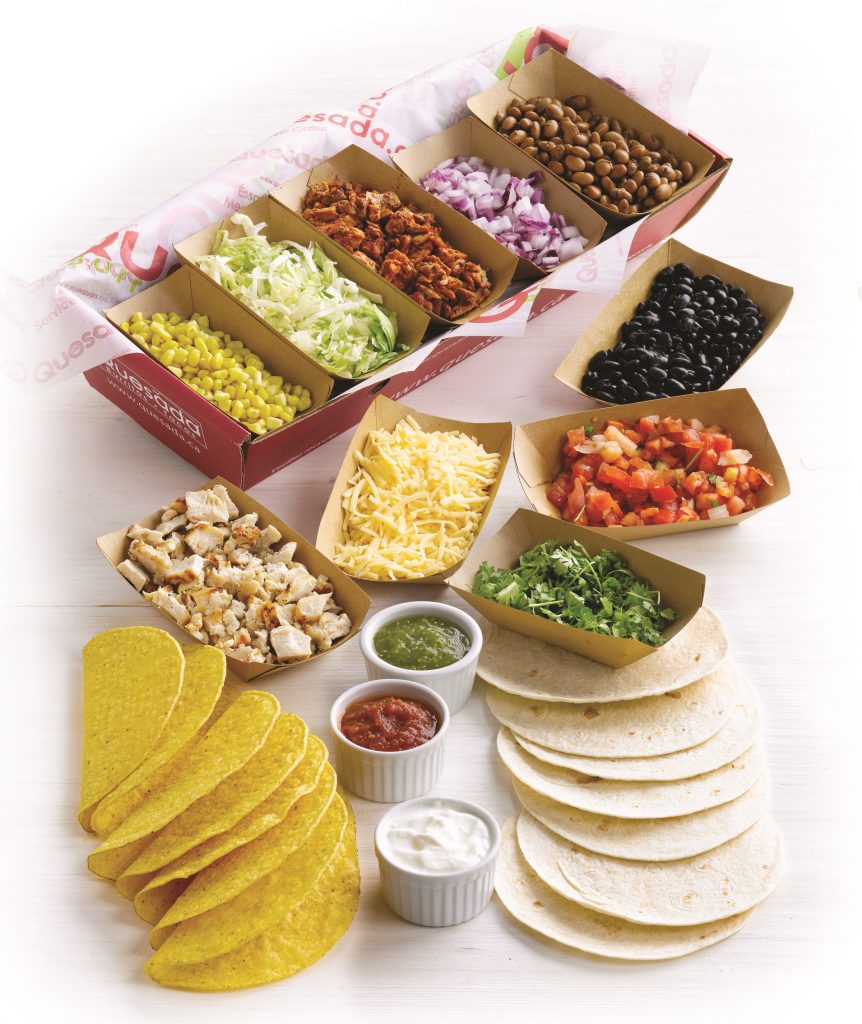 Quesada wants you to celebrate Cinco de Mayo by offering one lucky reader a Home Edition!
To enter, fill out the Rafflecopter form below. This giveaway is open to Canadian residents only. Good luck to all!
For more ways to win, visit MontrealMom and PositivelyPatty too!
Disclosure: I was compensated by Quesada for this giveaway. All opinions, as always are honest and my own.
Any litigation respecting the conduct or organization of a publicity contest may be submitted to the Régie des alcools, des courses et des jeux for a ruling. Any litigation respecting the awarding of a prize may be submitted to the Régie only for the purpose of helping the parties reach a settlement.