When it comes to Valentine's Day I only think of a few places to go for sweet and thoughtful gifts for my loved ones. Hallmark is always at the top of my list.
That's why I am thrilled to be a #LoveHallmarkCA blogger for a second year. It gave me such pleasure sharing the Hallmark love with you in my posts, doing giveaways and gifting things to my friends and family. I have been a loyal Hallmark customer for years and I am so happy to be participating with the brand in this way.
So much gushing! I guess it's the fact that it's almost Valentine's Day. Can you feel it? The smoochy, lovey-dovey emotions of everything that is being shared lately? The music, the social shares of love stories, it's all wrapped around Valentine's Day.
Here are some of my Hallmark favourites available this season:
Did you know this year marks the anniversary of Lady and the Tramp? Yes, that's right, 65 years ago, this movie hit the big screen! (I know, that's crazy).
In celebration of this, I thought a perfect giveaway would be the Lady and the Tramp book, bound in a beautiful limited edition hardcover, Valentine's Day inspired, of course! It will be a wonderful addition to your children's library, and one you will cherish always.
To enter, simply fill out the Rafflecopter form below and be sure to comment with a love note to your sweetheart!
Happy Valentine's Day and I hope your day is filled with lots of 'love-ly' moments!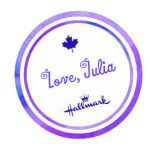 Disclosure: As a #LoveHallmarkCA blogger, I was compensated with products for review. All opinions (as gushy as they are) are honest and my own. 🙂