More than ever, my heart, my mind and my thoughts are with travelling. I recently read this quote:
The world is a book and those who do not travel read only one page. – Augustine of Hippo
How perfect is this?
Graduating from school is a big step in any young person's life. I suppose most college grads envision travelling somewhere abroad as their celebration for finishing their degree. Perhaps that is their first of many adventures in travel. But I would like to think that now more than ever, people are traveling the world much more. When we wait for our flights at the airport, I see young families ready to embark on their travels, and after attending WITS18, I am certain of it; for many, travelling is a way of life.
Parenting and Travelling
Parents are seeing how important it is to show the world to their children, even at a young age. It is most certainly more accessible now than it was even 20 years ago.
But even when it was not obvious, my parents packed us in the artificial wood-paneled station wagon and filled our led weight ocean blue cooler with sandwiches and drinks that sat in between my sister and I, and we drove some 30 hours to Florida with stops along the way in Washington to see the Smithsonian museums. We saw the world and I knew I would do the same when I was older.
If you have read my about page, you know that my husband and I lived in Italy for a few years after getting married in Montreal. We explored many local towns, other countries and visited so many amazing places in a short period of time. Our weekends were filled with adventures. We made the most of our time there be experiencing the culture of Italy. In our minds, we knew we wanted to return home to Montreal to raise a family for many reasons, but we also knew we would take our family to explore the world together one day.
Since our boys were just months old, my husband and I have been travelling with them like we knew we would. When they were younger, it was mostly to visit family, although, family was in Europe, so it wasn't around the corner for us.
And now, a few years ago, we began exploring further, taking week-long road trips to experience something new. Seeing travel treasures with them has been amazing. They see things differently, they have more questions, they love deeply and express it immediately. It's fascinating to see the world through the eyes of a child.
Celebrating Explorations with Hallmark
Hallmark gets it. They know that we are off to see the world and they sent me things to celebrate that. This is, by far, my favourite of all the items: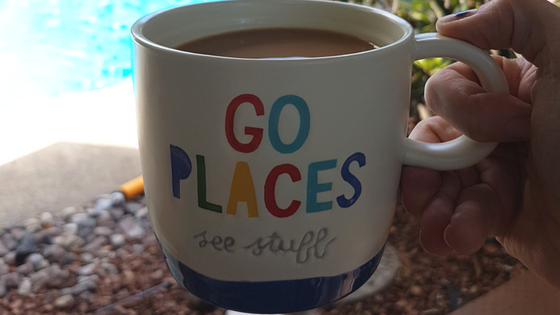 I have been using it all the time, making a coffee and sipping it while I write. It inspires me, almost like a vision board on a mug! I see these simple words and imagine where to go next with my family. Whether is means flying to an exotic destination or visiting a local museum, there is so much to discover as a family. I also really love the She Believed She Could book, and I'm sharing quotes in the book on social. They are simple and inspirational, and you can sand it up and have one quote to look at each day. I honestly wish I could give this mug to each and every one of you! We could use it a personal motto for all of us mamas.
Giveaway!
Well, one of you will be receiving this mug, thanks to Hallmark Canada. For the rest of you, go out and get it! Not only is it a beautiful little saying to see every day, it is the perfect size mug!
To enter, leave a comment in the Rafflecopter telling me where you would like to go to next in your family travels.
This giveaway is open to Canadian residents only and the deadline to enter is July 16th, 2018. 11:59pm. Good luck to all!