If you happen to be one of the over one million users on the new(ish) platform, Periscope, you might have caught my giveaway announcement last night.
I'm so new to Periscope but I am giving it a shot, and I thought declaring how proud I am at being a Hallmark Canada Ambassador was a good reason to scope. Be sure to check me out over there for more 'chats with Mama MOE'.
Halloween is ridiculously close and I have tons of posts I want to do for this fun holiday (as usual) but this one is front and center. Halloween and Hallmark Canada really do go hand in hand. When I pull out my boxes (yes, boxes) of Halloween decorations, I would have to say 89% of what's inside comes from Hallmark!
To prove it, here is a collection of singing creatures I have collected over the years. They are all so cute and my kids look forward to taking them out each year, adding batteries, and watching them sing and dance.
The newest little guy to join the group is Roary the Candy Monster. He sings a Halloween kid-friendly version of "I Want Candy". My boys really love him. Roary can be yours for $17.95 with the purchase of three Hallmark cards (regularly $32.95). It's a perfect time to stock up on some sweet cards and get this little guy.
Here are some other gift ideas for young and young-at-heart friends this Halloween:
If you don't have a good and sturdy trick-or-treat bag for the kids, the fabric bags at Hallmark are a good size and are only $4.95 each. I was sent the black cat fabric bag (above), but Roary is on the other choice of bag. What I like is that they are treated and I think they will be good for bad weather (as are most Halloweens here in Montreal).
I think out of the Hallmark Halloween haul this season, these two have to be my favourite:
My boys are big into Scooby-Doo right now and I know they are going to love these itty bittys! I am kind of in love with itty bittys and always find a reason to get another one. And for just $6.96 each, they are great to add onto a birthday present on the outside of a gift bag.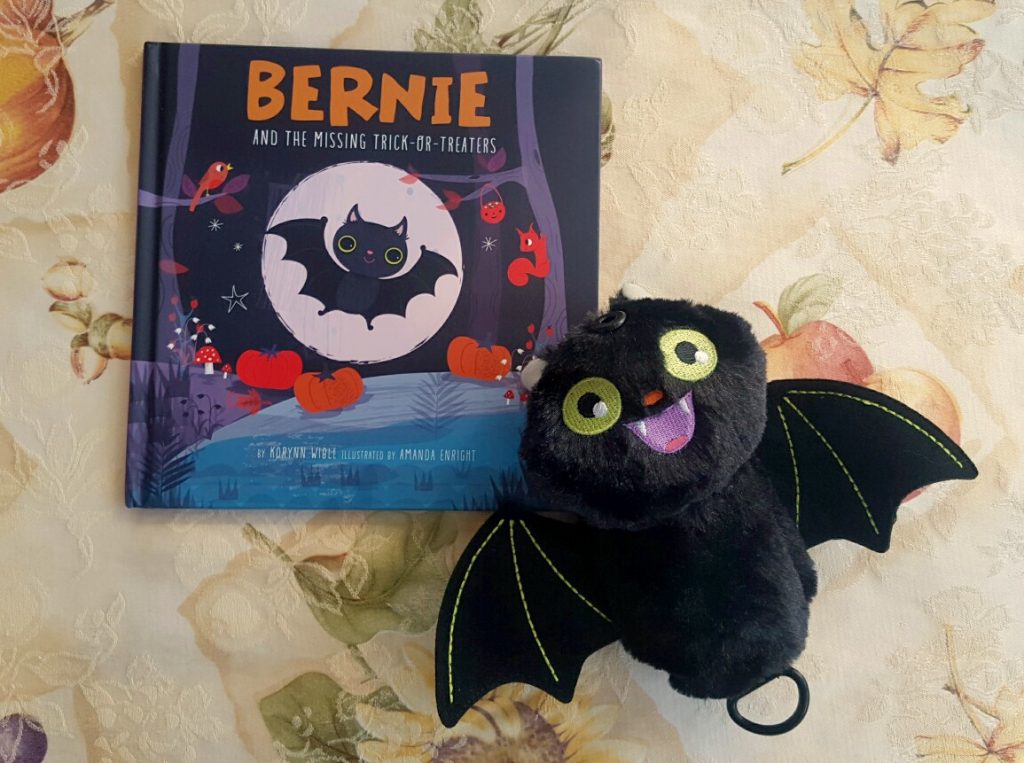 I always like getting a Halloween story to add to our library for the kids and this year, I have Bernie and the Missing Trick-or-Treaters from Hallmark. It's a cute tale about spreading happiness for Halloween ($9.95). And to add to that, there is the Drop 'n' Greet Bernie the Bat! I cannot wait to get this hung up on Halloween night and see the reactions of the kids at the door!
Bernie hangs upside down and has a sensor, so once a person is underneath, the bat drops down and talks in a cute vampire voice! Once it's done, it climbs back up for the next trick-or-treater! This is going to be a hit at our house. Bernie is available for $14.95 with any purchase (regularly $19.95).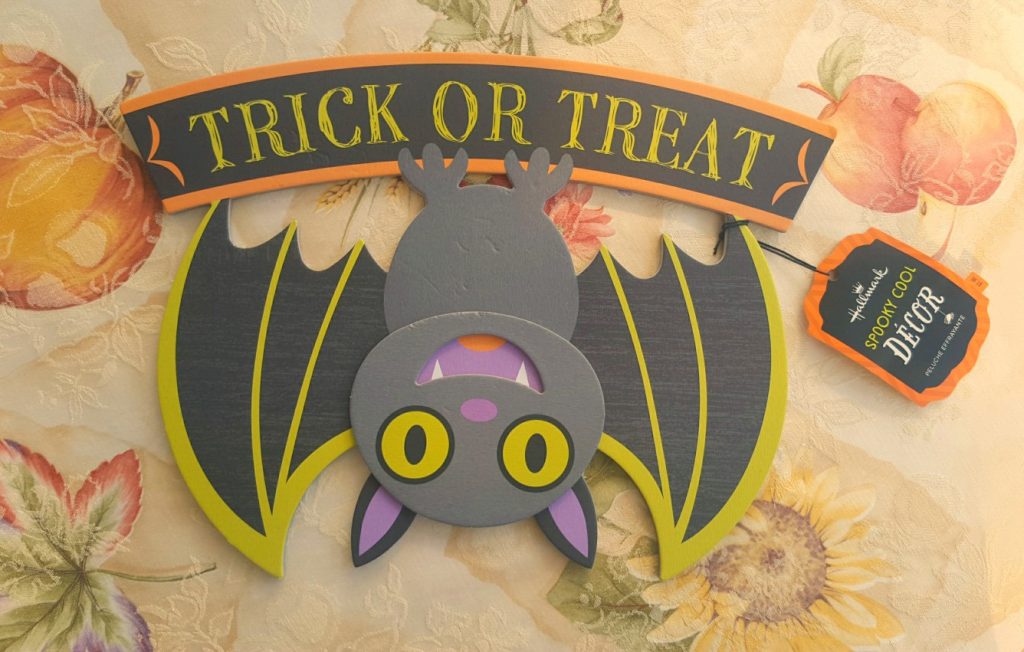 Giveaway!
Hallmark has offered me a Back-to-Basic Door Décor to give away to one lucky reader. There are two versions; one of Bernie the Bat and the other is a BOO sign. Both are really cute and will add a little fun to your Halloween home decorating.
To enter, simply fill out the Rafflecopter form below. The giveaway ends October 26th at 11:59pm in the hopes that the winner will get their sign in time for Halloween! So enter often in this next week for your chance to win. And do yourself a favor and swing by your local Hallmark store for even more Halloween gift ideas.
This giveaway is open to Canadian residents only. Good luck to all!
Disclosure: As a #LoveHallmarkCA blogger, I was compensated with product to facilitate this post. All opinions, as always, are honest and my own.