Ahoy there, matey!
Have you got a little pirate in your home? Well now is the time to celebrate! September 19th is International Talk Like a Pirate Day!! Yes, it's a thing, I swear.
This summer, I introduced the boys to the first film in the Pirates of the Caribbean collection. When we set sail on the Disney Wonder this year, there was so much excitement for the latest release, Dead Men Tell No Tales. There was even a Pirate Night aboard, where we all dressed up like pirates. Captain Hook took to the stage, to cause trouble, and of course Mickey Mouse saved the day. The evening ended with fireworks! Yes, fireworks blasted off the cruise and into the night sky. It was amazing!
As bloggers, we had a special moment with the one and only, Jack Sparrow. As Disney Parks Synergy Director, Chris Ostrander, was telling us all about the new movie, Sparrow walked in, in his bewildered, drunken way (not Johnny Depp, if you are wondering ?):
Needless to say, we had an epic version of a Pirate Day. The good thing is it gave us ideas on how to celebrate once we got home.
So how can you celebrate this special day with your children? Here are some ideas:
Watch a pirate show
If your kids are old enough to not get grossed out or scared by the incredible special effects in the Pirates of the Caribbean series, then by all means, watch those! Three of the films are currently available on Netflix. As of today, Dead Men Tell No Tales is available on digital and will be on Blu-ray as of October 3rd. Since this special day lands on a school day, maybe celebrating over the weekend is better. That way you can have a movie marathon!
For younger children, I suggest watching Disney Junior's show, Jake and the Never Land Pirates. It's just right for little ones, with no scary mentions, and my three boys loved it! Jake and his friends Izzy and Cubby try to outsmart Capain Hook and Smee in each episode. Math and logic are used in the show so little ones can have fun learning.
Currently on Netflix, you can also watch Jake's Buccaneer Blast. The twenty-two-minute show has the characters of Jake and the Neverland Pirates in LEGO Duplo form. It's a great introduction for little ones before they start watching high-paced LEGO films.
And finally, another film I highly recommend for the whole family is Hook. The 1991 film stars Robin Williams as Peter Pan, Dustin Hoffman as Captain Hook, Julia Roberts as Tinkerbell and Maggie Smith as Wendy Darling, along with many more amazing actors. The film focuses around Peter Pan and how he has forgotten who he really is, since he grew up, out of Neverland. The film can get emotional and (spoiler) there is one character who dies at the end which surprised my boys, but it didn't upset them too much to watch. There is a wonderful message to the movie that children and adults will appreciate, and it can open the subject up for conversation.
DIY a pirate outfit
To prep for your movie, get into the pirate spirit by dressing up like one! Mamas and Papas too! I did some serious research for costumes in preparation for our Disney Wonder pirate night. It's one of the easiest costumes to put together, so here is what you will need:
red rags to use as a belt
bandana or scarf for your head
eye patch (you can make one yourself with cardboard and string)
makeup to add a moustache or beard
chunky jewelry
if you have an old vest to add, that works well too
Learn the lingo – talk like a pirate
Disney Junior offered up some definitions of the pirate words below:
Yo Ho! – used to express surprise or joy, attracting attention
Ahoy! – an expression used to hail a ship or a person
Matey – a fellow pirate or crew member
Aye, Captain – to say 'yes, captain' following an order
Port – the left side of a ship
Starboard – the right side of a ship
Shiver me timbers – another expression of surprise
Ship shape – all is in order aboard the ship
Convoy – a group of ships travelling together for protection
Jolly Roger – a flag on the mast that identifies a ship's crew as pirates
Plunder – to rob treasure from another pirate or group (as Captain Hook often does!)
And if you love Jack Sparrow and want to talk like him, there is one word you MUST learn:
Savvy – 'do you follow?' or 'understood?'
Simple crafts and activities to add to the fun:
The song from the Pirates of the Caribbean attraction is a song we have in our playlist. You can download other fun pirate songs to listen to during the day.
Picking up a dollar store wood treasure chest is fun for little ones. They can decorate it with stickers and paint (you could even get a few fun treasure pieces to put in it)
make a ship out of pillows and sheets
Remember, a pirate's life can be any day. These are fun suggestions for a pirate-themed birthday party or playdate.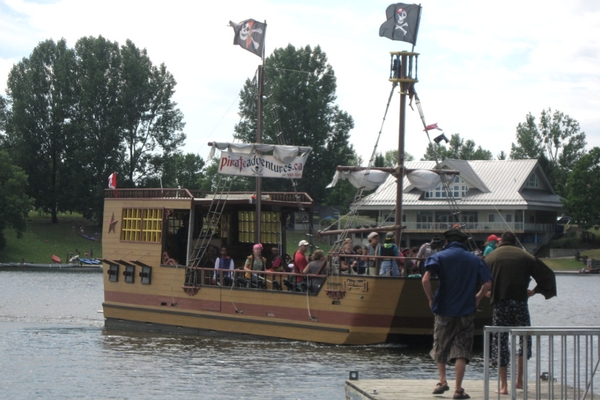 Sail aboard a real pirate ship!
When the boys where younger, we took them to Ottawa's Pirate Adventures. If you are in the Ottawa, Ontario, or Victoria, B.C. area, I highly encourage you to make time for this great activity for your little pirates!
We were greeted by a pirate who dressed up all the children, one at a time, and then another pirate gave us all pirate names (I was Jolly Roger Julia in case you are wondering). Once we were all ready, we all boarded a real pirate ship for a 45-minute sail along Mooney's Bay. A great interactive show took place complete with dancing, pulling a bottle out the water with a treasure map inside, a pirate battle where the loser walked the plank, and a treasure chest was found at the end! Each child left with a piece of treasure and lots of great memories to tell their friends. For more information visit www.pirateadventures.ca
I hope you and your crew have a fun day, whatever you do. Savvy? ?