Christmas shopping for teens can get pricey, especially if this is the year you are going to gift your teen their first smartphone. I have a suggestion that won't break the bank, has everything a teen would need or want and includes some extra cool accessories. Launched in August, the Alcatel A50 is a fully customizable smartphone that is geared to young adults as a first phone at a budget-friendly price.
While my boys are not at that age yet, I know that I will soon be thinking of tech for them and a smartphone will no doubt be part of that. So, with fresh eyes, I decided to take the Alcatel A50 for a spin. I used it solely over a week period and tried out all the technology it had to offer. Keep in mind, I am not a tech blogger, but as a parent, I found it important to try it out with the intention of gifting it to a young adult. Here is my review, as a mama.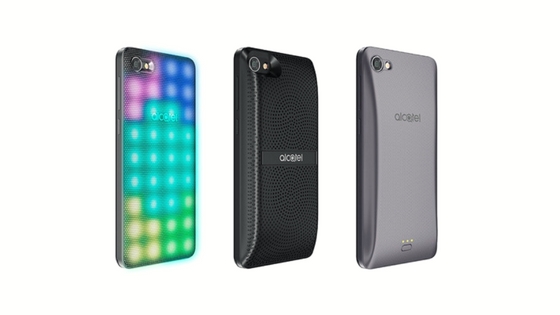 Fun Features Your Child Will Love
What makes this phone cooler than the others is its swappable SNAPBAK covers. Included in the purchase of your phone, the Alcatel A50 comes with three different covers that can be changed out depending on what you're doing. The LightUp creates different coloured LED light shows on the back of the phone while music is playing or when there are notifications on. You can shake the phone from side to side to change the light show into a different motion and colour. Next, the Power SNAPBAK is a charger that gives you almost double the battery life (perfect for events and day-long activities). And finally, the Sound SNAPBAK truly turns your phone into an entertainment system. The speaker has two 2.5-watt speakers and has a stand attached to it so you can prop your phone up to watch a video and hear it very well.
These accessories really make the phone a fun and unique experience for a first-time smartphone user. Teens will love customizing their lightshows, using the speaker for entertainment with friends and having the ability to charge up their phone with ease. I found it simple to swap the SNAPBAKs and had no damage while changing them frequently in my review period. You also have the option of the simple metal black backing that comes with the phone as well, which would allow your teen to purchase a protection cover for the phone.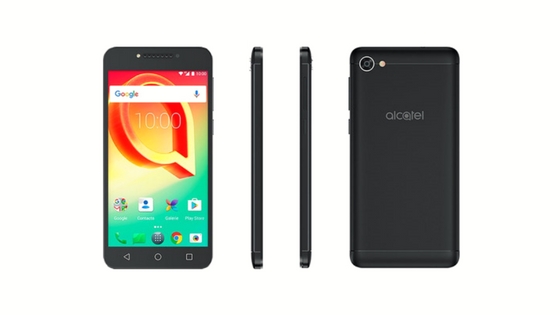 Phone Details
Much like the smartphone I use daily, the Alcatel A50 had everything you would need and want in a smartphone. The setup was simple, and because the Alcatel A50 is powered by Android, the phone is pre-programmed with all the Google apps, which you can then sync with your Google account. The phone has an excellent 5.2-inch display screen which is something teens will love for watching their favourite videos. I thought the screen was very crisp and bright and it's worth noting that the sound quality even without the speaker SNAPBAK was very good too.
Customizable features like notification music, background wallpapers and theme colours make the smartphone that much more fun for first-time smartphone users. The Alcatel A50 has an 8MP rear camera with dual-tone flash and a 2MP front-facing camera with LED flash. Teens will be able to enjoy taking pictures with pre-loaded colour filters, time-lapse, instant-collage and face beauty. The A50 is equipped with 2GB of RAM and 16 GB ROM with the option of adding a micro-SD chip of up to 128 GB (not included), so no worries in running out of storage space!
The Price
If you are looking to invest in a first smartphone for your teen, the Alcatel A50 is a great option. I would definitely don't want to spend crazy money on an expensive phone for my boys as a first smartphone in which the the Alcatel A50 is the perfect solution. The Alcatel A50 is available at Telus, Koodo, Virgin Mobile or Videotron stores across Canada, starting at $0 on a two-year term or $240 outright. So, setting up your teen on a plan and having the Alcatel A50 as a first smartphone can be a smart (get it?) choice.
If you are considering placing a smartphone under the tree this Christmas, the Alcatel A50 is a good first smartphone for teens. With the added SNAPBAK, the Alcatel A50 has something unique that other smartphones don't, and that is awesome for teens, I think.
For more information and full product specifications on the Alcatel A50, visit: alcatelonetouch.ca
To keep up with all the latest from Alcatel follow them on Instagram, Twitter or Facebook.
Disclosure: I was compensated for this post. However all opinions are honest and my own.