When the 2018 Olympics were going on in South Korea a couple of months ago, my family and I watched Canadian athletes go for gold. More specifically, my boys watched with Papa MOE and I listened in the background as I did other things around the house.
But not when Tessa Virtue and Scott Moir performed, no, no. Then, I was glued to the screen and watched as their graceful moves danced out a love story with music. This was their last year to compete in the Olympics and I, like many Canadians were watching their every performance. It was spectacular to see them glide across the ice. They achieved the gold medal for mixed dance and prior to the Olympics we watched a documentary on their preparation. Their passion for storytelling through figure skating is fascinating. So, imagine our delight when we found out Stars On Ice will be returning to Montreal on May 2nd at the Bell Centre and Virtue and Moir will be performing!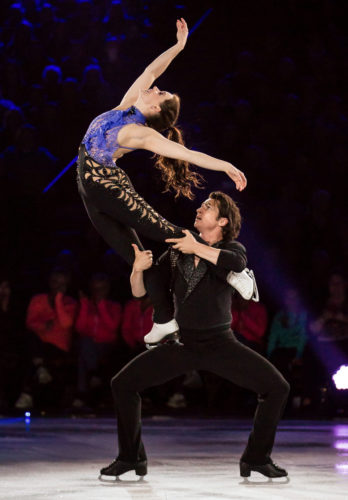 The Stars On Ice show began in 1986 with Scott Hamilton and his manager, Robert D. Kain of IMG, after Hamilton's contract with Ice Capades was not renewed.
"The greatest ice show on earth started with such a simple notion. Back in 1986, we wanted to create a show that was all about skating. We believed our fans would appreciate sophisticated skating, cutting-edge costumes and challenging choreography. After 30 years, I am honored by the success of our simple notion. Stars on Ice exists to entertain you. But it has also given me the incredible opportunity to do the work I love and am proud of. For that, I humbly thank you." – Scott Hamilton
See what happens when one door closes? Amazing. I love the story behind Stars On Ice and I can't wait to go with Papa MOE and the boys.
And lucky for YOU, Evenko has given me two tickets to give away to one of my readers!
Simply fill the Rafflecopter below and be sure to leave a comment below (your mandatory entry) telling me what you love about figure skating and if you have a favourite performer. Deadline to enter is April 25th, 2018 at 11:49pm. Open to Canadian residents only, tickets are not transferable, so you must be available for the Wednesday show at 7pm.
Good luck to all!
To purchase tickets, visit www.evenko.ca