To read the beginning of our puppy experience, click here.
We were on our way to introducing our boys to the litter that would have one puppy for us. After so much time and energy researching and planning for this new addition, we were all very, very excited.
Meeting the puppies
Helene of MadRiver Tollers allowed us to visit just days after the pups were born – what a blessing!! As much as it was a happy moment for us and our boys, it was also a clever way of getting the pups used to our sounds, touch and smells right off the bat. Each visit from our family and the other families was a chance for the pups to have socialization time and some desensitizing with touches on their paws and loads of hugs.
The moment our boys saw the puppies for the first time is a moment ingrained in my memory forever. Our dog-lover son that had been dreaming of this moment for years could not contain his happiness. He held his heart and smiled from ear to ear. Truthfully, we all did. There is nothing cuter than a puppy, and one of these sweeties was going to come home to us eventually!
Their little puppy sounds melted out hearts and their tiny paws were adorable. Helene allowed us to visit often, and we took her up on that generous offer, driving back and forth almost every weekend until the eighth week, when we were able to bring our puppy home!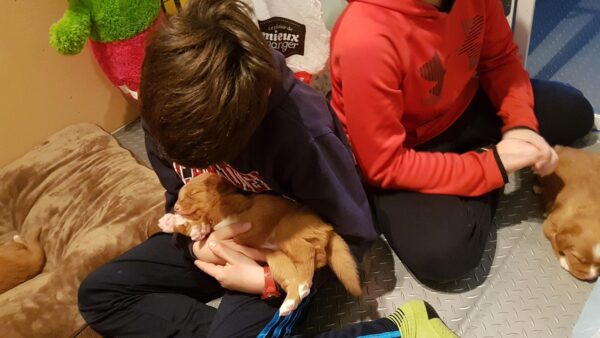 Pick of the litter
You might be wondering how we could have possibly chosen one puppy out of the litter, well we didn't. At the very beginning, Helene had explained to us that we could give our preferences to her, but ultimately, she would decide what puppy would go to what family. With her years of training and caring for pups and adult tollers, she explained that she could determine each pup's personality weeks after they were born. I didn't believe it at first, because I couldn't imagine week-old puppies showing their personalities. I was very, very wrong!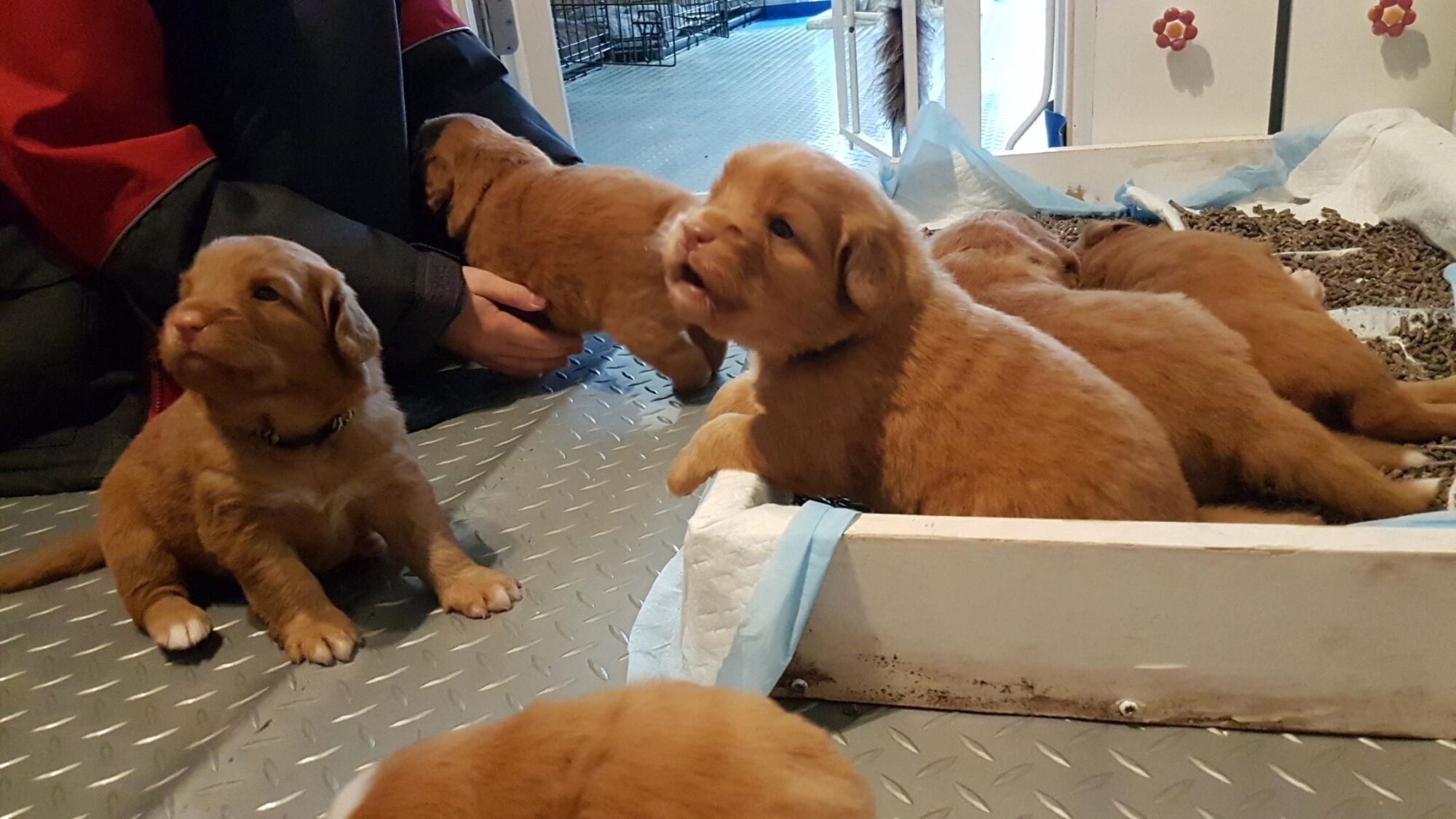 Over the weeks that we got to spend with them, we could see (with the help of Helene's keen eye) what puppy was the most outgoing, the one that would do anything for some food, the rebel, the relaxed pup, the high-energy pup, and so on. It was pretty funny to see their little characters bloom. Still after all of that, there was no way we were able to choose one puppy. I leaned towards a female pup, my husband wanted a pup with white marks on the face, and the boys changed their minds every time we visited because they loved them all.
So, imagine our surprise when Helene decided our pup would be the male pup with no white marks on the face at all? We were surprised at first but remembered what she had said; she chose the right personality for each family. Of course, we didn't care. We loved all the pups and were so happy to add Buddy to our family.
Did you know? Pups are given a name by their breeder, and then the final owner must choose a name for their documents (much longer) as well as a name to call the pup. Our pup's original name was Squall, and we changed it to Buddy. His documented name is MadRiver's Flying Ace.
Neither snow nor rain
Buddy came home with us right before Christmas. We were so wrapped up in his arrival and celebrating his every move, it was the best Christmas gift we could have ever received. We were challenged from the very beginning with a cold Montreal winter and a tiny puppy. It turns out, Buddy loves the snow! We had so much snow this past winter, we had to shovel the backyard for him just to get out! We couldn't have asked for a better time to have Buddy come into our lives. With the boys off for Christmas break, they had time to enjoy him 24/7 before heading back to school.
As soon as Buddy was old enough (12 weeks) we enrolled him in puppy classes (Yes! It's a thing!). Not only was it a great time to socialize our pup to other puppies, but it was a chance for our family to bond over this new adventure. We always went all together so the boys heard the teacher's lessons and they all actively participated.
With Buddy in our lives, there are new responsibilities, and yes, our friends were right. It didn't take long before we heard "I took him out last time, it's your turn". But all in all, our boys have risen to the task of caring for our pup. My oldest is a champ, waking up early, taking him for walks, and all three love training Buddy to do new tricks.
Aside from the in-person classes that we took, we watched many, many dog-training videos by Zack George. I highly recommend watching these videos, especially his new series on caring for a puppy right from the start. These free videos have taught us so much and I am grateful to them.
Quarantine puppies – what to do
As we all know, with the pandemic, family time has changed for everyone. We have been home all day together since March, and for our pup, that is perfectly fine! He is fiercely attached to us all, to the point that he whines when one of us leaves to do anything (leaves to work in the home office, goes to get groceries, etc.). Separation anxiety can be a real issue if and when our world goes back to normal with time outside of the home.
Right now, I know many families have been searching for a dog to add to their family since we are all in quarantine. To that, I say go for it. If you have the energy, the love and the time to commit, it will be the most wonderful addition to your family.
As you can tell from our story, we took a long time to figure out what kind of dog was right for our family, and we prepared our children for the responsibilities as well. Adding a puppy to your home is amazing, but it does require a lifestyle change, a different routine and lot of work. I think you can guess that for us, I believe it was so worth it.
Find a breeder (or rescue center if that is your choice) that you connect with. Feel comfortable and safe with the person taking care of the pup you will one day care for. And if you are really lucky, stay connected, so you have a person that is always there to guide you, should you need a little help down the line for whatever reason. For us, not only are we connected in a private FB group that includes all the families of the litter, but we know we can call Helene anytime we need to. Helene has been an absolute gem, and her care for her pups and for us, frankly, has gone well beyond what I would have ever imagined this process to be. Her friendship has been so amazing, and we are incredibly grateful.
So, was Helene right in her match for our family? I couldn't imagine a better dog for us. The boys can play with him from morning until night, he loves playing and training as much as he enjoys just hanging out and cuddling with us while we watch a movie, he is smart and loves 'talking' to us, and he is the best dog swimmer I have ever seen – the boys spend hours with him in the pool, playing fetch.
In this time of self-isolation, our family of five humans has the pure joy of our four-legged friend, Buddy. Our days are brighter and include more laughter, more care, and a bond that can only exist between a dog and their family.
These two posts are dedicated to Helene's toller, William. He was a wonderful dog and is greatly missed.