Explore the Unofficial Hocus Pocus Cookbook with me and get inspired for your next best Halloween recipe!
Growing up in the age of Disney specials and 80's and 90's Halloween, Hocus Pocus became a yearly favourite for my sister and I. A couple of years back, I finally showed it to my three boys, and they really loved it too, proving this is a timeless movie, perfect of the October month.
Halloween Inspiration from the Unofficial Hocus Pocus Cookbook
I even surprised them one year with a quick costume I made from a Disney Hocus Pocus t-shirt my friend brought back for me from Walt Disney World. They were floored when I opened the door!
I had to try my hand at being a Sanderson Sister, and Winifred felt right: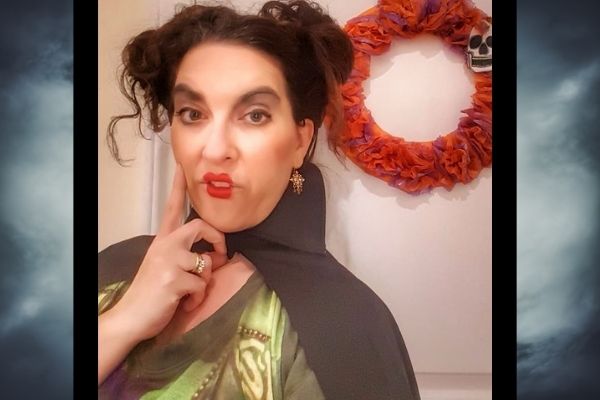 What To Expect From the Cookbook
So, when I was approached to review a Hocus Pocus inspired cookbook, I couldn't resist, especially since I have one son who loves to get creative in the kitchen. The Unofficial Hocus Pocus Cookbook is filled with Halloween-themed recipes. You can tell that author, Bridget Thoreson is a true Hocus Pocus fan because for each recipe, she has concocted a spooky little story to go with it.
"I hope you enjoy this homage to Hocus Pocus as much as you enjoy the film itself," author Bridget Thoreson says. "While blondies are no substitute for Bette and no cocktail is quite as funny as hearing a young girl humiliate her older brother by saying 'Yabos,' I hope you'll find the recipes and references fun, delicious, and delightfully spooky, and you'll re-watch the film again and again accompanied by the goodies in this booo-ooooo-ooook."
On page 52, Thoreson included Chocolate Witch Pops and as soon as I read it, I was brought back to my childhood. Remember chocolate pops? My mom had every mold! And now I do. I love seeing the steps to making this classic treat in this special cookbook. Now my boys can see just how to make it themselves. It has inspired me to get out some molds this year and make a few.
What Kind Of Recipes Should I Expect From This Cookbook?
I love that there is a mix of easy and intermediate recipes, allowing for this book to continue to be enjoyed as your children grow and learn more in the kitchen. To further help little chefs out, at the very end of the book, there is a section called Odds and Ends and it has basic skilled recipes like homemade pasta, sauces and frosting. This cookbook is not just for children, either. Recipes include kid-friendly dishes as well as delectable treats adults are sure to enjoy. An added bonus is a collection of bewitching brews and beverages, both alcoholic and non-alcoholic. Since I never got into mixology, I appreciate this section for my husband and myself. I'm planning to try out the Parents' Party Spiced Apple Cider for Halloween night for us, once the kids have gone to bed.
We're lucky that Halloween lands on the weekend this year, so to celebrate, we're going to make the Pumpkin Pancakes to start the day and throw on the cult-classic movie. Nothing screams nostalgia to me like eating a meal while watching a good movie. I think we have some tv trays lying around somewhere…
Giveaway Time
Please take note that this giveaway is now closed.
One lucky reader will win their own copy of The Unofficial Hocus Pocus Cookbook! To enter, comment below your favourite part of the Disney Halloween classic film (mandatory to win).
For extra entries:
Share on social media (as many times as you like, just be sure to comment here below with your link so I can find it)
Comment on another Halloween post of mine (and let me know here)
Deadline to enter is October 31st, and the winner will be notified via e-mail. Open to Canadian and US residents. Good luck to all!
Want More Halloween Content?
If you enjoyed this Halloween-inspired post, then be sure to take a look at these other articles:
Halloween Treats for School Days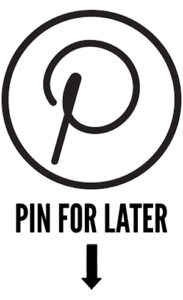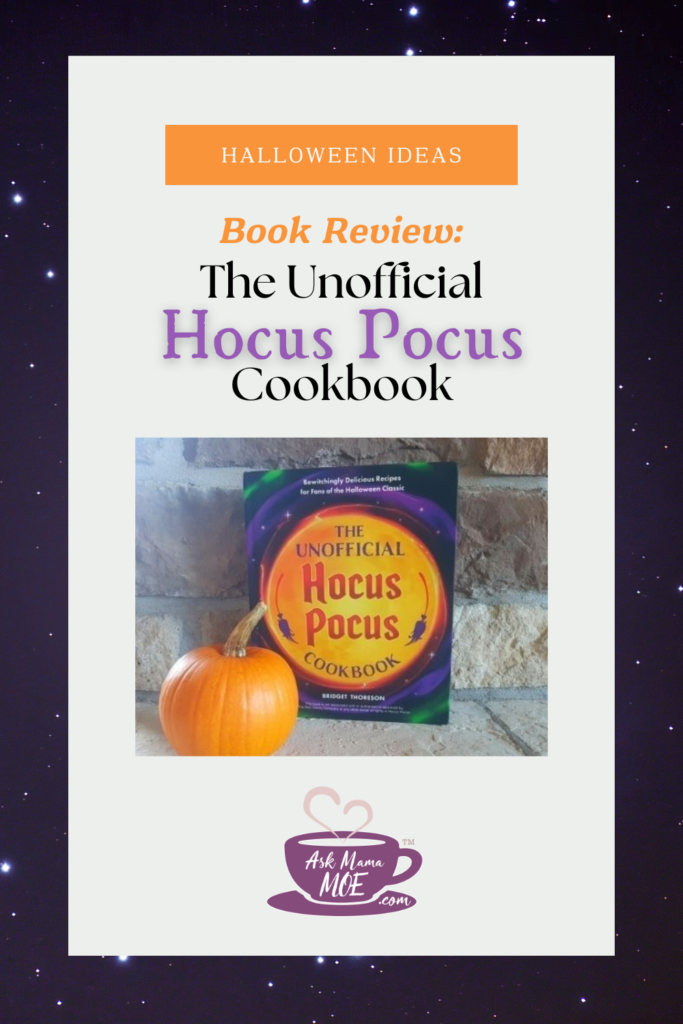 Thank you to Ulysses Press for this fun and spooktacular new addition to our family cookbook library!