Make the most of your Pumpkinferno visit with my best tips and all the info on one of Canada's biggest Halloween events!
October means we will be taking a road trip back to Upper Canada Village to see Pumpkinferno! This has become a tradition for us as a family to take a drive and see these amazing pumpkins before Halloween. It really gets us in the spirit and what we love about it is that it is all family-friendly, unlike many Halloween festivities. If memory serves me well, there was only one section of semi-scary music with skeleton shapes carved on pumpkins, but absolutely nothing that little ones couldn't handle.
Pumpkinferno Video
If you haven't seen this video yet, this is one of our first years there (when my boys were just little!):
What Should I Expect on My Pumpkinferno Visit?
Pumpkinferno Opening Days and Hours
Pumpkinferno is open on select nights (Thursday – Sunday) for the month of October from 6:30/7pm until 10pm. The drive is approximately two hours outside of Montreal, in Morrisburg, Ontario. Since our children are in school, we plan a drive up on a Friday evening and they sleep in the car on the way back home. It works every time. Saturday night is known to be the busiest, so prepare for a crowd if you go that night.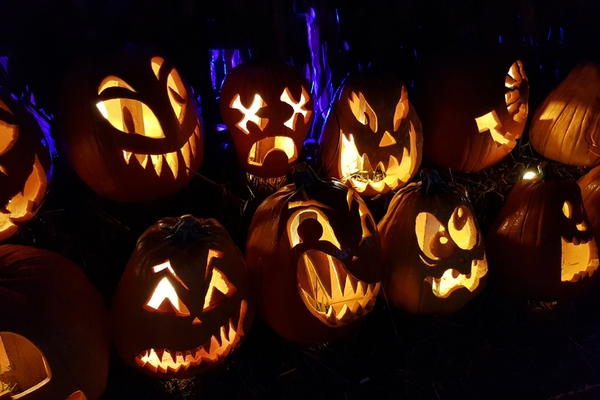 Dress for the Weather!
The whole event is outside, as you stroll through this 1860 reproduction working village to see approximately 7000 carved pumpkins lit up with different themes. The walk is said to be a kilometer, and there will be lots of stopping to admire the work, so plan for at least one hour outside. That said, be sure to bundle up and wear boots. October is chilly at night with rain on some days, so muddy areas are a given. I wore my winter coat, hat and gloves because I prefer to be cozy outside. The worst is having a little one get too cold to enjoy the walk, so it's best to be prepared.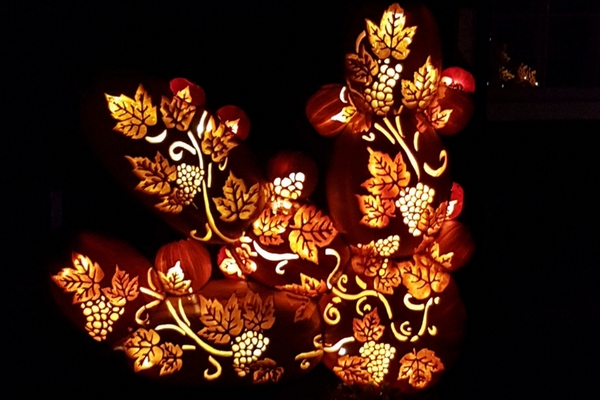 Schedule Meals Accordingly
If you plan to attend around opening time, it might be good to eat before, since restaurants in the area or in the village could be closed after. They are two restaurants in the village and you do have the possibility to make reservations to eat before seeing Pumpkinferno.
Where Can I Purchase Tickets?
Tickets can be purchased in advance and the range is between $7.95 to $15.95 depending on your age and day of the week you are visiting. Children five and under are free! Bring some extra pocket change for hot chocolate available during the walk at a booth. There is also a gift shop open with lots of Halloween decorations and funny hats. It's a sweet way to end the night before heading back home.
If you've never been to Upper Canada Village in the day, it's a real treat! This was one of the school field trips when I was little, and I still eating warm bread just baked in a wood burning oven…yum…There is so much to see and do in the area too, so if you have the chance, it's worth staying overnight to see more.
If you are planning a visit in the wintertime, be sure to get your tickets for Alight at Night, when the whole village is lit up with over a million Christmas lights! There is the possibility of getting tickets to this and Pumpkinferno together at a discounted rate.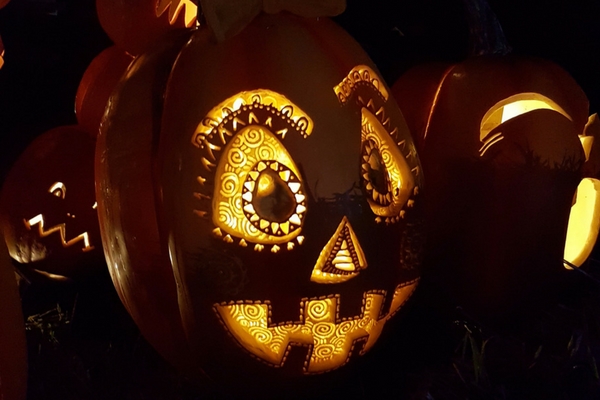 For more information on all the ways to visit Upper Canada Village, click here.
I hope you can make to see this amazing, artistic marvel! What is your favourite pumpkin that I shared with you here?
Last year, I did a live broadcast of the Night at the Gallery section. Have a look:
LIVE on #Periscope: At @UpperCanadaVill #Pumpkinferno !! #Halloween 🍊🍊🍊 https://t.co/gMVcJNZULL

— Julia a.k.a.Mama MOE (@AskMamaMOE) October 29, 2016
Can't Get Enough of Halloween?
You're in luck! I have tons of Halloween articles with my best tips and tricks. Check them out:
Halloween Potion for Little Ghouls
What to Do With All That Halloween Candy