It's that time of year again when we get to celebrate with family and friends! Have you done your holiday shopping? Oh, I see. Have you started? I know, it's a busy time of year. I'm in the same boat as you. I still have a few teacher gifts to pick up and a hostess gift to bring this week to a dinner.
As a Hallmark Ambassador, I get to see all the new and festive items they have for each season, and Christmas is filled with beautiful new gifts for everyone.
What I like about their selection is that the prices are great for a family budget. With three boys, we have many teachers inside and outside of school to gift a holiday thank-you to. Add to that gifts for the boys for Christmas, hostess gifts and gifts for friends. Being able to find something beautiful at a reasonable price for everyone in one place helps with the hustle and bustle of the season.
Here are some of my favourite items we received:
Every year, the boys are gifted one new Christmas ornament each. We place them on our tree and then, when they get older, they will each have their own collection of ornaments for their family tree. It's a tradition we have had since I was little. Sometimes, the ornaments are collector pieces, other times they are crated. So, this is a perfect combination. Plus, the bonus for us is that there are exactly three ornaments in each box! ($24.99)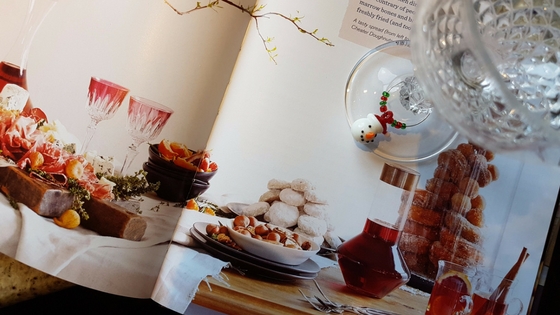 Hallmark has a lot of gifts with wine or beer as the theme, and while those aren't really my style, this was something I just adore! These win charms are the perfect way to make your everyday stem wear festive for the holiday parties you will have! ($14.95) Plus this Winter Cocktails book is a perfect hostess gift ($19.95) and I am personally going to try my hand at a new cocktail for our family this Christmas.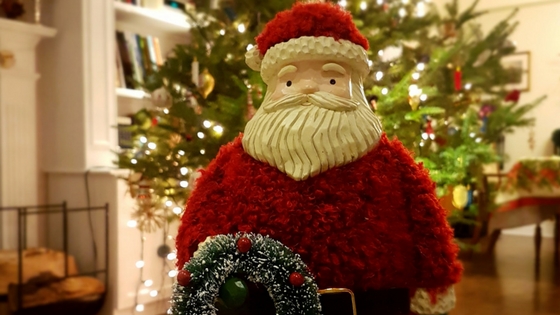 I don't know about you, but there are so many Santa figurines out there that will never make the cut for our home because they just aren't special enough. The new Hallmark Santas are charming and my boys fell in love with them! I mean, look at this face! I prefer the Santa with the wreath ($32.95), and my oldest prefers the Santa on the sleigh ($39.95).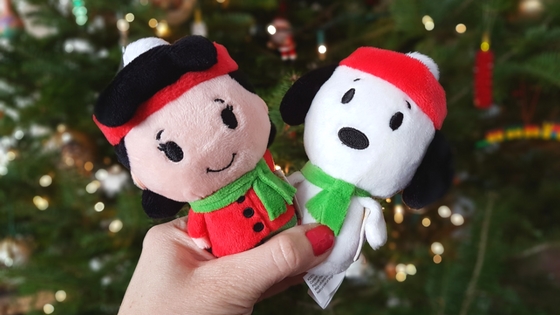 New to the Itty Bittys team are Snoopy and Lucy dressed up for the holidays! The little guys are cute stocking stuffers ($6.95) or additions to a larger gift. My boys love them and have started a collection. I know that Hallmark also has Star Wars Itty Bittys for the fans out there.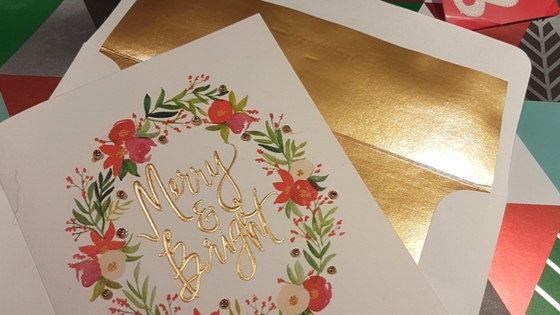 And last but not least, a Hallmark gift would not be complete without the gorgeous wrappings ($2.99-$3.49) and cards that Hallmark is known for. I love these new cards and look forward to them every year ($16.99 for a pack of 8).
I hope his gives you a few ideas for your holiday gift giving this season. And to help you be the best hostess this year, Hallmark has a beautiful giveaway for you!
Giveaway!
To last you well into the near year for parties and dinners at home, Hallmark has a gold coloured metal tray with a 3×4" pillar battery-operated candle. We decorated our tray with antique Christmas ornaments that are too delicate to place on our tree and it sits on our dining room table. It's easy to change up the objects depending on the season.
To enter, visit the Ask Mama MOE Facebook page and comment what your favourite holiday tradition is (you can see the tray and candle there too!) Extra entries: to receive an extra two (2) entries, leave a comment here on the blog post telling me what your favourite gift has been that you received.
This is a quick giveaway – the deadline to enter is December 17th, 11:59pm!
Good luck!
Disclosure: As a #LoveHallmarkCA Ambassador, I was compensated for this review. All opinions are honest and my own.