Even though summer is here, there is a strange feeling that we are still in the month of March, only with nicer weather. This Groundhog Day life we're living is enough to make anyone stir crazy. I am not complaining, we have it good. We have our health and we are a family of five, so there is no lack of conversation or active living. But some days, I'm seeing my boys blue.
Just the other day, they all had different moments of being upset. You would think their moods came out of thin air – so random and wild. They were bored but not wanting to do anything about it. I must have suggested a dozen different things, and every response was "no".
Finally, I remembered that sometimes, even as adults, when we are feeling down, no suggestion will help us feel better, instead, there has to be an action made. I got myself in the zone and put out the board game, Cranium. I can tell you, we had never played this game before. Even tough this is a classic, we never had it until recently when Hasbro reached out to me and gifted us the game.
I had given the game to the boys for their birthday, but we hadn't pulled it out until that night, so I was hoping I could turn their frowns upside-down. After reading the instructions, I announced that we had to create teams. One of my sons complained "I don't want to be in a team", and just then his big brother came down. I suggested he team up with him. A smile came over his face – success! And we hadn't even started to play!
It occurred to me, aside from a specific team building exercise the twins had during Zoom classes, the boys had not been able to play anything as a team for months. And while that may not sound like a big deal, team playing is really important for children.
Some skills developed with team playing are:
Decision making – in Cranium, we played in teams of two, and for each turn, each person in the team had to either solve the problem or help their partner solve it.  So, decision-making has to be made quickly and consistently.
Communication skills – to get the answers right and win the game, listening and explaining are high on the list when playing Cranium, as with any team playing.
Feedback – I loved hearing things like "amazing, you got it!", and "wow! You drew that so well!" Granted there were some jealous shots of "not playing fair" and laughs about our quick and badly-drawn clues, but after months of not playing in teams, that was also bound to happen.
Playing in teams against other family members is also fun for a little friendly competition too. The boys loved when I got something wrong! And there is no one more competitive than my husband so in between rounds and to get him involved in between his work, we asked him some fact-based questions to see if he could get it right (and he did, we couldn't stump him!).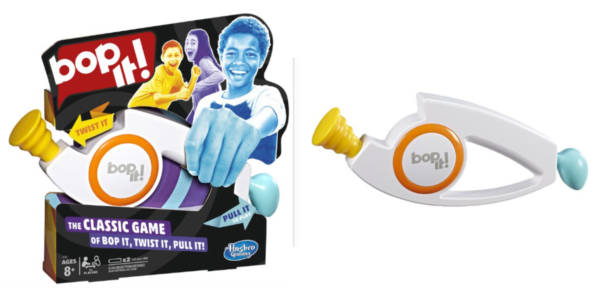 Another super fun classic game that Hasbro sent us was Bop It! I can't believe we never played this one either, but we are OBSESSED now. This version is the classic, but it has different modes to play. You can play alone or with others. This is lots of fun when the kids need a little movement, and a change in what they are doing (or not doing).
Friends, we avoided this one for long enough. My boys are loving the new Nerf blasters to play against each other in target games they make up. Last time I went downstairs to our basement, there were three forts made and Nerf darts everywhere. And you know what? They have the best time doing this, so I'm not going to fight it. They are old enough now to be careful, and I insisted they wear protective eye gear. This is not for little ones, in my opinion, and for this reason they love it even more because it is something for their age group. They are big boys now, sigh.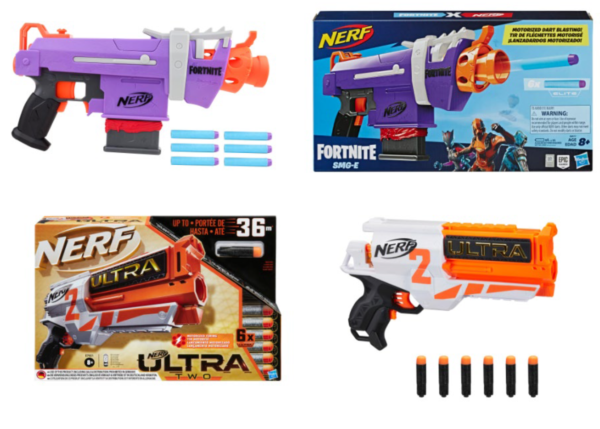 When it comes to younger children, I always love gifting Play-Doh. Not long ago, I re-gifted our old Play-Doh sets to my young nephew and he is having a blast! Here is a new set that is available: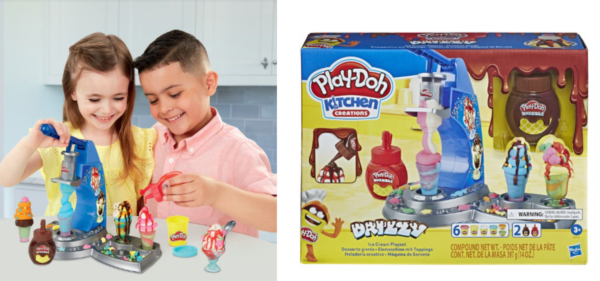 A special friend of ours had a birthday recently, so we delivered a curbside surprise to her, with the Play-Doh Kitchen Creations Drizzy Ice Cream Set!
So, as you can tell from this collection of awesome items from Hasbro, our home has turned into a fun house and we are totally ok with that! This year more than ever, our children need a little extra something to fill their summertime at home, stimulate their minds, and encourage creative play. All of these Hasbro items do just that, and for a small cost. And I'm a huge fan of creative play and getting away from technology for a good chunk of the day.
To find the items I listed above, Hasbro items are available major retailers such as Toys R Us, Walmart and Amazon.ca. Be sure to visit the new Hasbro site www.BringHomeTheFun.com for suggestions on how to enjoy this time at home with your family. It's a thoughtful resource.
#BringHomeTheFun GIVEAWAY!!
You know I wouldn't want to just tell you about all this fun, and not share it with you! Thanks to the awesome team at Hasbro, they are giving away a #BringHomeTheFun package for one lucky family!
Included in this package:
Something for every age in your home, this will be a hit for the summer and beyond. To enter, leave a comment letting me know what your favourite way to bring home the fun is. It can be something simple like getting an extra special food from the grocery store or finding time to take a family walk. Right now, every little way is special and makes a BIG difference.
For extra entries:
Follow @AskMama_MOE on Instagram (leave your IG handle in a comment below)
Follow @Hasbro on Instagram (leave your IG handle in a comment below)
Tweet this giveaway by retweeting this post with the message: "I just entered a giveaway w/ @AskMamaMOE to win a #BringHomeTheFun package from @Hasbro " (1 entry for every retweet, up to twice daily- please leave a link to the tweet in a comment below each time)
Subscribe to AskMamaMOE.com (leave your e-mail in a comment below)
Read and comment on another post (and let me know here)
The giveaway will end at 11:59 PM on July 22nd, 2020.  The lucky winner will be notified by e-mail, and must respond in 24hrs or another winner will be chosen. Open to Canadian residents only.
Good luck to all! *UPDATE* Congratulations to Ivy ! You will enjoy this awesome Hasbro package!
Because I thought you might like to know:
Hasbro is a brand I have felt very proud to partner with over the years. Here is an example, yet again, on how they continue to help children and families.
As part of its ongoing commitment to families worldwide, Hasbro is also proud to partner with Save the Children and No Kid Hungry to support the #SaveWithStories campaign. The Company will provide thousands of Hasbro toys and games to continue to inspire learning, creativity and fun for vulnerable children across the nation during the coronavirus pandemic.
Hasbro Canada has also provided financial support to Breakfast Club of Canada, an organization that helps feed more than 250,000 children and youth across the country. This donation will directly support those currently enrolled in the program as well as local community organizations that are assisting food-insecure families and children during this challenging time.