This holiday season, give the gift of family memories. Here's how we created the perfect holiday experience on our road trip to Quebec City.
As our children get a little older and our lifestyle changes, we tend to place more value on experiences as gifts. In fact, no joke, this year, when I asked my boys what they wanted for Christmas, their answer was "nothing". And while I will always have something under the tree for my boys, I'm grateful that they understand the value of family experiences over things. As luck would have it, Ford reached out to us at just the right time for a new Christmas experience.
Celebrating A Big Life Change and Going on a Road Trip to Quebec City
It was the weekend before a big life change in our family of five and I knew I wanted to celebrate a little getaway with the boys before things changed. We wanted to take the boys on a trip that would put us in the Christmas spirit, give us a chance to celebrate together with good food, and show them a part of history. Quebec City was on our list of beautiful places to visit close by for years, and now was the perfect time to savour it.
Quebec City's German Market
Quebec City has been the home to this special German Market for 30 years with 90 exhibitors from Quebec and Europe. Each exhibitor is set in a typical European wooden kiosk, creating the look and feel of a Christmas village, straight out of Europe. My husband and I have had the opportunity to celebrate the Christmas season in Europe and always said one day we would take our boys to celebrate there too. This is the closest thing to that, and not far from home. It was such a delight!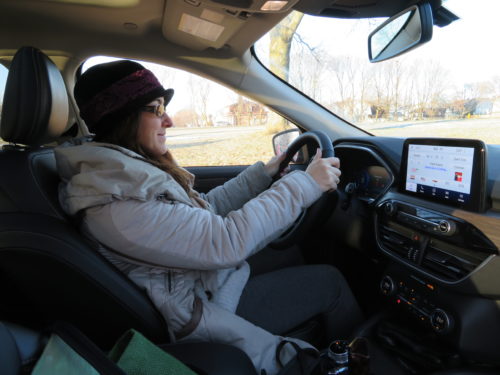 Surprising the Family With a Ford Escape
On the Friday afternoon, I surprised the boys by picking them up in the new Ford 2020 Escape in a festive orange-red. Completely equipped, the Ford Escape is a family-size SUV that is classic inside and out, without the glitz and glam of many visual distractions, and I loved it. With the panoramic Vista Roof (a massive sunroof) open and Christmas music blaring from the Sirius XM, I reached their school. They were so excited to know why we had this car and where we would be going with it.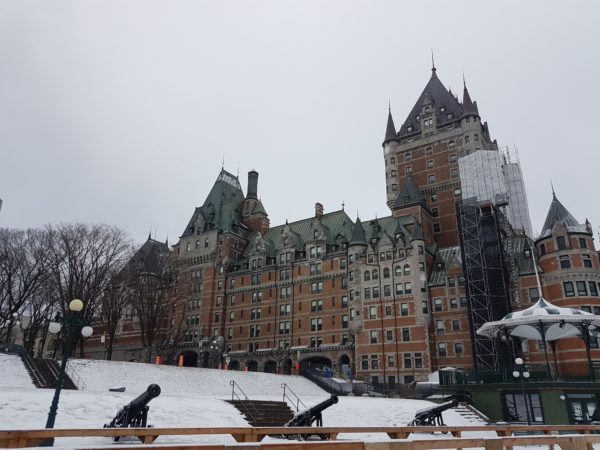 When I told them we were going to Quebec City, not only were they excited, but they immediately asked about Chateau Frontenac. "Will we be able to see the castle?" This year, they have been learning about Quebec history in school and so Chateau Frontenac was a piece of history they knew about. Historically, the Chateau Frontenac hotel was once the near location of Fort Saint-Louis, built by Champlain in 1620 on top of Cape Diamond.  Quebec City itself is one of the oldest European settlements in North America and the home of a permanent trading post in 1608. The first inhabitants were First Nations peoples and so within the old city, you will find many historic landmarks, facts and cultural references in the architecture.
On a regular day, Quebec City is charming and full of interest. But during Christmastime, it as even more appeal. The weather wasn't conducive to us making a ski trip to St. Anne, with some rain and little snow, but that didn't affect our drive from Montreal. The Ford Escape was a pleasant drive and with a new feature, the Escape can automatically configure the look and function of your driving information for different weather conditions. Over the span of our weekend, we hit every time of weather, so it was nice to give this new feature a try. I've said it before, and I will say it again: I never feel small in a Ford. The Escape has a very comfortable driving and passenger seating and it allows me to adjust well to my height while still feeling comfortable with great visibility. I really appreciate that.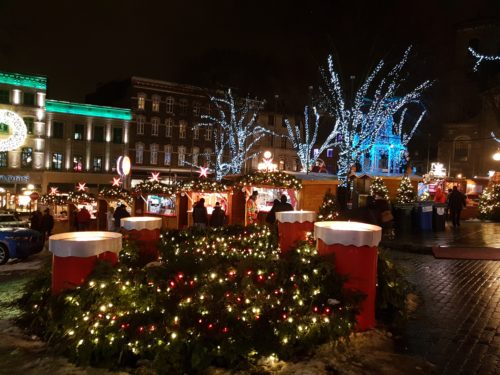 How We Spent Our Road Trip to Quebec City
The German Market
After checking in at the quaint Auberge Aux Deux Lions on René Lévesque Boulevard in Quebec City, we headed out to the German market and managed to make it he five o'clock mass at the Basilique-Cathedrale Notre-Dame de Quebec. We were so happy to attend an Advent mass in the oldest church in Canada! What made it even better was the priest recognized (most likely every day) that there were visitors and spoke to us in English & French making us feel included and very welcome. His homily was positive and filled with joy. He reminded us to teach our children that Christmas is about peace and love.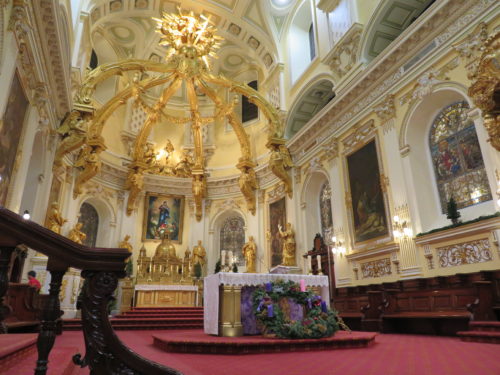 Shopping After Mass
After mass, we visited the Christmas shop right next to the church to admire all the different decorations and ornaments. We found Advent candles for next year and then headed to the outdoor market to get some yummy dinner. We snacked on delicious cheese fondue in warm baguette buns, I had mulled wine, we picked up some traditional German gingerbread cookies and a massive pretzel and continued to shop around. My husband said he felt like he was back in Switzerland! Then we had an idea. We took some pictures of us at the market and told family we were in Germany! Some even fell for it!!
Delicious Food at the Alpine Chalet
Still hungry for more delicious food, we found the Alpine Chalet that was like walking into a ski chalet on the Alps. We ate bratwurst (sausage), pea soup and spätzle (or form of gnocchi in cream sauce) and finished our night with a walk around the old city and a stop at a local creperie. Everything was delicious!
Enjoying the Auberge Aux Deux Lions
With out tummies full, we drove back to the Auberge and settled in for the night. This is the first hotel we as a family of five have experienced where everyone had their own bed. Our fantastic room was perfect for us and the twins enjoyed the "second floor" to themselves.
Once a large house built in 1909, the Auberge Aux Deux Lions has since been converted into a lovely 15-room inn with the sweetest breakfast nook. Our breakfast had a little of everything with freshly baked croissants and chocolatines, hot coffee and hot cocoa as well, it was a glorious way to begin our morning!
The Ford Escape Really Impressed Us!
In the morning, the weather had completely changed with winds and snow so we tried the snow and ice terrain of the Ford Escape. We made our way to the Chateau Frontenac and we tried our hand (or I should say no hand) at the assisted parking in a parallel spot on the road. The boys were flabbergasted to see the Ford Escape park itself! While it may not be a necessity for us now, I can see assisted parking as a great additional feature for the elderly.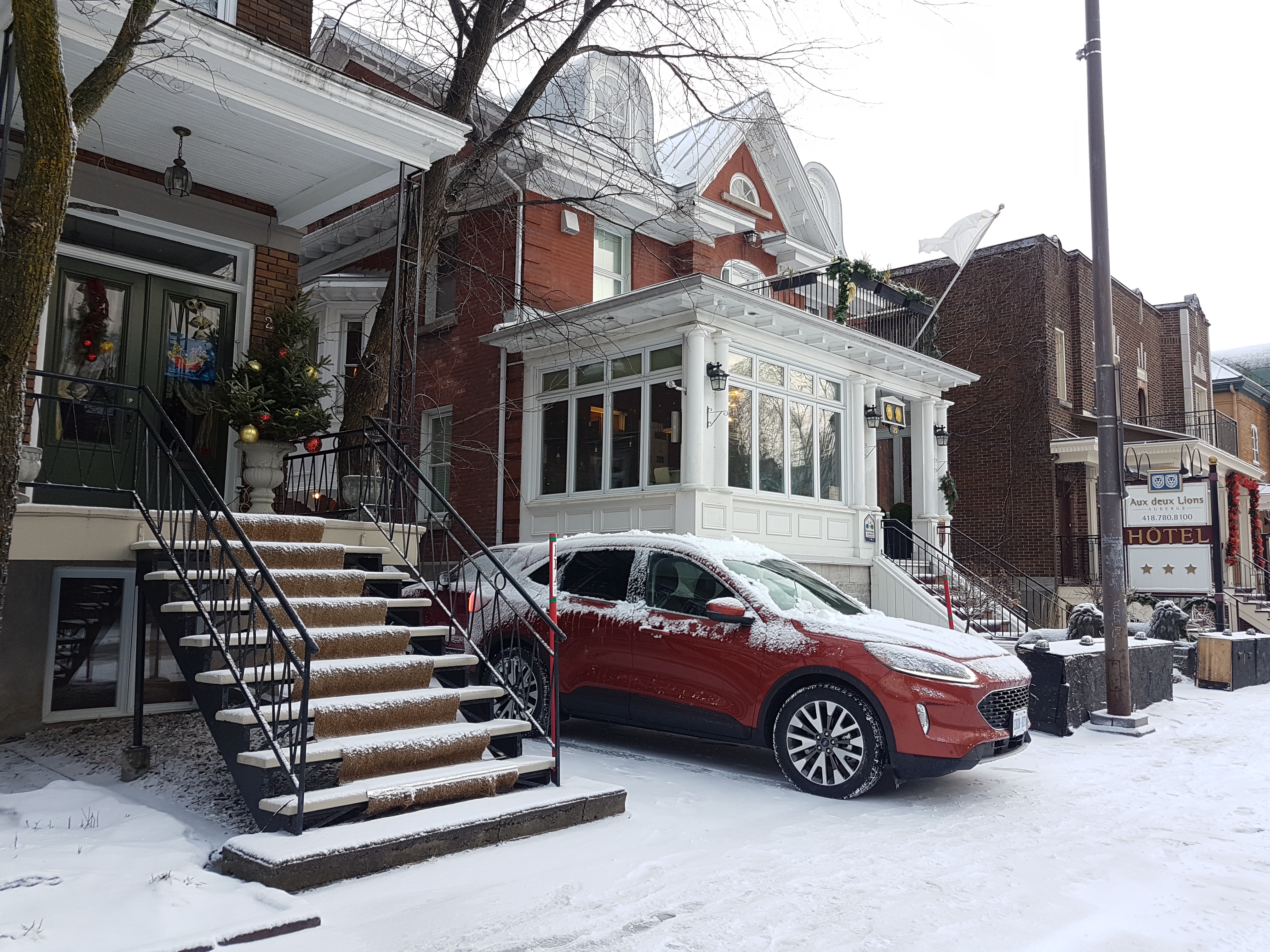 Visiting Chateau Frontenac
Off we went to see the inside and outside of the Chateau. If you are not staying overnight, you are limited to what you can see of the hotel. We took a look at the museum below and admired the view from the main lobby. It was also so nice to see the hotel decorated for Christmas!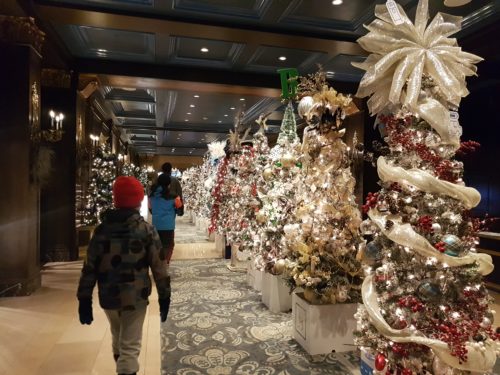 After that, we walked down to take the famous funicular up. When we arrive down by stairs, this was our view:
Driving Up to Montmorency Falls
After the funicular up, we decided to drive to the Montmorency Falls just outside of Quebec City. This historic site was amazing to witness in person. We braved the cold and decided to go on the bridge over the falls. The splashes from the 83-meter high waterfall freeze in the winter so the site is magical and so powerful. After grabbing another hot cocoa and coffee in the Montmorency Manoir, we headed back to warm up in he Ford Escape. I was never so grateful for heated seats!!
We had great time discovering some of Quebec City during Christmastime thanks to Ford Canada. Our drive back was so comfortable, as we discussed our new adventure to come. What a fantastic way to take one last road trip and experience something new before a big family change. Now, can you guess what the change is?
Merry Christmas, everyone!
Our Quebec City Trip
Planning a road trip to Quebec City? Here is a quick summary of how we spent our mini family vacation:
Visited the German market
Mass at the Basilique-Cathedrale Notre-Dame de Quebec
Dinner at the Alpine Chalet
Lodged at the Auberge Aux Deux Lions
Tour of Chateau Frontenac
Visited Montmorency Falls
More of Our Adventures
Looking for more travel content? Be sure to check out our other fun trips here:
Fall Road Trip Experience: My Ford Expedition Review (Part 1)
Disclosure: I was gifted this experience by Ford Canada to facilitate this post. All opinions, as always are honest and my own.