In Montreal, our March break cannot be titled a "spring break" because we still have ice and snow EVERYWHERE. It can actually mess with your mind because you still feel like you are in hibernation mode and then, just like that, spring is almost over and your errands and activities for spring are now a little behind.
Many families head out of the cold weather and enjoy a week in a hot destination. It's a perfect way to get refreshed and ready for the rest of the winter, I mean, for spring. For the last two years we were lucky to get into warm Florida weather and the spectacular Castaway Cay in the Bahamas with the Disney Social Media Moms Celebration. As a family, we had never travelled at that time and year, and it truly became an appreciated break from the cold. But this year, we decided to try something very different. We travelled to a destination in Canada to enjoy the snow!
It sounds so crazy, I know, but we decided to make the most out of the season and we travelled to British Columbia to have a week of skiing at Sun Peaks near Kamloops. When we told friends we were travelling to BC to ski, they automatically assumed we were going to Whistler. And while that destination may be better known, for a family of five, we wanted something just as amazing but in a better price range and something that was less crowded. Sun Peaks is just that.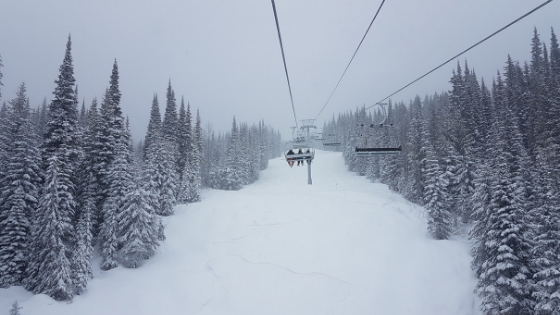 Sun Peaks Resort has a long season of beautiful skiing, from mid-November to mid-April. With 4270 acres of skiable terrain, Sun Peaks clocks in as the second largest ski area in Canada. In fact, this year, National Geographic named this destination as one of the best winter trips of 2019. The resort has lots of other activities for families, such as tubing and sleigh rides, even live music at night, but we chose to take this trip strictly for skiing and chilling out in the afternoons.
We flew from Montreal to Vancouver, stayed there overnight and then drove from Vancouver to Sun Peaks. The drive was approximately five hours, so we arrived in the afternoon, just in time to pick up our ski passes for the next day. This prevented us from having to head to the ticket center in the morning and appreciate the location of our rental property.
Our one-week rental was an Air B&B that is owned by a family that took advantage of the resort managing system. So, essentially, we were in a rental apartment that was managed to a T, and we didn't have to worry about a thing. Our place had a sweet kitchen with all the essentials, a bedroom for the boys with bunk beds, a living space with cozy couches, games books and DVDs, a larger bedroom and ensuite bathroom for us and not only that, a jacuzzi ready to be enjoyed on our balcony!
Once we unpacked and settled in, we went grocery shopping. Part of the draw to a location rental that has a kitchen is NOT spending money on restaurants all week. So, we purchased enough food for breakfasts, lunches and dinners for the week. Keep in mind the grocery store was tiny and there wasn't another one for another hour away. So, even though it was on the pricier side, it was still cheaper to get groceries than to order five meals, three times a day, at a ski resort restaurant.  I kid you not, the cashier told us it was the most expensive order he had ever rung up while working there. You're welcome, Sun Peaks groceries. For this first night only, we grabbed a pizza from the ski village, and headed back to our apartment.
The apartment was part of a complex, and as my husband explained to us, it is referred to as a ski-in- ski-out. Simply put, we were able to get dressed for skiing in our apartment, walk a few steps outside, slap on our skis and ski down to the closet chairlift to start our day of skiing! That, my friends, was a complete luxury to me. Anyone that loves skiing knows that the worst part of it (even more so with kids) is getting ready. If you ever have the opportunity to skip out on the chalet bit and have this option, do it! It was amazing.
As a family, we love skiing, but the conditions in Quebec can be harsh with a lot of ice. Papa MOE knew that skiing out west was a different element and we would enjoy it. My goodness, was he right! The conditions were the most surprising, with absolutely no ice! We had to check ourselves a couple of times on the first few runs, but sure enough, no ice was found, not even as the day progressed and the runs were more used.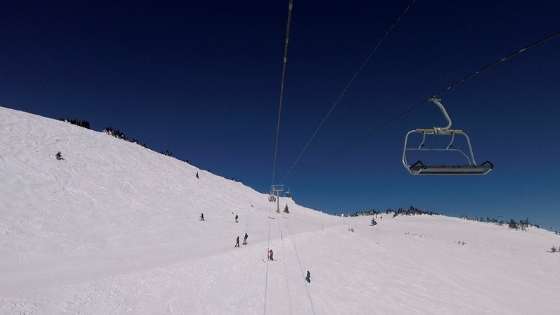 The other massive difference was the length and width of the runs. A chair lift ride took a long time but that was because we were going further than runs back home. Most of the runs we took were a good 20 minutes to get back to a chalet or chairlift.
As a mountain, Sun Peaks was perfect for family skiing. The runs were well-groomed making even the diamond runs manageable. It made a big difference to us to not have ice to worry about. Even when the runs were steep, I wasn't concerned to slip on ice and fall. Truthfully it made us all braver! All the runs were breathtaking and loads of fun for the boys. In some cases, Papa MOE helped them in bits of forest or moguls.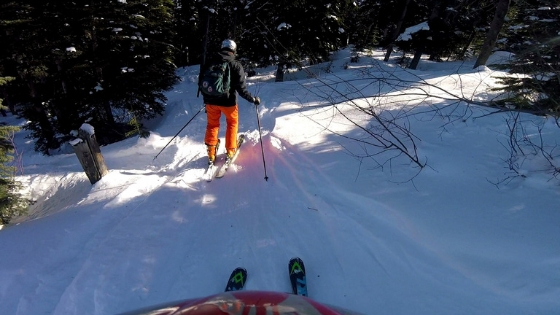 Because Papa MOE is an avid skier, while we were in a chalet taking a break, he managed to take a couple of harder runs to give himself a challenge. Sun Peaks Resort covers three mountains and we skied them all. What is advantageous to families, is that it is never crowded (we asked locals and they said there is always no wait for chairlifts and never crowded) and all the mountains lead to one central base. This makes a big difference, should you split up with your party and try different runs. It is also helpful should anyone get a little lost, there is only one place to meet – at the bottom.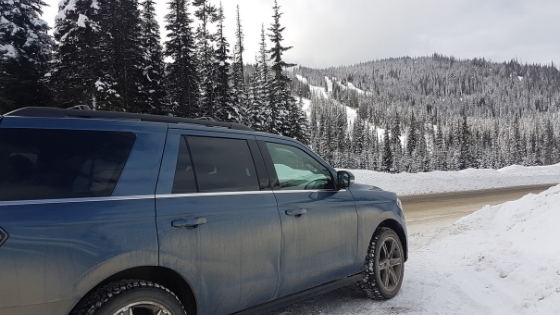 If you are looking to head west for some skiing, Sun Peaks is a fabulous destination. We would definitely go back. A big thank you to Ford Canada for setting us up with the Ford Expedition for our road trip to our ski destination. We needed something that would hold our skis, boots, (that we brought with us) luggage, and all five of us!
The Expedition was perfect in all road conditions thanks to its four-wheel drive. We had friends and family warn us of the weather and how quick it could change. We did have one day of snow and wind, but it didn't bother us with the Expedition. Everyone was comfortable, and it made our experience easy and awesome. You can read a fuller review of our first experience in the Expedition, when we took it for a road trip to The Upper Canada Village.
Have you ever skied in BC? What was your experience like?
Disclaimer: My family and I were gifted the Ford Expedition for our travels in BC to facilitate this post. All opinions are honest and my own.