Taking time for myself in these weeks of June seems downright laughable. With the kids in the last days for school, I want to try and get as much as I can get done before they are home for the summer. They also have end of year concerts, presentations, field trips, extracurricular activities finishing up…it's a lot. Oh, and add to that their birthdays all land in June. So, birthday parties and cupcakes for school, twice. They are all happy things, but there are a lot of things.
So, when Weleda Canada invited me to an event that was meant to help me connect with my inner nature, I was unsure how that would work right now. If you know me, I am not easily able to get into a Zen state of mind. I had a sinking suspicion I would be out of place, but since I absolutely adore Weleda, there was no way I was going to miss it. Also, I had no idea what to wear to an inner nature event… I opted for pants.
The event took place at the Centre for Sustainable Development, in downtown Montreal. I had never been to the building, and was pleasantly surprised to learn more about it. This is where the David Suzuki Foundation offices are in Montreal and along the inside wall were examples of materials and products to create a more sustainable home; a great resource for anyone doing renovations in the near future.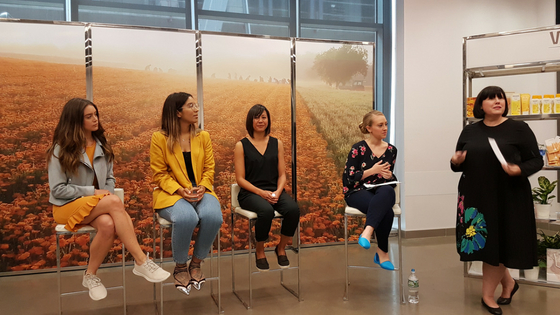 After I had some time to see the products and chit chat with fellow bloggers, we were all treated to a panel discussion with (L-R) Samantha E Cutler (thefitfetalecom), Elodie Parthenay (writer and mom) and Dawn Mauricio (mindful meditation teacher). The panel was hosted by Sandra Irwin of Weleda.
The discussion focused on how to take care of your inner nature; something that Sandra said was a big topic of discussion at Weleda head offices. The company researched how women handle taking care of themselves. The thing that seemed *loudspeaker-in-my ears* clear was that as soon as you think you have no time is when you need to make the time. I suppose it is something I've known, but just not always put into practice. As Sandra mentioned, some of us think taking time for ourselves needs to be full day off or a spa day with zero tech. Well none of that works for me, so it was nice to hear what the panel said about just a few suggestions to re-center in nice and easy spurts.
That Moment of Zen
Weleda had a beautiful display of their products with suggestions of Weleda Rituals to put into practice to nurture your inner nature. I'm not going to lie and say I'm going to put all these into practice. While a foot bath with Weleda's Pampering Body and Beauty Oil might sound relaxing, I can see myself getting interrupted at least once and having to walk across my floor with wet feet, and potentially slipping. The bottom line is you have to find the ritual that works for you.
A foot massage on the other hand sounds perfect to me. I use Skin Food all the time and I love how my skin feel soft and subtly after. Rubbing my feet after a shower at bedtime just before I go to sleep sounds reasonable and really nice!
Dawn Mauricio gave us an example of adding some peaceful moment to your days. We were all given the Almond Soothing Hand Cream and we took a moment to massage our hands and then breath in the scent by cupping our hands to our face. Easy, simple, quick. I loved it! This I can do.
What I do for some inner nature
Ocean water – put me near the ocean and I am instantly at peace. I don't care what time it is, if I have a deadline, if I'm hungry, thirsty, that all goes away, and I am groovy.  Living in Montreal, I rarely get near a beach, but I try at least once a year to dip my toes in the ocean. And it's like an instant recharge.
Incorporating ocean to other things in my home is another great way for me to feel at peace. I have sea blue colours in our living room, we have a decorative vase with sand and shells from our summer trip on display, and we have family photos of our time by the beach on the walls.
Reading is a perfect escape for my mind. Now that my boys are a little older, and they have a reading log for school, I am consciously using that time to read too. It gives us all a moment to sit and relax and read together. I love this so much because for a while, I had no time to read just for pleasure. Now I do.
Get creative – I have always loved colouring, painting and drawing. I admit, I do not make time for this on a regular basis, but I'm hoping to this summer with the same concept of the reading with my boys. I have some beautiful adult colouring books and I think taking time to sit and be creative will be good for me.
How do you incorporate taking care of yourself even at your busiest times? I want to read your suggestions! We could all use some great ideas like those suggested by Weleda. It will definitely help me get through this month with a little more Zen.