It's no secret in our home that Papa MOE is the worst eater in the bunch. Friends and family have poked fun at it for years, and I have tried with him, like a Mama tries with her children, to get him to eat better. It's not that he eats terrible food. Whatever I'm making is what's for dinner, so the main meal is healthy. But Papa MOE…just can't get himself to eat vegetables.
I'm not joking.
When our first little one was on his way, we made a deal. He promised he would eat vegetables as soon as our child would start solids, to show him that Papa eats veggies too. Well, my friends, three children and five years later and still he picks at his food like a kid. In fact the kids are better! The other day there was a standoff: "You eat your string bean, and I will eat one too". Guess who said that? My son!!
So naturally when I heard that Adult Essentials, along with Multi-Testing Mommy, was rounding up a group of fabulous bloggers to co-host a Dads Deserve to be Healthy Giveaway to celebrate Dads in Canada being healthy, I wanted in. Mamas work hard to keep their kids healthy, but sometimes, the Papas need an extra boost to stay healthy too. Adult Essentials can help them do that!
With Papa MOE, things are looking good – he actually likes taking Adult Essentials gummies because they are really tasty. Plus he knows he's doing a better job for his body so it's a win, win!
Adult Essentials are pectin based gummy vitamins that are:
gluten free, nut free, dairy free
approved by Health Canada
made with natural flavours and colours
delicious
Would you like to enter to win a handsome monogrammed black gym bag FULL of Adult Essentials for that important Dad in your life? Enter the Rafflecopter Form below. Giveaway is open to Canadian Residents only and ends on June 17th 12:01AM.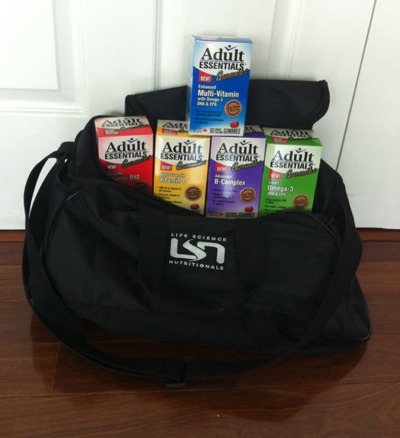 a Rafflecopter giveaway
Adult Essentials are available online at
Well.ca
and at most Rexall Pharma Plus, Metro, Sobeys, Lowblaws/Real Canadian Super Stores, London Drugs and now at Shoppers Drugmart.
To learn more about Adult Essentials, feel free to visit them:
Adult Essentials Website
@AdultEssentials on Twitter
Adult Essentials on Facebook