Over the holidays, we had friends in and out of our family country home and it was awesome. But the most epic night had to be New Year's Eve. At about 5pm, we all got out of our cozy cottage outfits and dressed the heck up! Earlier in the day, I had a mini-mani session with the little ladies, so our nails were done, but we did our hair and makeup too. We all showed up in the living room, decked up for the rest of the night.
You would think that with kids, we would all call it a night just after midnight, but we were just getting started at that point!
Music Makes The Party
No question, if there had been little to no music, we all would have fizzed out early. But I put on a playlist first, and then we made things interesting, changing up music for each song. If you have a group with different music preferences (and ages) the best thing to do is let each person have a chance to choose a song. It gets people excited for their turn, and creates a super variety for the night. We started off slow but it soon turned into a full-fledged dance festival in our living room.
I couldn't get the tweens off the couch, but I'm sure they enjoyed internally smirking at the old folks dancing. I bet they had fun, even though they only got up a few times. When things got too late to keep dancing, we turned on the karaoke machine!
I'm pretty sure the most fun the adults had was when we played "I'm too Sexy". We spontaneously made an imaginary runway and I started it off. We cat-walked down the open hall, one at a time. It was hilarious but you know what? We all had the best time cheering each other on.
Get Out of That Comfort Zone
I think one of the best lessons you can teach your children, is to let loose and have fun with your family and friends. None of us were heavily drinking, we were just having fun together. We had sweets and water and fruit in between dancing and it was great. My husband even got in the act. And to my boys, that was amazing. Not everyone feels good dancing it off in public, but the older I get, the less I care what others think. And having fun is the best recipe for happiness.
Dance When No One Is Watching
I always said, if exercise gyms or dance studios played 80s music and lowered the lights a bit, I would be there every chance I could. So, you know what? That's what I'm doing at home for this new year of a healthy new me. Just this afternoon, while I was eating my lunch at home, a great song came on the radio, so I popped out of my chair and danced.
When I heard Tony Robbins speak in Montreal, I remember one of the major themes was motion. He said "Emotion is created by motion" meaning the higher your energy, the more efficient your body and mind will be. So, if you change your motion in the day, and spontaneously boogie for a few minutes at a time, it make you feel better! New studies have shown that dancing (and learning new dance routines) can increase memory and balance, as well as lower stress.
Dancing never lets me down – When I dance, I use cardio, I use my muscles that were not getting a lot of love, and I have the best time!
YouTubers That Will Get You Moving
Gone are the Sweating to the Oldies cassettes (love you, Richard Simmons!), now you can look to YouTube for all your different exercise routines.
So, without further ado, here are three YouTube channels I will be using to get moving at home. Now, before you give me a suggestion, yes, I know there are classes for this. But I am not a gym enthusiast. So, if you're like me, and love dancing but hate hitting the gym, this is a good alternative.
I did some major filtering on YouTube because, Oh em gee, there are a lot of videos for exercising! I will say that I was looking for videos that I liked the music and that did not have too much voice over for every single move.
The videos I found and liked the best were short and powerful. Workouts last for 5-30 minutes. Of course, you can do more, but I'm adding one or two to my daily routine to start. To go directly to each video, click on the photos below.
1. BeFit with Keaira LaShae
The BeFit channel has many instructors, and I like Keaira LaShae the best. She pumps you up without getting on my nerves. Her energy keeps you going and I love how she motivates you to keep going.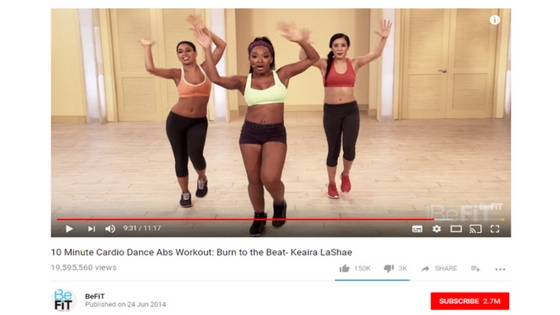 2. Bipasha Basu 30 minutes Aerobic Dance Workout on Good Health 24/7
Good Health 24/7 is a lifestyle channel with fitness workouts too. This video has a slight Bollywood sound to the music and I like that it's a little longer. Their clothes make me feel I'm watching an 80s music video.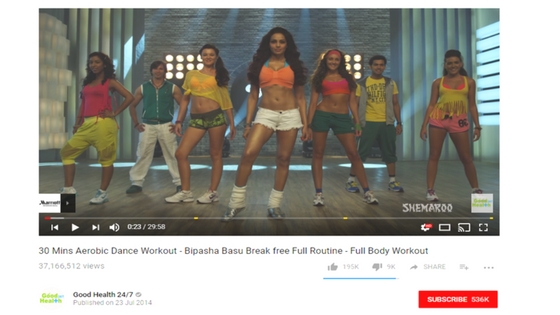 3. 80s Warm Up on We Love Dance
Are you kidding me?! I mean this is fun! I love that this is in a dance studio with people dressed in exercise clothes that I wear. The channel has lots of new music to dance to, but I had to include the 80s link for you.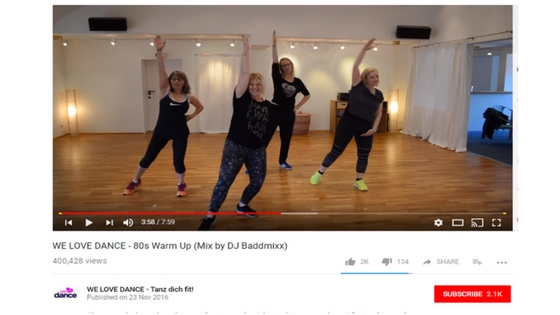 4. Libby Miga – Good Time Cardio Dance Zumba routine
This instructor is so happy – I love working out to her routines! And this music makes you want to go out dancing! I love it! Also, it is not as easy as it looks – you get a good workout.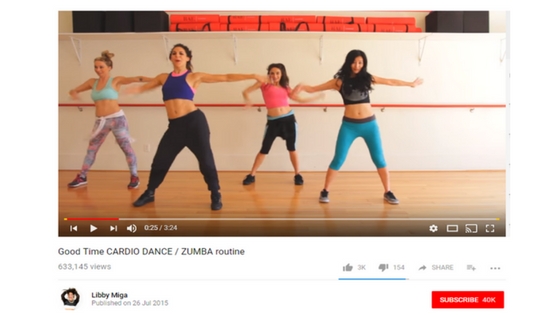 5. Tamma Tamma Zumba Dance by Fitness Fusion
This smile! How can you not enjoy his workout! Don't let this screenshot fool you, you are you going to sweat with this Bollywood workout. I love it! Fitness Fusion channel offers other great videos similar to this.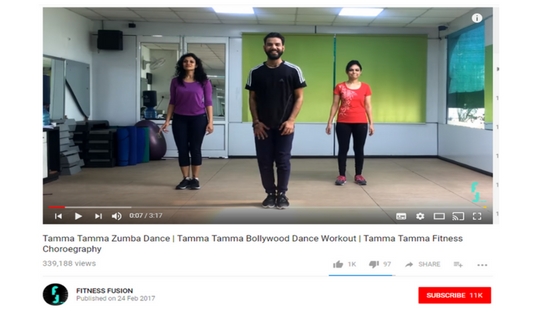 6. The Fitness Marshall
If you haven't seen The Fitness Marshall, you are not on Facebook much, because this video went viral online. I love his energy – and I love the music he dances to. Fun and fabulous, this is my favourite.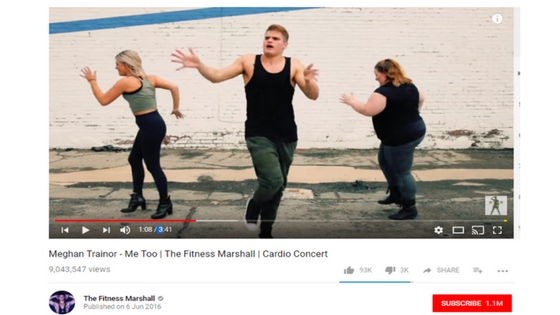 7. Dance Fitness with Jessica
If you have little ones that want to get into the action, this video is adorable! Moana dance video!! She only has a couple of videos with her kids, the rest are for adults. But I thought this deserved and honorable mention!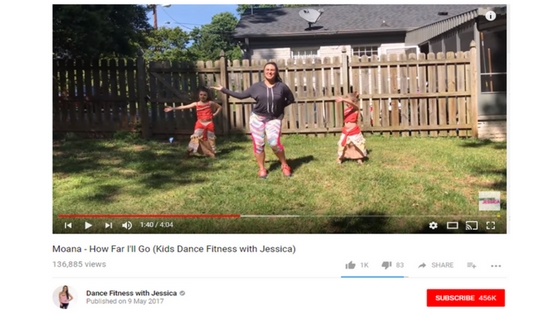 So there you go. Seven new channels to help you add some dance to your day! What do you think of this list? Do you have any favourites I haven't mentioned? Please leave them in the comment below so I can add to my growing list. Happy dancing!