I feel like a bit of a dinosaur when I write these words: there were no apps when I was pregnant. The pregnancy websites were just getting popular and I tracked my pregnancy with books and certain sites religiously. However, once baby was born, I had nothing digital to help me.
In the age of technology and social media, changes happen so quickly, and new tech is developed so fast, that it is hard to believe that apps only started to become a thing about 10 years ago! Truthfully, it took me a while to get on board with owning a smartphone, even as a blogger!
Now that I'm all in, I wanted to share a new app that I think is a real gem for soon-to-be mamas and mamas in general. I've downloaded it on my phone and I know it will be handy for me too, even though my kids are a bit older.
Baby Health App by TELUS
The premise of this app is to help soon-to-be mamas take control of their baby's health in the easiest way possible. I'm sure you know of the little blue book to track baby's health. Since time immemorial that has been the one thing you were supposed to have at all times with you for your baby's health records. Whenever I brought my boys to the CLSC or the pediatrician, I *tried* to remember to bring the books. Of course, I didn't always have it, so half of the check-ups were in the book, while the others were documented in the doctor's file, or on a sheet of paper I was supposed to add to the book…I also had a fear I would one day lose the book and then lose all their health information.
Well now with the TELUS Baby Health App, available for Android and iPhone users), everything can be documented virtually! I will always have the information right on my device to refer to, and I will be ready to give this information to our pediatrician. You may think this is only pertinent for newborns, but I will be using it to for a few reasons, as you will see below.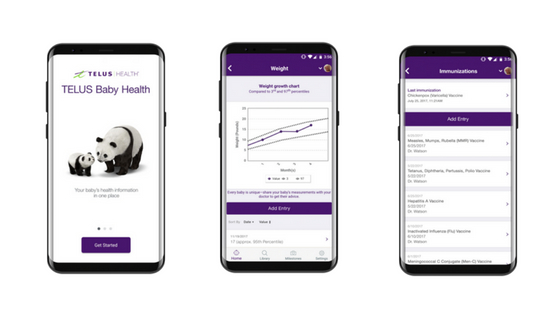 Here are the features available on the app currently:
Emergency contacts – this is essential, of course, but think about how many number you have on your phone right now? Having this contact in one location clearly marked for baby is super.
Growth tracker for height, weight and head circumference – this is checked at every baby appointment, so having the growth chart handy gives mama a sense of control for sure. Otherwise, it is only seen by your pediatrician.
Immunizations records – I can't even count how many times I had to ask my pediatrician who got what shot! With three children, two of them twins, there were many times that one couldn't get their vaccinations at the same time because of a flu, so having the ability to track on my phone sounds like a wonderful gift for mamas!
Medications record – this is glorious! When you have one child on medication, it can be easy to forget when they had what last. Having three on medication? Yep, it can be stressful! This will help.
Allergy record – I am recently dealing with this for one of my twins. Allergies can be a real concern, and having a place to track records, on my phone, will put us all at ease.
Baby Developmental milestones – ask me when any one of my children lost their first tooth, learned to crawl or walk, or potty-trained and you will not get a coherent answer from me. I used to think "how could any mother not remember that stuff?" and boy, was I wrong!! I have calendars, post-its, and agendas with little bits of information for each of my children. THIS is a feature I would have loved to have from the get-go. Because, mamas, you will forget, even in the same week a milestone happens. And PS, milestones happen long after baby is a baby, so I'll be using this even today.
The app also has articles to give you some information to read about each stage of your baby. I love reading parenting articles (and writing them*wink*) so I love that this is available straight in the app as well.
Is your information safe?
So, one of the first things that come to mind when I upload any app is, "will my information be safe?". And secondly, if I were to have something happen to my phone, what would happen to my info then? You'll be happy to know that you need to create a password protected account in order to view your information. So if you needed to change phone, or worse, if your phone was lost or stolen, your information on the app would be safe.
To get a much more detailed description of just how safe your baby's data is, you can visit the TELUS privacy policy at this link:  telus.com/babyhealth . Essentially, the data is stored in Canada and all personal information is kept confidential. As well, the content you add o the app cannot be shared to others (such as your doctor via messaging/e-mail) at this time. The purpose is for you, the parent, to have information at your fingertips to share with your doctor when you see him/her.
Oh, and did I mention this app is FREE? Yes.
So tell me, what feature do you find will be the biggest game changer for you?
To learn more about the Baby Health app, visit telus.com/babyhealth. If you register an account before December 31 2018, TELUS will donate $5 to Opération Enfant Soleil, in Quebec, an organization that does great work raising funds to support pediatric hospitals and care facilities across the province!
Disclosure: I have partnered with TELUS Health and have received compensation for this post. All opinions in the post are my own.