In the last few years, I have not had much time to attend local performances on my own. I used to go to musicals, shows, events and ballets often. I love the arts, and I love discovering new shows. So, when I do find something I think is family-friendly, I gravitate to it and I make sure to expose it to my three boys. As well, I love sharing them with you! Lucky for me, there is some homegrown talent I had the pleasure of watching in Montreal last week.
I am a big fan of Broadway musicals, but I had never, ever, seen Joseph and the Amazing Technicolor Dreamcoat. I know! So, when the team at the Cote Saint-Luc Dramatic Society reached out to me, I took the opportunity to check it out. Located at the Harold Greenspon Auditorium, the Tim Rice and Andrew Lloyd Webber musical came to life in the small theater, to a sold-out audience on the day I saw it.
The production runs until June 17th and currently is 75% sold out! With a cast and crew ranging from 8 to 80 years old, it is a fantastic representation of a community production. As mentioned by co-producers, Mayor Mitchell Brownstein and Mitch Kujavsky, "Theatre is a medium that enriches lives, teaches teamwork and builds confidence in both children and adults alike."
The Cast
When the performance is about to begin, and you receive not one, not two, but three changes in the program due to unforeseen circumstances, you might start to question how the show will go, right? Well, the night I was there, that is exactly what happened. But in true theatre fashion, the show did go on, and without a hitch, as far as I was concerned. I'm sure the cast and crew were nervous wrecks with the last-minutes changes, but it didn't show. One performer in particular I had to congratulate afterward. Lead singer, Nicole Arrage, had laryngitis. I was told this before, but I didn't know who she was, so after the show ended I had to ask who she played! When I spoke to Nicole, she literally had no voice left. I was dumbfounded. She, along with Jeanne Motulsky were pretty much on stage the whole time as the storytellers, and they were fantastic. Joseph is played by Sam Boucher a first ear student of Concordia Theatre, who will be leaving to pursue a degree at Sheridan College in Musical Theatre Performance. His voice was smooth and inviting, and it was a pleasure to watch him sing his heart out (with a pulled back, no less!).
Is it family-friendly?
Yes! Truthfully, I wasn't convinced the musical would be a family-friendly show before seeing it. I read the story of the musical prior, a couple of years ago, and was on the fence about it since it involved a sexual scene that I was not ready to have to explain to my children, no matter how awesome the music was.
Luckily, Director Anisa Cameron, Musical Director Nick Burgess and Choreographer Alexia Gourd, made sure this production was family-friendly in their portrayal of the musical. Since I never saw the original Broadway musical, I cannot be sure just how provocative it was, but the team clearly adapted this production and children will not be shocked or surprised with the song in relation to the sexual scene.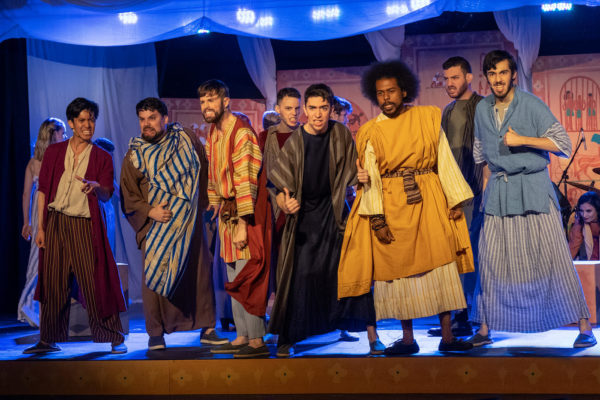 What kids will love
Josephs brothers, played by Craig Dalley, Kenny Stein, Justin Johnson, Eli Rubineau, Shaun Nishmas, Marc Ducusin, Sam Melnick and Jonah Zoldan are not only talented, but hilarious. Raising three boys that love the arts, I was thrilled to see such passionate young male performers. They captured the audience with their personal glances and funny interludes, and their group performances and songs were amazing.
I must also mention that the fantastic dancers, ensemble (including my friend, Jordana Kujavsky!) and choir made the performance complete in so many ways. Their talents made the performance shine so bright! The choreography was nothing short of remarkable – there were a lot of people on that small stage and you never felt their performance was small, if you know what I mean.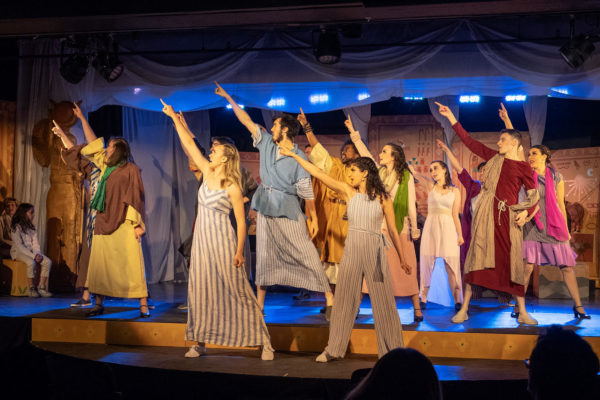 The More The Merrier
It is clear that the producers have made it a point to showcase local talent, have a superb cast of lead singers and performers, but also to allow the theatre to be appreciated by a larger audience. So much so, that they collaborated with local sponsors to invite hundreds of elementary school students to see special matiness performances of Joseph. With musical boys at home, I know they will love to see the Cote Saint-Luc Dramatic Society production of Joseph and the Amazing Technicolor Dreamcoat.
Giveaway!
The Cote Saint-Luc Dramatic Society have offered two tickets to their performance on June 12th for one lucky reader!
To enter, leave a comment on the blog post telling me what you're most looking forward to seeing in the performance, based on my review.
To purchase your tickets, visit their website and you can follow the cast on Instagram 
The deadline to enter is June 10th, 11:59pm. The winner will be notified by e-mail. Good luck, everyone!
Disclosure: I was invited to see this performance to facilitate this review. All opinions are honest and my own.