Disney Magic will be hitting the ice this March break at Place Bell in Laval with Disney On Ice presents Road Trip Adventures. Desribed as the most participatory and innovative production in ice show history, it will be a different take on any ice show you may have seen before. There will be 11 shows in English and French from March 4th-March 8th. With tickets starting at $20, celebrating the magic of Disney close to home can be a reality this March break!
"As a parent, I know how valuable time with your kids is and how increasingly more challenging it has become to not only carve out that time, but also to make those moments as memorable as possible," said Nicole Feld, Executive Vice President and the Producer for Feld Entertainment. "That's why with this production, we wanted to design an atmosphere where families come together and interact with the performance to create something truly special. By the time the finale ends, more audience members than cast will have been on the ice creating family memories that can only happen at Disney On Ice."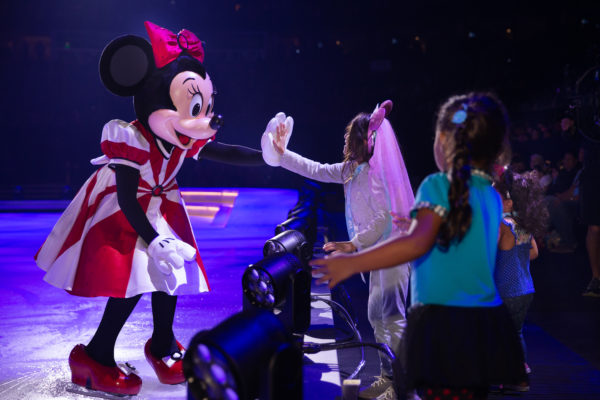 While guests prepare to hit the road with Mickey Mouse and his friends for a high-octane ride, tour guides will engage and greet the audience for the adventure in store.  Families will become an integral part of the narrative no matter where they are sitting through a variety of participatory elements built into the production, such as in-audience dance moments, a show-stopping sing along to beloved Disney tunes and Toy Story 4 carnival games that everyone in the audience plays.  Throughout it all, more than 50 guests will be placed at the center of the action on the ice when families are invited to ride in small groups in a specially-designed vehicle driven by Mickey Mouse or one of his pals, stopping at favorite Disney destinations, such as Motunui, the North Mountain and Metroville. 
Expect to see characters from Toy Story 4, Aladdin, The Lion King, Mary Poppins, Frozen and Moana, as well as fun-living Mickey and the gang.
Here are the dates of the performances:  
Wed. March 4 @ 7pm
Thurs. March 5 @ 3pm, 7pm
Fri. March 6 @ 11am, 3pm, 7pm
Sat. March 7 @ 11am, 3pm, 7pm
Sun. March 8 @ 11am, 3pm 
* English shows are marked in bold
Follow along with:
Facebook:  www.facebook.com/DisneyOnIce
Twitter: @DisneyOnIce #DisneyOnIce
YouTube: www.youtube.com/DisneyOnIce
Instagram: @DisneyOnIce
To purchase tickets, visit evenko.ca
GIVEAWAY!
Win a chance to see Disney On Ice presents Road Trip Adventures at the Place Bell in Laval with your family! The giveaway is for 4 tickets to the 7pm English premiere on March 5th (make sure you are available for this exact date and time!).
To enter the giveaway, write a comment below telling me what Disney dance number you love the most. That's it! Make sure you include your e-mail address so that I can contact you if you are the winner.
For bonus entries:
Follow@AskMamaMOEon Twitter (leave your Twitter handle in a comment below)
 Follow @Evenko on Twitter (leave your Twitter handle in a comment below)
Tweet this giveaway by retweeting this post with the message: "I just entered a giveaway w/ @AskMamaMOE to #win 4 tickets to see #DisneyOnIce from @Evenko" (1 entry for every retweet, up to twice daily- please leave a link to the tweet in a comment below each time)
Subscribe to AskMamaMOE.com (leave your e-mail in a comment below)
The giveaway will end at 11:59 PM on March 2nd, 2019. The lucky winner will be notified by e-mail. Open to Canadian residents only. Remember to include your e-mail in all entries!
Good luck to all!
** UPDATE! ** Congratulations to Antonio – enjoy the show with your family!