So you remember the picnic I wrote about as our annual end of year tradition? Here it is! I took some pictures of our day to show you a super location in Montreal; a sweet place in the West Island.
Located near the apple orchards and Quinn Farm, one of favourite places to go as a family, is the Pointe Claire Mill. It's the oldest mill in Montreal and one of the last 18 mills in all of Quebec. We drive to the area, and then bike through the heritage park to where we picnic. The water surrounding this small piece of land is the St. Laurence River. The water is not one I would recommend swimming in, but the kids love looking for little fish and collecting shells in their sand buckets.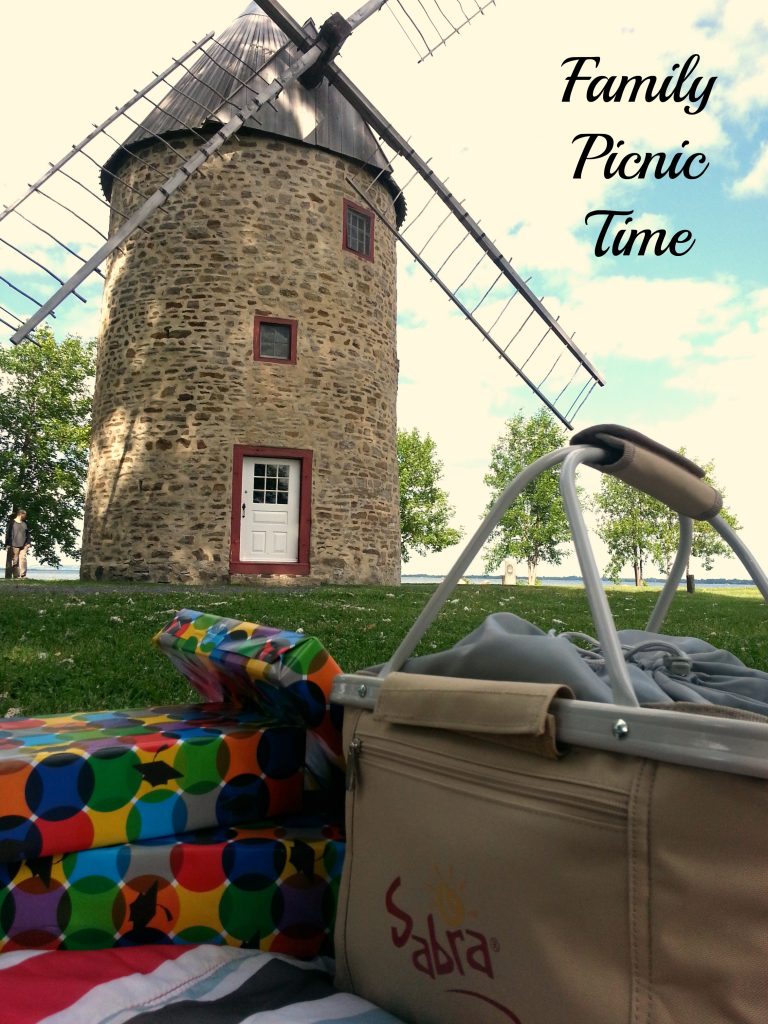 We've done some fun activities there for them too. Tiny tricks that blew their mind…one time we wrote a treasure map and placed it in a bottle. When the kids weren't looking, Papa MOE plopped it in the water.  You should have seen their faces! The map led them around the area and we had brought a bunch of toonies and loonies in a container for them to discover.
Another time, I picked up a coconut at the grocery store before our annual picnic. Again, when they weren't looking, Papa MOE slipped it close to a tree near the water. Minds blown.
A couple of years ago, our oldest received a metal detector from Santa Claus. And since then, we've brought the metal detector with us to the beach. And every year we've managed to hide a couple of coins in the sand before he would pass with the metal detector. This year, he was always keeping a watchful eye, and Papa MOE wasn't quick enough. Ah, how fast the years change their naiveté!
For our actual picnic, I usually bring crackers, dip, vegetables, fruit, and of course, cupcakes. I was recently asked to try Sabra products, and I was thrilled to include them in our family picnic. Unfortunately, my local grocery store didn't have the guacamole which I am anxious to try, but we brought artichoke and spinach hummus, garlic hummus and the single portion plain hummus with flat pretzels. Everyone tried everything. The kids seemed to stick with the plain hummus but also enjoyed the artichoke and spinach variety. The Sabra flat pretzels were gone in seconds, we all loved them! I personally enjoyed the garlic hummus, it tasted great with vegetables.
My kids have always been fans of hummus, and I have been adding it to our daily diet since they were toddlers. They have it in their cheese sandwiches, with vegetables after school and sometimes on its own with crackers.
I am happy to have new versions of hummus to add to our stock. The portions are great as well, and keep well in the refrigerator. Course, with my brood nothing lasts long in the fridge.
To learn more about Sabra's range of products (still need to try the guacamole and salsa!) as well as great recipes, visit www.sabradips.ca.
Have you tried Sabra's hummus and guacamole? Would you like to? Well now's your chance! Sabra has generously offered a prize package for one lucky reader, including a picnic basket like the one you see in my pictures. It's just perfect for the summer! (PS also very handy in your car after summer's over.)
To enter, simply follow the instructions in the Rafflecopter form and you're all set!
Open to Canadian residents only. Good luck to all!
a Rafflecopter giveaway