With three children under five years old, you can bet that the concept of spring cleaning sounds glorious. A spotless hallway free of sand and mud? A kitchen without finger prints all over the fridge and stove? Or how about a floor that shines? It's a lovely thought. Really, it is. But somewhere between potty training the twins and never finding a really great all natural cleaner, I sort of succumbed to fact that my house just cannot be as clean as I would like it. Maybe it will never be. I have refused to bring hazardous waste that calls itself a cleaner into my home of small children.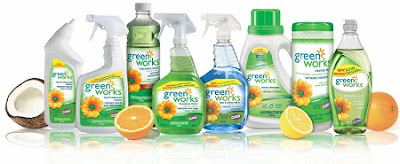 Then a package came to my door.  A big package, filled with Clorox Green Works® products! I had been offered a chance to kick-start my spring cleaning with the whole collection of Green Works cleaning products. What a treat! It couldn't have come a better time.
I had just cleaned and put away all the winter wardrobes and now it was time to really get the home clean for spring. But, you remember how I feel about cleaners, right? So I did some reading, before I did some cleaning. Here are the facts:
Green Works® products are made with plant- and mineral-based cleaning ingredients. These ingredients are biodegradable and are naturally derived.

Green Works® products are not tested on animals.
Green Works® products are acknowledged by the EPA's Design for the Environment program.
Before the package arrived, I already had one Green Works® product in the home; the natural biodegradable cleaning wipes. They are a staple in my home. My grandmother had an expression she used when cleaning before a guest would arrive. "I'm just going to give it a lick and a promise," she would say.  Well, Green Works® cleaning wipes are perfect for the unexpected visitor. They are also a gem for quick clean ups in the washroom, counter, and even on the floor. I love the fact that they are biodegradable because I felt guilty using something disposable instead of getting the trusty washcloth out each time. And they are the only wipes I use because they are made of natural ingredients.
So with my facts and my assembly of products, I set out to spring clean my home. I was pleasantly surprised with the dishwashing cleaner and loved the citrus scented one the best. It was soft on my hands and it did a great job on pots and pans (I gave it a real test with some of my messiest dishes).
All the products were great, really. But to help with spring cleaning, my husband jumped in on the action and cleaned the windows. I was never so happy to give him the natural glass and surface cleaner! Long gone are the days of the staple glass cleaner that many use and know by name (which I will not mention here!). Just the fumes alone from that 'other' glass cleaner are horrible. So in the past, I have made my own home recipe of glass cleaner. And while it does clean the windows, it leaves  streaks. I'm to report the Green Works glass cleaner does the trick – no streaks in sight!
Now I have a go-to brand for cleaning my home. No more worries about if it's safe for my little ones. I guess that means I can keep my home as clean as I want now….well, as clean as it can be with three under five!
Giveaway
Enough about my experience with Green Works®. I'm sure you would like your own experience, right?! Green Works has generously offered the same package I received to one of my lucky  Canadian readers!
To enter, leave a comment below telling me what your favourite Green Works® product is (or will be!). That's it! You may enter across multiple blogs, but may only win one prize. This contest runs until April 18that midnight. The winner will be chosen randomly and notified by e-mail so be sure to put your e-mail in your comment. For additional entries, tweet this giveaway with its link, up to two times a day.
Good luck to everyone and happy spring cleaning!
For more information on Green Works® products visit  http://www.trygreenworks.ca/
Here are some great things happening this month with Green Works in stores (product availability may vary by store):
Wal-mart
Special 2-pack offer (All–Purpose Cleaner and Dish Soap) exclusively at Wal-mart for a great price!
Exclusive All-Purpose Cleaner refill only at Wal-mart location
April 14/15 Weekend – In-store educational demos. Learn more about the naturally-derived Green Works products in-store at participating Wal-mart locations.
Sobeys
Buy 2 Green Works® products at Sobeys and receive 200 Sobeys Bonus points
London Drugs
Green Works® will be hosting a twitter contest at London Drugs where customers can tweet their favourite Green Works® Product to #WinWithGreenWorks to a chance to win 1 of 5 $500 London Drugs gift cards
Disclosure – I am participating in the Green Works® program. I received compensation as a thank you for my participation. This is a personal blog. The opinions expressed here represent my own and not those of The Clorox Company of Canada Ltd.