OK, mamas. You know the drill. It's about that time to be bombarded with back-to-school everything. Everywhere you go, there are school supplies galore and you are probably walking around with a mental list in your head of everything you have to get done before the big first day back.
This year, I was lucky with the supplies. I went the easier route and opted to use the online order form to get all the supplies my three kids will need for their school year. After talking with another mama, I think I may have lost the chance to save, since a lot of supplies are now on sale in stores, but for me it was easy and taken care of over our family vacation away.
What's left to do will be labeling times three (eek!) and…lunches. I have talked to one mama friend of mine who absolutely dreads the idea of having to make lunches for her kids every day during the school year. She begged me to write a post about it! So here you go, mama Liz. Here is a step-by-step guide on how to make easy lunches for school.
Step #1 – Make lunch simple enough that your child will enjoy it. I applaud the Bento lunch mamas out there that go all out and make characters, scenes or themes for each and every lunch. I bet their kids love it! Mine, however want their staple foods and are good with that almost every day of the year. So why would I stress myself out and try to recreate Olaf with vegetables and sushi? Exactly.
Step #2 – Find a way to make their favourite food healthy. My oldest could eat grilled cheese sandwiches every day of his cute little life. But that ain't happening, especially during school hours. So I opt to make him the healthiest version of a cheese sandwich, and he gobbles it up every day. I start with a good multigrain bread, add hummus instead of butter, and then add one piece of sliced cheese that has no additives and the lowest amount of sodium (I've looked high and low and Petit Quebec is the winner where we live).
Step #3 – Find out when and how your child will be eating each day. Sounds silly, right? Well, it is actually pretty important for many reasons. If you calculate from the time you place the lunchbox in their backpacks to the time they will be eating the food, you may need to think about adding a freeze pack to keep the food safe. Also, my child told me he likes bananas for first snack. Why? Because he wants to peel his banana, eat it, throw out the peel and get to playing for recess. The easier the snack, the faster he can go out and play! Smart kid, right?! So for first snack, he gets his fruit, his potassium and it is a stress-free snack done.
Step #4 – Add snacks that are healthy, fun and easy to find. I did a run at Target to see what I could find for back-to-school lunches. Did you know they have a good selection of organic snacks? I didn't. I also didn't know they carried a lot of my favourite brands for lunch packing. I found all of our favourites and managed to add some new favourites to the list. Here are few pictures: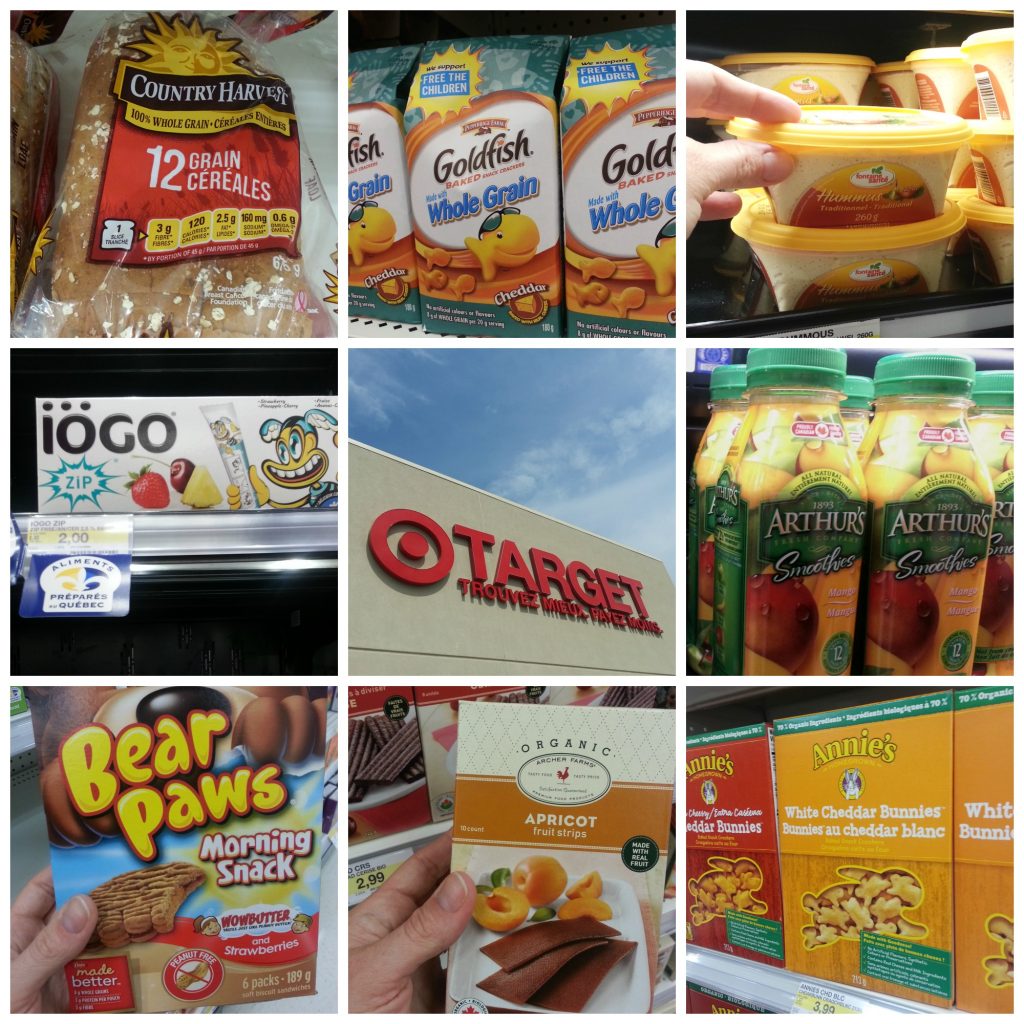 Step #5 – Prepare as much as you can in advance. Make your life easy, mama! Waking up at the crack of dawn every morning to make three lunches from scratch is not an option for me. I try to prepare almost everything in advance. Because let's face it, mornings are hectic enough! Depending on our schedule, I sometimes prepare sandwiches for the whole week and freeze them. Yes, a cheese sandwich can be frozen. By the time my child sits down for lunch, the sandwich has thawed out. I also prepare fruit and veggies in advance in the fridge for about half the week, and place them in big containers.
Step #6 – Make the effort and go green. It's a no brainer these days, but some mamas find it hard to get it all together for lunch each day. Here's what I do. Each morning, I take out three reusable bags and fill them up with veggies or snacks for each child. I pop that in their lunchboxes, along with a filled reusable water bottle, a couple of other snacks, a sandwich (in another reusable bag or box), and they're good to go. While not everything is recyclable, a lot of it is. When I buy snack for the kids, I try to buy bulk where I can to avoid unnecessary packaging. Once you get into the swing of things, going green for lunch isn't difficult at all.
Step #7 – Add that special touch only you have, mama. Do a little something every once and a while in their lunch that is a special. On my children's first day of school, I pack a plasticized picture of us all together and place it in their lunch boxes. It's like giving them a hug from home. Other times, I'll add a few stickers to the inside of their lunch box, and almost every day, I'll write a tiny note or drawing for them. Usually it's super simple, like a stick person or "Love you from Mama" since they are little and the youngest can't read yet.  The point is, it's special and they like it.
That's it! See how easy it can be?
Now to make things even easier, Target is giving away one lucky reader a $50 gift card to help with back-to-school lunch shopping!
To enter, simply fill out this Rafflecopter form. A winner will be randomly selected on August 27th, at 11:59pm. This giveaway is open to Canadian residents only.
Good luck to all!