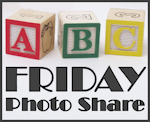 Already another Friday has zoomed by! Time is flying right now, and I am one busy mama! Trying to coordinate my charity event, work on my blog and take care of my family is a lot to do in any given week. But I'm up for the challenge! Mostly because I know how fantastic #SFTH13 is going to be…
Now, back to ABC Friday…have you been following these fun photos? I can't believe we're already at the letter O! I love everybody's take on the themed meme by Maple Leaf Mommy and Mom Vs The Boys.
If you are new to these weekly photos, unlike Wordless Wednesday, this link up has a challenge! We're going through the alphabet with our photos (A is for apple, B is for…you get the idea). I personally chose to link up photos in relation to being a mama. J You can participate too! Click here to join and see what other participants are posting.