How about a little sparkle for you this Christmas season?
Chrissanthi and I connected at Shopping From The Heart, in year two! Now a decade later, and we are still connected and I'm happy to say she is a friend of mine. She, like many women in business, had to think on her toes on how to continue helping her clients with their shopping needs. Chrissanthi has been a delight, making live broadcasts, connecting online, making great suggestions…I love shopping with her.
Here is what she has to say about her business, Fifth Avenue Collection:
"Over the past ten years, I have met incredible women, helping them rebuild their confidence, helping them discover their financial potential; tap into their "Like a Boss" mindset; guide them in how to showcase their inner beauty in their daily lives to their special occasions using beautiful jewelry as my tools."
What I love about the Fifth Avenue Collection is that it is a Canadian based company, and that it is lead and cadmium free high fashion jewellery. I have to say that over the years, I have been surprised with just how many different styles of jewellery they have. Some pieces are bold and blingy, while others are simple and beautiful every-day pieces.
I recently purchased a pair of small hoop earrings that give just a little sparkle, and I love them.
So, in honour of Shopping From The Heart, our long-standing friendship and to celebrate the holidays, I wanted to host a giveaway for one of you to win this sweet heart necklace: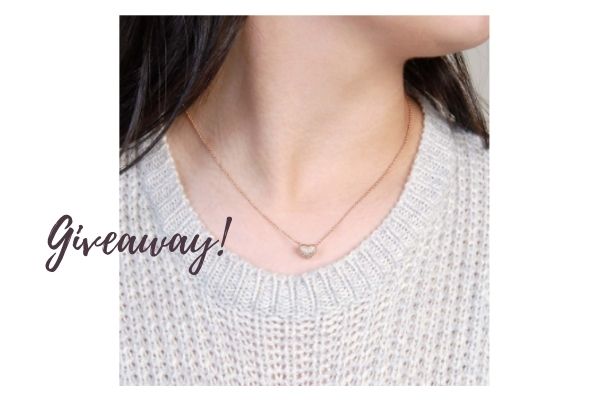 Flaunting an adorable heart-shaped pendant adorned with Swarovski crystals and intricate tiny heart shaped cut-outs for added detail suspended from a sleek 18″ designer chain.
To enter, comment below on your heart's desire at Christmas. What makes you the happiest this holiday?
For extra entries:
A random lucky winner will be chosen on December 23rd (deadline to enter is Dec 22nd, 11:59pm). You must be a Canadian resident to enter. (Please note, this giveaway is not guaranteed to arrive in time for Christmas) Good luck to everyone!
And for lots of great gift ideas for everyone (and yourself!) visit Chrissanthi's website, Instagram, or Facebook page.
UPDATE:
Congratulations to random winner, Paige McEachren ! Enjoy this beautiful necklace, I know you will.