My head is still spinning with all the amazing information and inspiration I received at BlogHer2017. I am so happy I stepped out of my comfort zone and went to the conference. I got so much out of my experience as a seasoned blogger, because there was truly something for everyone.
Like every conference or business trip I take, I always enjoy finding a place to stay that is comfortable, peaceful, and easy to get to without a car. Taking a business trip must be a rewarding experience after all, so choosing a place that will meet your needs while you have your down time, your re-energizing time and your work time is essential. I was travelling with my colleague, friend, and master volunteer, Bita Guzman, so we needed accommodations for two people. While we were spoiled by BlogHer during conference time, I wanted to find something that made me feel I was truly enjoying my stay in Florida outside of the conference as well.
Enter the CLC Regal Oaks Resort. With comfort, style and all the amenities of home, it was a fantastic option for our trip. I had the opportunity to meet with CLC World Resorts and Hotels earlier this year and I was thrilled to learn of their town homes have anywhere from 2-4 bedrooms, depending on your needs. What a fantastic option for large families travelling together. I know for my family of five, we always have to search that much more for the right accommodations so we aren't on top of one another, or spending double for an extra adjoining room.
The property is huge with over 450 town homes. To see the map of the whole area, click here.
Family-Friendly
At both locations, there are scheduled family and children's activities to keep little ones having fun. As well, the front desk has dvds, tennis rackets and balls for their courts and there is a small market store that sells floaters and other poolside items, if you forgot yours. Another thing they have are kid-friendly movies at night by the pool. I love that – it's so nice to have the option of staying up with kids on holiday without the worry of a scary movie coming on to end the night.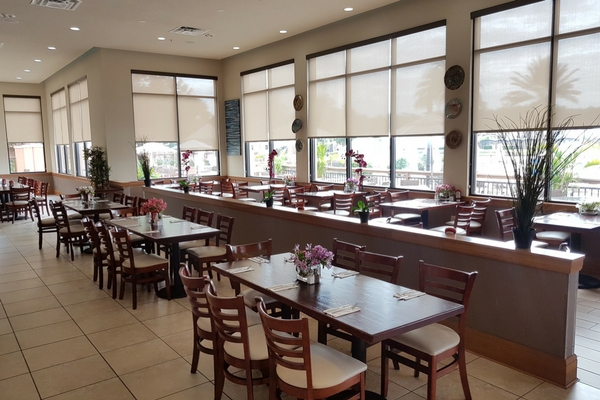 The Coastal Grill and Bar restaurant was a perfect place to get a healthy breakfast before our last day of relaxing and shopping. We didn't take more advantage of the restaurant simply because we didn't have time to, but there was a great menu. A bonus was that the restaurant delivers to your room! (open from 9am to 9pm) As well, if you are celebrating a special event with your big family while you are there, they offer custom catering.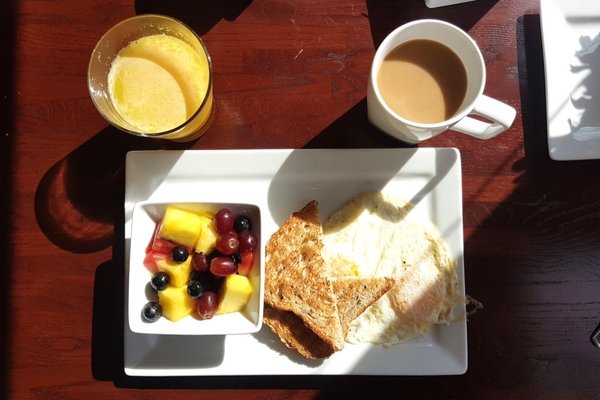 Having the kitchenette and dining table inside, as well as an outside one our private deck was a big bonus in my eyes as a mama. When I travel with my family, breakfasts tend to be simple and we eat before we head out anywhere. The option of brewing myself a coffee while the boys have their cereal and fruit at the time we want is perfect.
Having the chance to pack snacks and a light lunch is ideal for days at the parks since it can get pricey as a big family. And even if we don't do it every day, it's nice to have the option.
We didn't have a car, and our room was a good walk away from the Club House, so when we got there with our luggage we were unsure how to handle it, since Bita couldn't carry her luggage from her injury. A lovely inclusion is the complimentary golf cart service to and from the Club House! It was a relief for us to know we had the service should we need it.
Our last day we checked out after a lovely morning by the pool, so we requested a late check-out. We didn't want to carry our luggage around until our flight. CLC Regal Oaks Resort offered a complimentary luggage storage and it was nice to come back to the resort to pack our souvenirs and change for the flight.
The CLC World Resorts and Hotels has two locations in Florida; the CLC Regal Oaks Resort and the CLC Encantada Resort. Both are short distances to the major attractions and parks.
Our town home was a generous size that would have easily fit my whole family of five with plenty of room and privacy.  Here's a broadcast I did while I was there to show you what the town homes look like:
A beautiful look at #RegalOaksResort #hosted #Kissimmee #Florida ? https://t.co/4S2k2J9Uyh

— Julia a.k.a.Mama MOE (@AskMamaMOE) June 26, 2017
The CLC Regal Oaks Resort is a lovely place to stay with your family, and I am certain I will be back with mine.
A special thank you to Kevyn, Brian, and the whole staff for making our stay a pleasurable one.
Disclosure: The CLC Regal Oaks Resort sponsored my stay in exchange for a review. As always, all opinions are honest and my own.