I attended a Shoebox Project event, hosted by REV Commnicatons PR and Jessica Mulroney, co-founder of the project. It was a festive night filled with influencers from all areas of Montreal. We all came together to create boxes packed with essentials for women in shelters.  
It is an initiative that started with Jessica and her family 6 years ago. Now, it is a full-fledged charity that is known all over Canada and the US.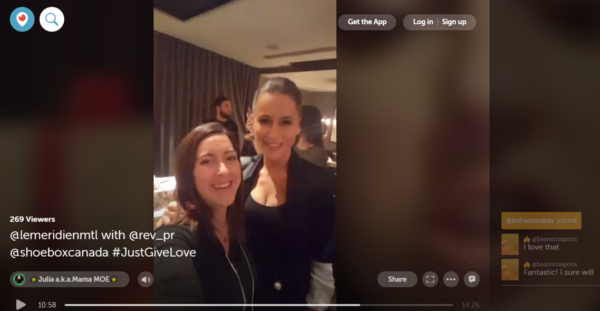 Below is the live broadcast from the event and my quick interview with Jessica (our chat starts at 8:56), click to watch:
LIVE on #Periscope: @lemeridienmtl with @rev_pr @shoeboxcanada #JustGiveLove https://t.co/PkGNPnbSAf

— Julia a.k.a.Mama MOE (@AskMamaMOE) December 1, 2016
 To learn how you can make shoeboxes and donate them, visit shoeboxproject.com .
It's a great excuse to get your friends together and help make a difference to other women in less fortunate situations. We all need to take moments to appreciate our blessings and share them with others. Quick tip: shoebox sized boxes can now be found at dollar stores already decorated in holiday wrapping.