My annual event, Shopping From The Heart, has gone VIRTUAL for its final year!
Until May 24th, you can participate by going to www.ShoppingFromTheHeart.ca
It's hard to believe that ten years have come and gone. With each event, my community grew and the event became a bigger success. It has been a beautiful thing to see women in business came together for one evening in May to celebrate and be honoured for their incredible work.
Over the decade, we have been able to raise just under $43,000 for local hospitals. I can't believe my small little fair that started out in the basement of a church grew into THIS. It was all made possible thanks to the friends, family and community that have come together each year to help make a difference.
Calling out raffle numbers to a unified crowd was one of my favourite things to do – the energy at each event was palpable, even at the very first event. Our local sponsors were so generous and made the event a greater success with incredible auction and raffle prizes. As the event grew, so did the businesses that wanted to participate in any way possible. In 2019, there was so much demand for participating that I had to make the venue even bigger.
Ch-ch-hanges
Ten years ago, the best way to reach other influencers was through Twitter. And that is what I did. Shopping From The Heart was the first time I met other influencers in-person after chatting with them online.
After working with women in business on the backend for ten years, I am so happy to see so many SFTHmtl vendors thriving on social media now. It's been a pleasure to follow along on their business journeys.
For our tenth and final year, I had organized a massive celebration along with the evening fair. We were set to have the fair at the Chateau Vaudreuil and we were going to have a second evening party dedicated to all the women vendors and their families and friends. It would have been so much fun, but then COVID-19 hit our world and things had to change.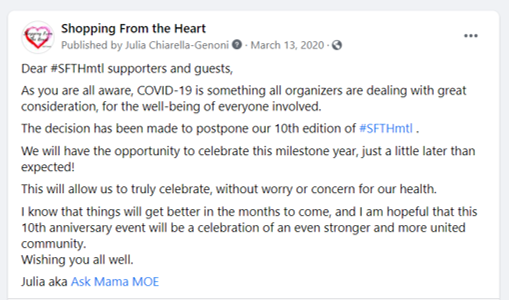 Now, over a year later, I knew it still would not be possible to have an in-person event safely any time soon. So instead of cancelling this last year altogether, I decided to create a virtual event this year. With the help of my son the photographer, we have put together everything we had and more for a selection of raffle prizes.
I have also reached out to local women in business for them to participate, free of charge. This is a very different year, and we are all dealing with this whole pandemic in very different ways. Some long-time businesses have shut down. This was my small way of getting those who are still trying very hard to continue their businesses together on the site for our community to see and support.
And finally this year, I have decided to support On Rock Community Services and Food Bank in the West Island of Montreal. As I mentioned, many families are having difficulty during this time. The one consistent thing I have been able to give my children this whole year has been three solid meals a day. Not one person should go hungry in our community. All money raised will be given to On Rock for their continuing support of the West Island families in need.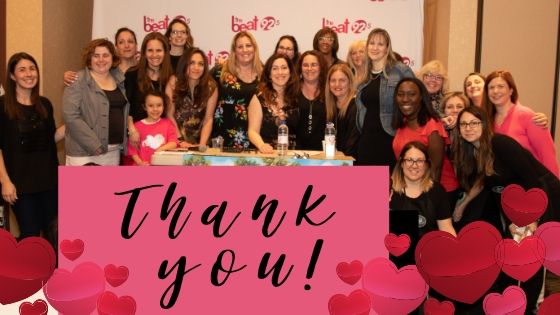 As I mentioned, this is my last year coordinating this event. Expect new and exciting things coming up! This event has truly been a labour of LOVE. I appreciate all the support you have given me over the 10 years to raise money for our community. There are so many people that have come into my life through this event, it's just incredible. You have all amazed me and I will forever be grateful for the support you gave this little idea of mine.
To shop our participating local vendors (many of which ship internationally) &
To see our amazing raffle prizes and purchase tickets to win, visit: www.shoppingfromtheheart.ca
If you are not local to enter the raffles but would like to participate, please consider a donation. Even $2 can make a difference. If that isn't possible either, sharing out this post would also help a great deal!