One thing I have always strived for, is finding toys and games that encourage healthy living. This looks different to us all, but to me, it has meant showing my boys, through pretend play, how to live well. It can be a board game, a family activity, or a toy.
Healthy living is also shown through example. Eating fresh produce and cooking at home, getting our bodies moving with outdoor activities, and helping others when we can, are all ways to show our boys that healthy living, (and living well) is not just for them, but for mama and papa too.
Healthy Living is for the Whole Family
I was so thrilled to see that Playmobil has the same feeling! Their new sets this year include a grocery shop and a bike and skate shop. What I love about both these sets is that in shows children that active living and fresh foods can be fun and important in life.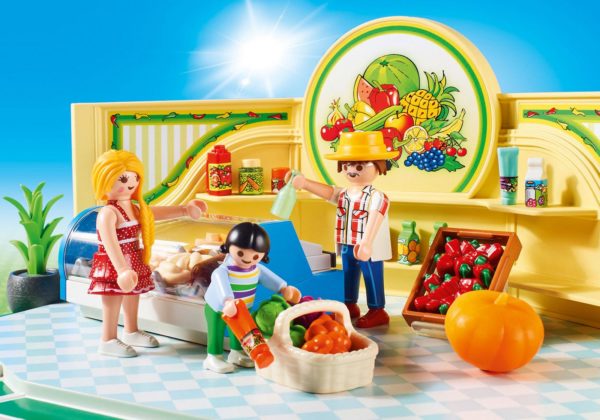 Ever since Canada issued their new food guide, I have been talking to my boys about what is important to eat on a daily basis. This Playmobil market may have meat, but it's packed with fresh produce and I love that. It's crazy to think this, but some kids don't know what some names of basic fruit and veggies are. So pretend play and learning through toys are so important for little ones to get better at making healthier decisions when they are older.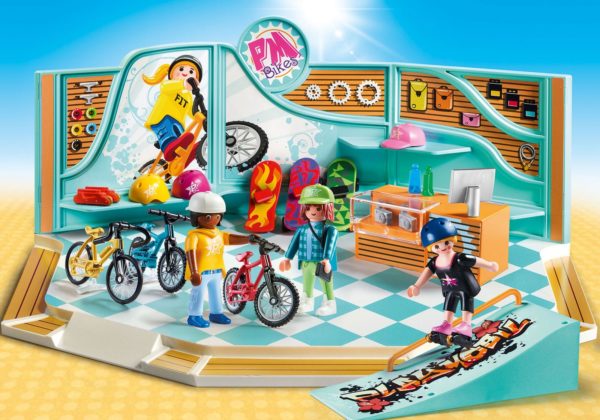 As soon as spring comes around (it's coming around…soon) my boys are right outside, enjoying their bikes and riding around our area together. This set shows children that riding a bike, roller skates or a skateboard are fun! And showing them that active living is fun at a young age, helps them make better decision with their spare time as they get older. We encourage our boys to get outside as much as possible, not only is it healthy for them physically, it's healthy for their minds. More and more studies are showing how important fresh air and active lifestyles help our minds handle stress in a more manageable way.
Other new Playmobil sets are:
The Mars Mission – allows kids to travel and explore faraway planets.
The Police Tactical unit – helps you to create rescue missions here on earth.
The Pet Hotel – has fun places for children to take care of their favourite Playmobil pets.
My husband and I grew up with Playmobil sets, playing for hours. And this tradition was passed to our boys too. They have loved playing with Playmobil and making up stories and new worlds with their pieces. If you haven't introduced Playmobil to your children yet, you should. Sets are marked for ages 5+ and this is due to the (VERY) little pieces included. But if you are thinking of introducing them to Playmobil and they are younger, I suggest playing with them and removing the small pieces until their get older. It really is a lot of fun getting down on the floor with them and making up stories together. You will quickly see how their imaginations soar with these sets!
What is your favourite way to incorporate healthy living in your family life?
{This post had a giveaway and it has since closed}