Last weekend, we took the boys for a ski day at one of our favourite family hills, Owl's Head, in the Eastern Townships. We knew the hill was bought last year and was going to have 200 million dollars in renovations over the next 10-15 years. The hill had been owned by the Korman family since its beginnings in 1965 and many locals were concerned about what new changes would entail. My husband was a ski instructor at Owl's Head after college and we frequently take our boys there because it's a great hill for families. With conditions being cold since the season began, we hadn't had a chance yet to visit Owl's Head and truthfully, didn't know what to expect for the first season with new owners. Would there be big changes? Would we even notice anything yet?
This weekend, we got to see the changes and we were really excited! Here's why are thrilled about the changes and will continue to visit Owl's Head as a family.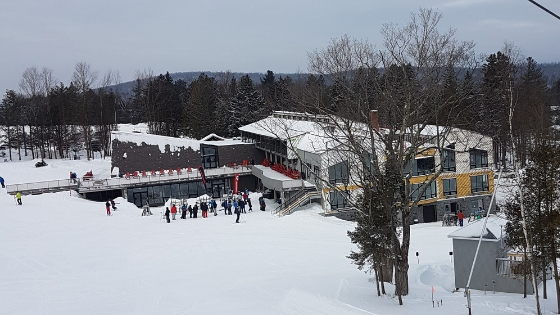 New facilities – It is very fair to say that the chalet needed a lot of love. With years of wear and tear, it was time for big changes to be made to the cafeteria and locker rooms, and that is what was done. A new and easier entrance was created off the main floor for easy drop-offs.
The locker rooms now have strong heating, large lockers with digital locks, and ample size cubbies for those that do not need/want a locker. There are even large sofas in the area for getting ready in comfort. The main floor has new bathroom facilities, an upgraded shop and the ticketing area has large seats and spacious walkways.
Upstairs, the cafeteria is breath of fresh air. New ceilings and lighting, with the old wooden picnic tables, for now. The cafeteria has a new, healthier menu. We usually bring our food for the day, but it is great to know that there are healthier options now with a brand-new kitchen facility. Choices like chili, a vegan meal, and roasted meats are all available now. But for the kids that want the comfort foods they have grown to love when skiing, pizza and poutine are still on the menu. Other options include on the go vegetarian meals you can microwave right there.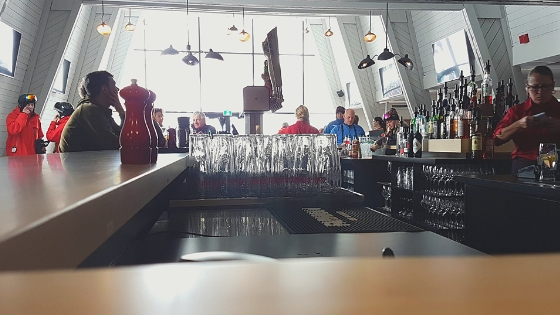 Across from the cafeteria is an exceptional bar/restaurant with a spectacular view with cathedral ceilings. Two fireplaces are waiting for you with comfortable seating areas as well. Since we are lucky to have a family home nearby, we have never needed the hotels up above the chalet. Those will no doubt have a major face lift as well.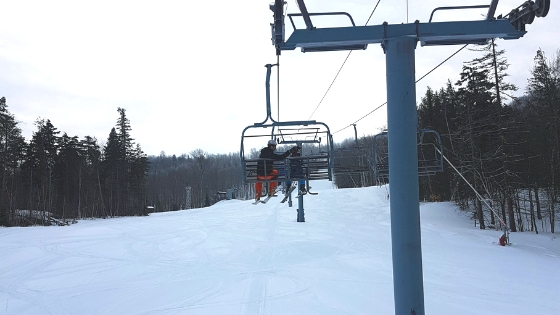 Updated runs – The runs have also had a face lift. When we got on the hill, we right away noticed the changes to our favourite runs. The runs have been opened up with more visibility. And now tickets are up to date with digital cards and scanning doors to pass for each lift.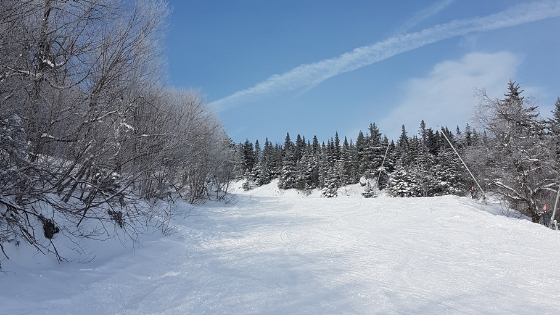 The boys were happy and sad with this one change – no more stickers on their zippers! But, just like their parents, we are all constantly seeing changed in technology. This very well be the first time they see it!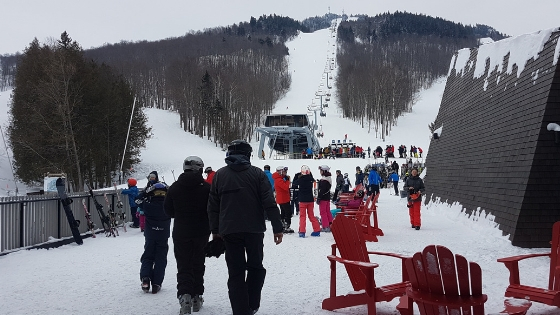 All in all, this was a great ski day and we are really happy to see so many changes already up and running this year. Although the Korman family has said goodbye to the hill that they opened with just three lifts and six runs back in 1965, we are very happy to know that the hill will continue to be a family-friendly place to enjoy a great day of great skiing near Montreal in the Eastern Townships.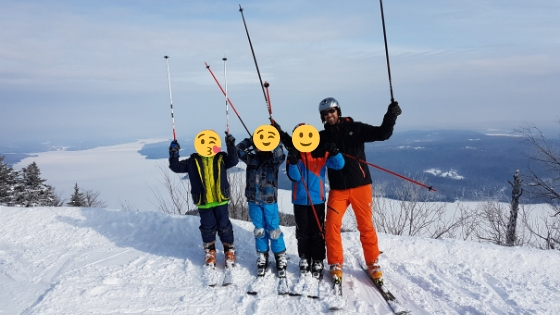 Haven't taken your children skiing yet but are thinking about it? It's a wonderful family activity that we have done since they boys were very young. It helps that Papa MOE is a retired ski instructor, but it is manageable even if you are a novice! We shared tips in a previous post, Read all about Planning Your First Family Ski Trip.