Sometimes you have to just laugh…or you will cry.
This Saturday when I left my home to run a quick errand, I had no idea that this was going to be waiting for me when I returned: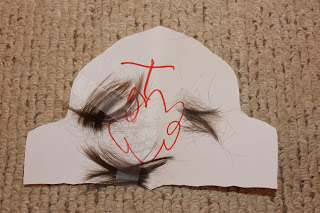 Not sure what the drawing is, but it is quite the masterpiece!
Before I was presented with the keepsake, my oldest (all of four and a half years old) said to me "Mommy, I cut everybody's hair, and mine."
It didn't take long for me to see that each of my children was missing a substantial chunk out of their bangs.
I looked at my husband, who had been with them while I was out. He had a funny smile on his face. "Where did he get the scissors?!" I asked. "I don't know" was his response.
So, dear readers, it seems a trip to the hairdresser is in order this week!
Thanks God the scissors he found were his blunt edge kids' craft scissors in his crayons box. But to be honest, the way they are thinking these days, I wouldn't put it past them to start climbing for things out of their reach. Just a friendly reminder that I must start locking more things up! My little one's punishment was to not be allowed to have his scissors for a (long) while unless we are doing a craft together. Of course I explained, in detail, what could have happened had his siblings not sat still for their new do, and how he is only allowed to cut his paper for crafts…yada, yada. My husband giggling about it didn't so much help…but it was pretty funny. The reason I can laugh about it is because no one got hurt…this time.
This is pretty much the first occasion that mischief of this calibre has happened. But I see it as a sign of things to come. I can tell the three are starting to join forces when they 'play' quietly together (never a good sign!).
When I told Grandma MOE, she said "I was wondering when that was going to happen" and she too…giggled.
So tell me, what is the craziest mischief your child has gotten into? I would love to hear from you!