Ever since Encanto hit theatres in November of last year, people have been buzzing about how amazing it is. But with the pandemic and social gathering restrictions, it only gained real traction when the movie landed on Disney+ just before Christmas. And what a Christmas present this was! Families enjoyed the music, the coulourful Colombian scenery, and the brand-new story of Mirabel and the Madrigal family.
Now nominated for three Oscars, this 60th animated feature from Walt Disney Animation Studios is now available to enjoy at home on DVD and digital. So what can you expect from the 4K Ultra HD™, Blu-ray™ and DVD copy of Encanto? So much more! Fans can enjoy a sing-along movie version, never-before-seen bonus features and deleted scenes.
Film Synopsis
Walt Disney Animation Studios' Encanto, with all-new songs by award-winner Lin-Manuel Miranda, tells the tale of the Madrigals, an extraordinary family living in a magical house in the mountains of Colombia. But when Mirabel, the only ordinary Madrigal, discovers the magic surrounding their home is in danger, she may be her family's last hope.
The Disney Song for All Mamas During This Pandemic
If you watched Encanto even one time (but what mama has only watched it one time, truly?), you know there is a song that hits home for mothers. The song that cuts right to the heart as they have been dealing with motherhood in a pandemic. The song, of course, is Surface Pressure, song by Jessica Darrow, who is the voice of Mirabel's older sister, Luisa. Luisa's family gift is that of super strength, so the song is a reflection of the pressure she feels to keep everything together for the family. And even though the song is written for Luisa as a sister who is strong, the words could not be a better reflection of how every mother has felt during this pandemic life.
Here are some lines from the song, Surface Pressure, and my mama-life interpretation. Music and lyrics written by Lin-Manuel Miranda.
"Under the surface
I'm pretty sure I'm worthless
If I can't be of service"
 It's been hard to do all the things for all the members of the household during this pandemic. Whether it was cooking, cleaning, homeschooling, checking on everyone's mental wellbeing…and this is has been going on for two years straight. What mother at some point during this time has not felt like her service to her family has been the only thing she is living right now?
"It's pressure like a drip, drip, drip that'll never stop,
Pressure that'll tip, tip, tip till you just go pop,
Give it to your sister, your sister's older
Give her all the heavy things we can't shoulder
Who am I if I can't run with the ball"
If you exchange sister to mother, you can see what I see in this song. Our children cannot shoulder all the things right now, so we as mothers are taking on all the metaphorical heavy things; the hard things. We are trying to take away many burdens from our children for their wellbeing.
"Under the surface
I hide my nerves and it worsens, I worry something is gonna hurt us"
 In the movie, Luisa is concerned about the home, the "curse" they believe is on their family. But if you look at these words as a mother in this strange world right now, I see it as the anxiety of motherhood. To worry something will hurt your family could not be more real than right now in this pandemic. And truthfully, with so much news and not many better options, mothers has been faced to keep going and simply…worry. This specific line really got me.
"Under the surface
I think about my purpose
Can I somehow preserve this?"
…
"But wait
If I could shake the crushing weight of expectations
Would that free some room up for joy?
Or relaxation, or simple pleasure?
Instead we measure this growing pressure
Keeps growing, keep going"
Now we are going into the other side of this world we live in. We hear all the time how important it is to take care of ourselves for the wellbeing of the whole family. In this part of the song, Luisa is talking about her desire to relive some responsibility and enjoy other things. In this pandemic parenting life, I heard it as a cry to find ways to reach for moments of peace and relaxation. Every mother needs it now, no matter how small, just to re-energize and keep going as a mom.
"See if she can handle every family burden
Watch as she buckles and bends but never breaks
No mistakes"
…
"Who am I if I don't have what it takes?"
Motherhood is tricky, but motherhood is a pandemic has been a struggle unlike any other we have collectively experienced. As we have seen with health care workers, teachers and service workers of all kinds, our society has never valued them to the degree their so desperately deserve. This, of course has been seen in mothers as well. At the start of this pandemic, mothers all over we quitting their jobs, and taking on the responsibility of keep their family together and safe, in all ways. And yes, we are bending….we are collectively bending, but we cannot break. Because what happens if we don't have what it takes for our family? In motherhood, we have been shown by society to put our family first. This two-year-pandemic parenting has been a serious challenge. Not every mother has been able to withstand the pressure, especially if they are alone in the journey.
Needless to say, this specific song was a song that many mothers were able to relate to and feel understood, even if the song was directly about mothers. Disney has a way of emotionally piercing the hearts of parents while our children sing along with joy to the melodies and beautiful animation! I'm sure it was not Lin-Manuel Miranda's intention to write a song that perfectly reflected motherhood in this pandemic, but he did!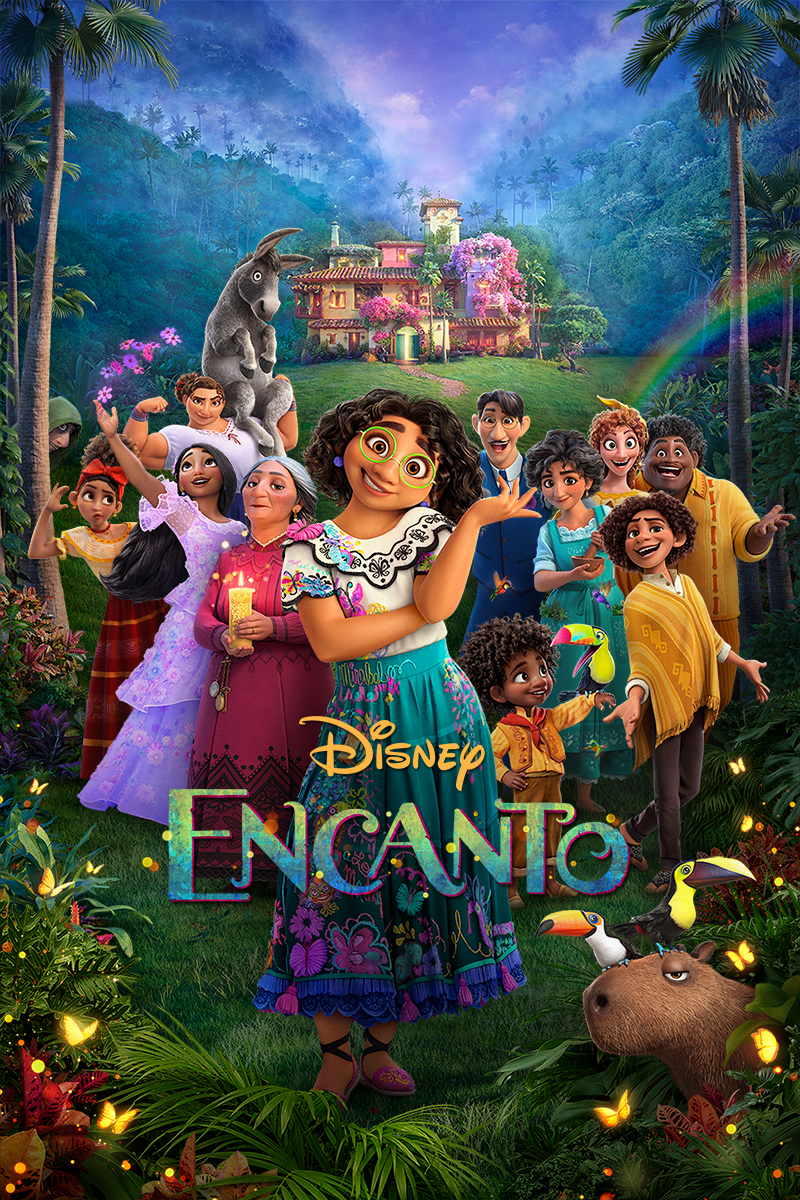 Expect even more Encanto on 4K Ultra HD™, Blu-ray™ and DVD
If you are a fan of a Disney movie, you always want to learn more about how the film was made, what inspired the writers and animators, and hear from the creative genius' behind the scenes. That is why we LOVE the extra features available on home copies. It's a chance to re-see the film with a new perspective and enjoy it from the eyes of those that created it.
Aside from the sing-along viewing option, other bonus features include:
Familia Lo Es Todo – Members of the Disney Animation "Familia" cultural trust share real-life experiences in this exploration of the lovable Madrigal family members. We learn what inspired each character, and about how the artists' designs bring realism to their personalities.
Discover Colombia – The filmmaking team discusses how the multiple cultures, biodiversity and vibrant colors of Colombia are expressed in Encanto. They describe how satisfying it was to fully celebrate this beautiful country and support the theme of magical realism.
A Journey Through Music – The filmmakers invite us to discover how each character came to be represented musically. We follow the creation of Encanto's Colombian-inspired music, featuring Lin-Manuel Miranda's songs and Germaine Franco's score, from concept to final recording.
Let's Talk About Bruno – Learn how the song "We Don't Talk About Bruno," with its intriguing undertones, was created. Discover the extensive collaboration between Lin-Manuel Miranda, choreographer Jamal Sims, the voice cast and animators in bringing it to the screen.
A brand new short, Far From the Tree – Parenting is hard, especially when curiosity tugs at a young raccoon whose parent tries to keep them both safe. In the Walt Disney Animation Studios short Far From the Tree, this youngster learns to live with an open heart… even as danger lurks.
And much more, PLUS five deleted scenes from the movie!
GIVEAWAY!
It is my pleasure to announce that one lucky reader will win a copy of Encanto! To enter, please comment below, your favourite Madrigal family member. And if you haven't seen the movie yet, then comment that you don't know…yet!
For extra entries:
Follow @ask_mamamoe on Instagram
Share this giveaway in your Instagram Stories (extra 2 entries!)
Follow @AskMamaMOE on Twitter
Share on Twitter. Here is the text you can use to share: " I just entered to #win a DVD & Blu-Ray copy of Encanto with @AskMamaMOE  https://bit.ly/3JPx6Nf" (you may do this twice a day and every tweet is an entry)
Read another post of mine on the blog and comment on it (an extra 3 entries!)
Subscribe to the Ask Mama MOE newsletter (an extra 5 entries!)
** For all extra entries, you must leave your handle and link in a comment below for verification.
The deadline to enter is March 4th, 11:59pm. The winner will be notified by e-mail. This giveaway is open to Canadian residents. Good luck, everyone!
To follow along online, visit:
Disclosure: All images provided for this post are from Walt Disney Animation Studios. Synopsis and bonus feature content provided by Walt Disney Animation Studios.