This is a dish that is so delicious and special, but it is ridiculously easy. Lobster Tail and Linguine dinner is a favourite of ours and you will love how easy it is to put together. 
If you have some friends coming over for New Year's Eve dinner, this is a knockout. I made it for a special dinner for my children (yes, my children!) and husband.
Usually, this time of year, right around Christmas and New Year, lobster tails, shrimp, and scampi are on sale at grocery stores. Sometimes they are frozen and on sale, and I pick them up then to save for a special occasion.
Shellfish are easy to thaw out from the freezer and very easy to use in a special meal. And for lobster tails, just one per person will suffice if you pair the fish with pasta like this. If the sale is good though, I recommend two lobster tails per adult, and one per child.
These beauties came from the Maritimes and they were so tasty!
Ingredients needed for your lobster tail and linguine dinner:
Lobster tails (one per person)
Linguine pasta (check suggested amount on the packaging)
cherry tomatoes
butter
bread crumbs
garlic
Tools needed to make your lobster tail and linguine dinner:
cutting board
sharp knife (to cut through shell)
large pot for boiling pasta
frying pan
tongs
cookie sheet
silicone sheet
Here's how I prepared our special lobster tail and linguine dinner: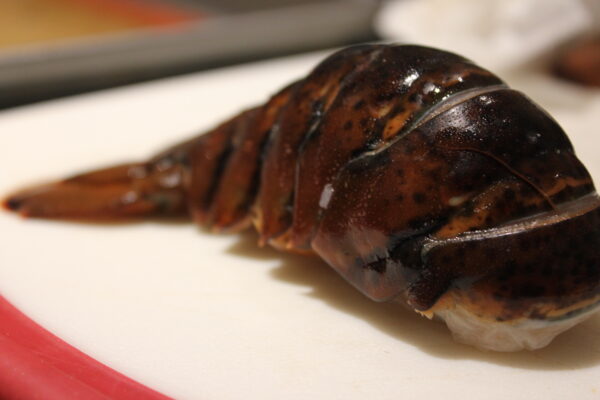 Place your lobster tails on a cutting board and cut the tail so that the top of the shell is cut open. Don't cut through the whole tail, as the shell will hold the meat in place to bake.
Open up the shell slightly for each tail and devein the tails with your fingers. Note: lobster tails can be very sharp, so wearing a baking mitt or using a dish towel to open the shell might save you a cut!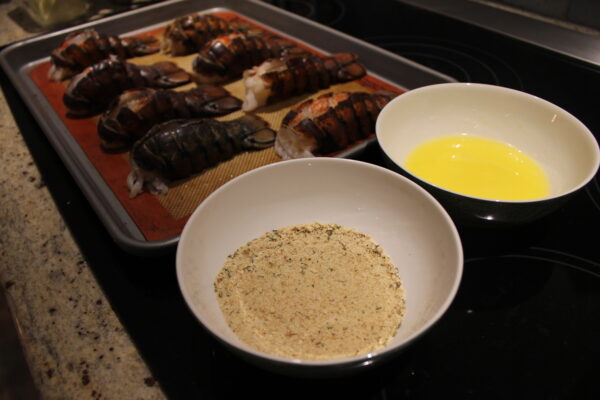 Prepare some melted salted butter in one bowl, and seasoned bread crumbs in another bowl. Once the tails are lined up on a baking sheet, spoon some melted butter into each tail, and then sprinkle bread crumbs over.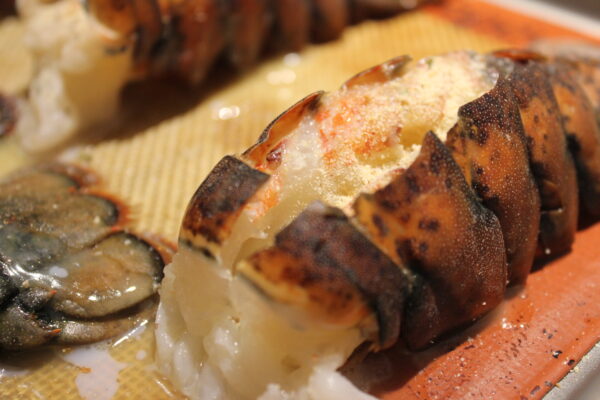 I baked the tails at 400°F for about 15 minutes in a convection oven.  Just remember that temperatures vary according to the ovens and the weight of the tails.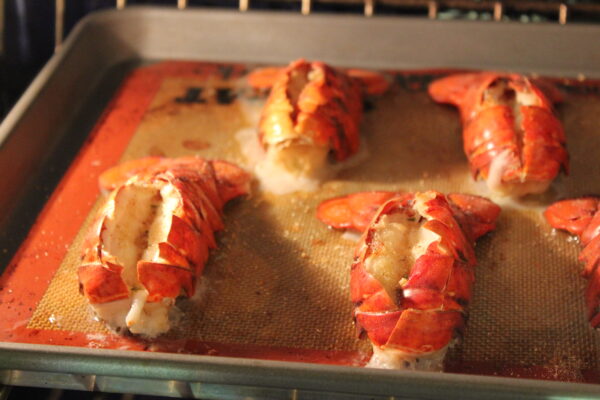 While the tails were baking, I boiled the water and cooked the linguini pasta. At the same time, I sautéed some cherry tomatoes in a pan with a bit of garlic and olive oil.
The pasta, sauce and tails all have about the same cooking time which makes it an easy dish to prepare with not too much prep work.
Once the pasta was ready , I strained it and place the pasta in the pan to soak up all the flavours of the sauce. Then I placed the tails on top for a beautiful presentation.
But for the children, my husband and I took the meat out of the lobster tail shells, and cut it up into their pasta. It just makes it that much easier for them to enjoy the meal.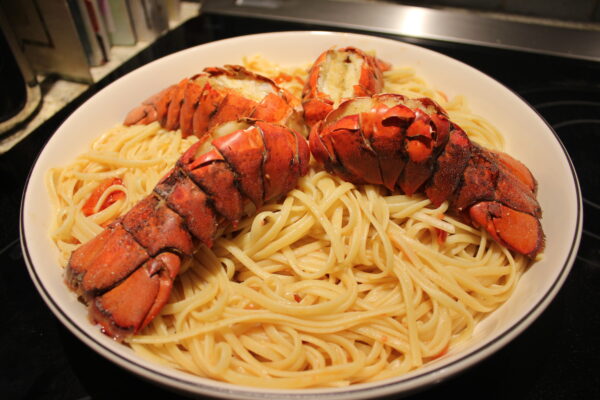 And the verdict? The loved it!! And I'm sure your family will too.
Happy New Year and Buon Appetito!
If you enjoyed this recipe, check these out too:
Grandma MOE's Homemade Chicken Soup
Butternut Squash Made Two Ways