Sometimes, you come across a film that changes the way you see the world and how love's strength can make things so incredible, not just for you, but for others. A while ago, I was introduced by Lev3l Digital to a new film called 2 Hearts. The film initially caught my attention for two reasons; it is based on a true story, and a favourite actor of mine, Adan Canto (who I have loved in Designated Survivor) has a lead role in the film.
Here is the synopsis:
For two couples the future unfolds in different decades and different places, but a hidden connection will bring them together in a way no one could have predicted. Based on an inspirational true story, 2 Hearts is a romantic journey that celebrates life, love and generosity of spirit, and challenges audiences to believe miracles are possible.
Charismatic young Australian actor Jacob Elordi ("Euphoria," "The Kissing Booth") plays Chris, a college freshman whose love for a spirited classmate played by Tiera Skovbye ("Riverdale," "Once Upon a Time") helps him find the purpose he has been searching for.
In another place and time, Adan Canto ("Designated Survivor," "Narcos") plays Cuban exile Jorge, who falls for well-traveled flight attendant Leslie, played by Radha Mitchell (Man on Fire, The Shack).
Though they were never meant to meet, fate has something entirely unexpected in store for both couples that dramatically changes the course of their lives.
The film 2 Hearts was officially released October 16th in theatres. Of course, due to restriction in various places, included here in Quebec, some theatres are currently closed. However, I still felt drawn to let you know about this movie because I was that good. This movie could not come to us at a better time, and I hope you all are able to see it now or when the movie is released digitally.
I had the privilege of pre-screening this film in the comfort of my home with my husband. What we both loved about it was the film's was solid in its message: having a purpose in life is what it is all about and sharing that life with the one you love is even more profound. Watching the two couples fall in love and be unequivocally happy with each other (goofy behaviour and all) was a beautiful thing to watch.
Right now, it is safe to say, we are all at a low point, mentally. Our relationships are being strained with day-to-day life, and some days it's hard to feel that passion and friendship we all have for our partners. The very reason we fell in love is shown on screen with both couple in different times and different situations.  It was a wonderful refresher for us as husband and wife to watch together.
The mystery that connects them all
While I cannot divulge any spoilers (never do!), I will mention that the story has a twist I was not expecting at all. It takes you on a journey and then flips that journey on its head. Be prepared to shed some tears, because this movie pulls on your heartstrings.
Following the lives of two couples from the very start of them getting to know each other is what gives this movies depth. You can't help but love Chris (Elordi) in his freshman years, falling for Sam(Skovbye) and doing goofy things to get her attention. Ah, young love!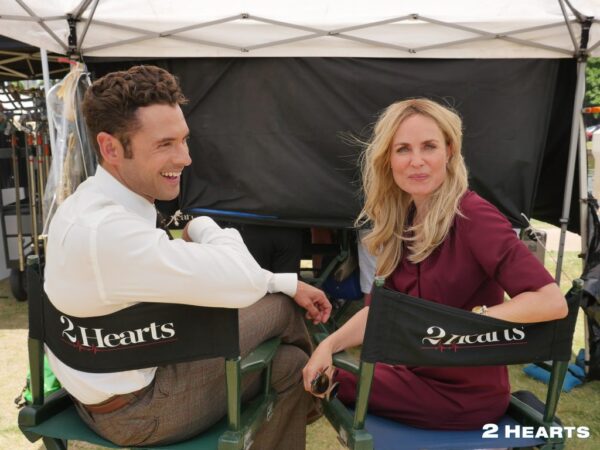 Watching Jorge (Canto) meet Leslie (Mitchell) is something out of a modern fairy tale. It's beautiful to see a man show love to a woman without reservation and with so much respect. Something you don't always see it films these days. If anything, this movie reminded my husband and I to share loving moments regardless of the day or milestone. Living life to its fullest is a gift we should all cherish.
The connection of all four characters is something I will never forget, and you won't either. I'm so happy that filmmakers, Lance, Conrad and Veronika Hool made this inspirational true story come to life on screen!
Put this movie on your must-see list when it is available on digital format or DVD release. With so many options that fall short either because the are too crude, too violent or too vanilla, this is a film worthy of your time. You will enjoy 2 Hearts, and knowing it is based on an inspirational true story, the story and its characters will stay with you.
To learn more about the film, the true story behind the film and more release dates, visit www.2heartsthefilm.com.
Disclosure: I was gifted a pre-screening of the film to facilitate my review. All opinions are honest and my own. Images and trailer provided by Lev3l Digital and 2 Hearts film.