Growing up, I was in love with the characters of Winnie The Pooh, and as a young teddy bear collector, I had a few Pooh bears of my own. When I was little, I imagined what it would be like to see my Pooh bears come to life and have the conversations they had with Christopher Robin in the children's stories of A.A. Milne. I dreamed of backyard fun with Pooh bear, Tigger (my favourite) and all the other characters.
Well, I wasn't the only one, because the incredible people at Disney have brought to life the very stuffed animals we know and love in a live action adventure combined with today's CGI technology. Starting today, you too can see your beloved Winnie The Pooh on the big screen in Disney's Christopher Robin:
Disney's "Christopher Robin" is directed by Marc Forster from a screenplay by Alex Ross Perry and Allison Schroeder and a story by Perry based on characters created by A.A. Milne and E.H. Shepard. The producers are Brigham Taylor and Kristin Burr with Renée Wolfe and Jeremy Johns serving as executive producers. The film stars Ewan McGregor as Christopher Robin; Hayley Atwell as his wife Evelyn; Bronte Carmichael as his daughter Madeline; and Mark Gatiss as Giles Winslow, Robin's boss. The film also features the voices of: Jim Cummings as Winnie the Pooh and Tigger; Brad Garrett as Eeyore; Toby Jones as Owl; Nick Mohammed as Piglet; Peter Capaldi as Rabbit; and Sophie Okonedo as Kanga.
Our Family Review
My boys and I went to see the pre-screening of Disney's Christopher Robin and it was everything I hoped it would be! Having learned about the production while we were at the Disney Social Media Moms Celebration, I have been giddy about the release ever since the winter! Having producer, Kristin Burr speak directly to us and give us a snippet of the film before the trailer was even out was such a special experience. And the moment we heard the voice of Jim Cummings, the original voice of Pooh, the whole room of bloggers sighed with happiness.
Bringing the characters of A.A. Milne's stories "to life" was something I knew Disney would do perfectly, especially after seeing such recent movies as The Jungle Book and Beauty and the Beast. In the recent surge of classic cartoon characters being brought to real life form with live-action and CGI technology, Christopher Robin stands out because the beloved characters are stuffed animals. The slew of plush toys that brought joy to Christopher Robin, and subsequently to millions of children all over the world in various forms, needed to be represented in a way that showed they were indeed plush toys, but that came to life with expressions and movements that only a plush toy could have. The results were absolutely perfect.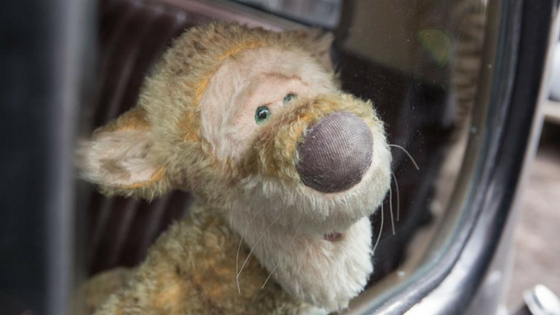 I don't know about you, but as a child (and an adult, let's be honest) if a doll or plush does not have the eyes, I never wanted it around. Do you know what I'm talking about? Before ever buying a plush of any kind, I always looked into its eyes. Whether they were buttons or glass, sewed or painted, I needed to "see" them, to determine if they were to come home with me.  I see my boys looking at plush toys like that too; assessing the face and looking deep into their eyes.
Well, my heart swelled when I saw the eyes of Tigger, specifically. There are a few moments, on screen that showcase the eyes of Tigger and his eyes are a light blue/green. This is an adaptation by Disney, of course, because the E.H. Shepard illustrations were black and white, and in the first cartoons, Tigger is simply given black beady eyes. But something felt so familiar and warm in Tigger's eyes. They were perfect! And Eeyore has a moment that showcases his eyes with expression that make you just fall in love with him all over again.
Winnie the Pooh has dark eyes but they suit him perfectly. What I absolutely loved was that when Pooh sleeps in the film, his eyes are closed, and you can barely make out where they should be because his fur is covering his eyes, without much details of eyelids. It's just the cutest thing ever.
I can only imagine the great work it takes to use live-action and CGI in the same movie. The actors need to be on their game and use their imagination for many scenes, and the artists need to arrange the characters they create seamlessly to the scenes. Well in true Disney magic, this is done with excellence.
What to Know for the Kids
The movie is rated PG due to some energetic action scenes (including one quick war scene). There is one scene, however that I would suggest knowing before seeing it with your little ones simply because they could get scared. If you are of the mindset that you do not want to know anything, please disregard this paragraph. Without giving away too much, there is one scene where Christopher Robin is searching for Pooh in the Hundred Acre Wood. If you remember the stories, the characters believed in the Heffalump; a monstrous being that was out to get them but never seen. In this scene, the forest turns a darker shade and the music and sounds become frightful. Christopher Robin is placed in a moment of distress as he recalls things he was told as a child. It looks as though he will be hurt in some way, but is fine in a few minutes. If you know your children are frightened easily, or are younger, this is something to prepare them for. As always, you know your children best, but this is the only heads up I feel you would need as a parent.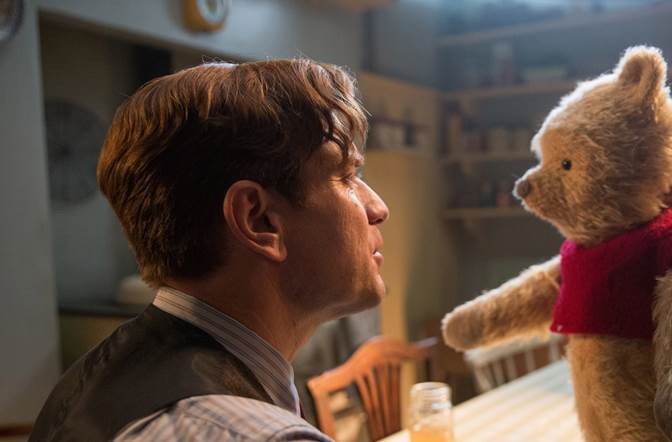 Did We Like The Movie?
No. We LOVED the movie! Being able to see a new version of the beloved Christopher Robin and friends with my boys was so special. I absolutely loved watching them laugh at all the characters, especially, Eeyore, Tigger and Piglet (they have some pretty hilarious moments) I asked some other little ones who their favourite character was and they said all of them! I loved this answer for so many reasons. But mainly:
Pooh can at times be "of little brain" but is also wise in many ways. And his hunger is the deciding factor on what he does.
Eeyore never seems to see the bright side of things but is loved by all.
Piglet is scared of almost everything but is encouraged by his friends.
Tigger is full of life and confidence and brings his friends up even when they are not looking for it.
Rabbit is regimented and loves to be in control of the situation. His friends appreciate his organized ways.
Kanga is the motherly friend to all, and Roo is the child with the innocent questions we all want to ask.
Owl is wise, but also forgetful. His friends look to him for advice and knowledge. And he offers it up even when they don't ask for it.
If you consider your friends, family members, or colleagues, I can assure you, these characters surround you daily. Perhaps that's why, after all these years, the stories of Christopher Robin live on and are cherished by all who know it. We can easily see ourselves in these stories. We are drawn to the questions and naïve answers that are all too wise. That is the beauty of the A.A. Milne stories. They brought back wonder and innocence in the form of a "silly old bear" in a time in history when parenting and childhood was nearly lost.
My heart will always have a place for Winnie the Pooh, Tigger and all their friends. And I am so grateful that Disney has captured the essence of them in this new movie. It is a perfect story, that continues the tale for future generations to cherish. My hope is that families go to see this very touching story on the big screen, and then pick up those beautifully written stories that started it all and read them together.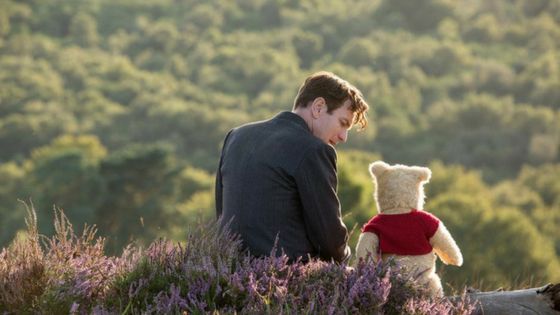 To follow along, visit Disney's Christopher Robin here:
Facebook: https://www.facebook.com/WaltDisneyStudiosCanada
Twitter: https://twitter.com/DisneyStudiosCA
Instagram: https://www.instagram.com/disneystudioscanada
YouTube: https://www.youtube.com/WaltDisneyStudiosCAN
And be sure to follow the hashtag #ChristopherRobinCA
FUN FACTS:
Did you know, the history of Winnie The Pooh is a fascinating one, and it all starts in Canada? It's true! Here's a little history lesson of Pooh Bear for you: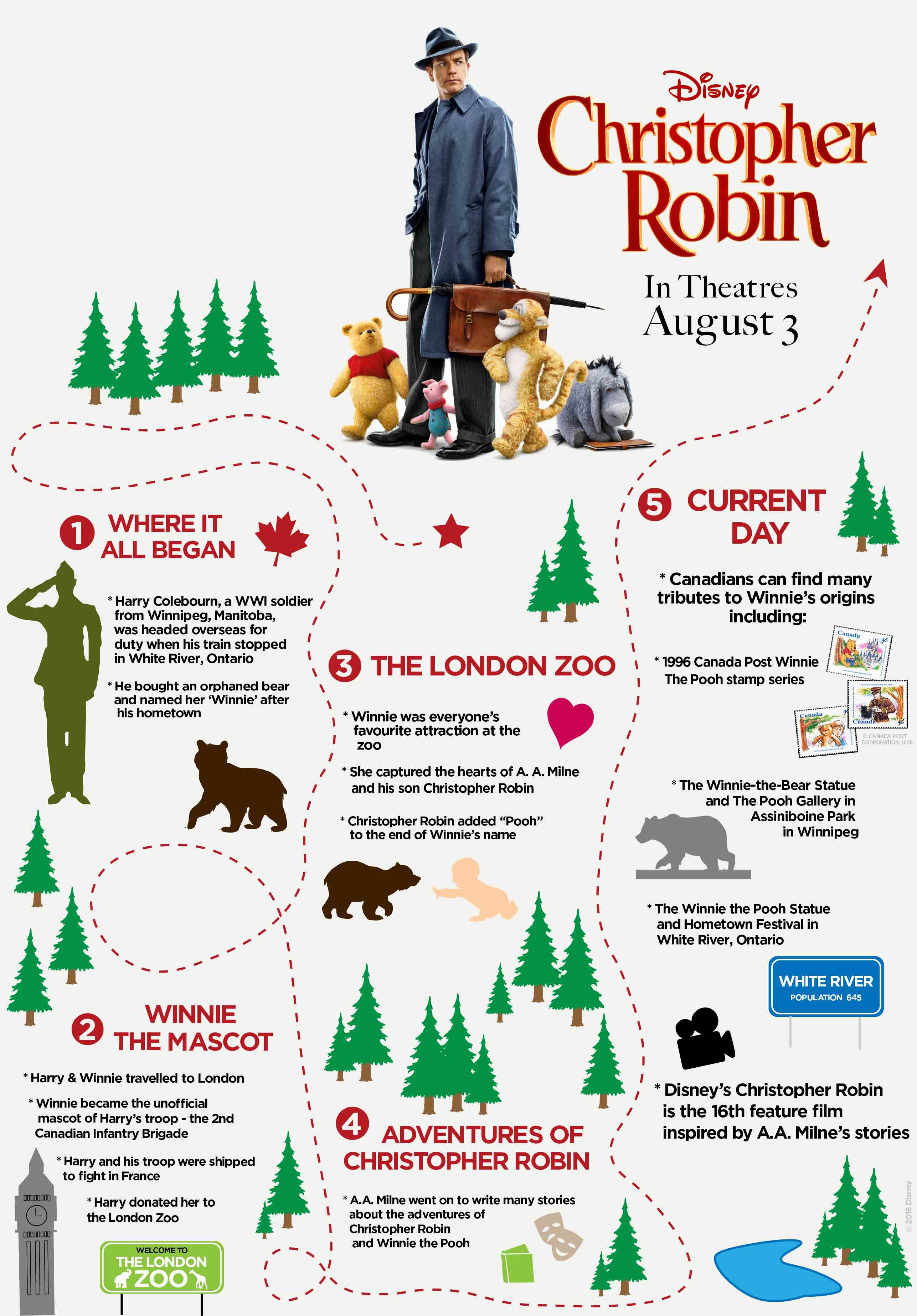 Disclosure: My family and I were invited to the pre-screening of Christopher Robin to facilitate this post. All opinions are honest and my own. Images courtesy of Walt Disney Studios.