You know when you feel something deep inside you that you know is important, and sharing it will make a difference? When you have something that needs to be addressed and you need to find the right audience and the right collaboration to do it?
Well, this is the case for this important topic that I have been preaching about on a small scale for some time now; online safety.
I have talked with friends, given individual workshops, even addressed a large audience. But last month, I was able to have a larger impact and I think it may just be the start. Add to that, this post, that I hope you will share with your loved ones.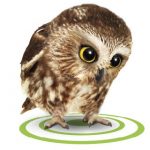 As you know, I am a #TeamTELUS ambassador for the second year in a row. I couldn't be more proud. And while it is safe to say people can love a brand because of their products and services to a certain degree, I actually love TELUS for a whole other reason. This company has been doing social good forever, and that is what makes me feel proud to work with them.
One major project that TELUS created, strictly in an effort to educate all Canadians, completely free of charge, is called TELUS WISE. The acronym, WISE, stands for Wise Internet and Smartphone Education. Essentially, it is a full teaching on how to become safer online and how to create a clean digital footprint. TELUS has one spokesperson for TELUS WISE that is worth hearing from:
If nothing has ever happened to you, your children or any friends of yours, it would be hard to imagine just how bad it can get when it comes to online safety. I am always met with a comment like "it's not a big deal" or "it doesn't affect me". I think this video above proves that online safety is painstakingly real.
Because we as parents have been growing with the internet as it evolves, we are now more comfortable to share and post. Many consider a social media platform a comfortable place to share their feelings, their pictures and their very raw opinions about things. Unfortunately, it sometimes, unbelievably, comes as a shock when I tell them what they share will be online forever.
Perhaps it's because the feeds go so fast, it's as if whatever we post will just disappear quickly. But that is so far from the reality. I sometimes see jokes about how lucky we as a generation are because when we were in our rebellious years, the internet was not around to document our mess-ups. Think about that for a second. Imagine every mistake, every crazy night, every bad choice, every silly picture that was taken just for you…was posted online for all to see, forever. Now imagine going for an interview, or a PTA meeting. Before you even get in the door, your previous actions have already been your introduction by a simple search online.
The TELUS WISE program has been created to help you and your children get a handle on what is good practice online and how to protect yourself from things like cyberbullying and financial fraud. The program has been designed and altered to work with different age groups and it can be brought to your place of work, your school or your community centers.
For parents, I gave a talk with Luiza Staniec of TELUS, at my local church so that they could be armed with the knowledge of how to discuss online safety with their children, as well as how to properly educate themselves on how to protect their computers and phones. The take away is more awareness on what is available online as well as what we can do to protect ourselves and ultimately enjoy being online.
For children ages 7-14, there is TELUS WISE Footprint, that helps them understand what it means to have a clean digital footprint.
For older students, there is TELUS WISE In Control, dealing more with cyber-bullying and how to create a positive online reputation.
TELUS WISE Seniors is hosted for senior groups, helping them to get the most out of our digital society safely.
The TELUS Learning Centers across Canada offer one-on-one guidance as well, with more than 500 locations. To date, the program, as a whole, has reached over 1.3 million Canadians.
It was a pleasure giving this presentation with Luiza at my church. Our presentation was over and hour so it would be impossible to write it all out in one blog post for you. But I encourage you to check out TELUS WISE for you, your children and your schools. Ambassadors are ready to give these talks for pretty much anyone wanting to learn!
I will give you one bit from our presentation that I think is the most relevant and fitting. So, mamas, here are 10 online safety tips to start using right away:
Keep an eye on your permissions settings. Every time you download a smartphone app or sign up for a social networking site, you could be allowing its developers to see your personal information which could include your address book, your Facebook or Twitter account information, your location, or even your photos.
Keep an eye on your privacy settings. Make sure you know what information is being shared publicly — and what information can be accessed by applications. You may be sharing more than you intended.
Create a Google alert for your and your children's names to track how your name(s) are used online. You can find out more about this in our TELUS WISE tip sheet.
Limit what you share.  In order to limit the amount of potentially sensitive information about yourself — and to limit your susceptibility to theft or abuse — think twice before posting: your contact information (e.g. cell phone number), your full date of birth, the names of your children or family members, your full home address, where your children go to school, dates and details of trips, vacations and time spent away from home.
Think twice before connecting or posting. It's a good rule of thumb is to only connect and share with people that you know in real life. By 'friending' people online that are strangers, you open yourself up to added privacy and security risks. Facebook estimates that 7 percent of their users' profiles are fake, potentially created by malware writers and spammers. Also be careful with about what you post and share.  For example – posting pictures of yourself or others in inappropriate situations can hinder careers and dreams!
Be careful before you click. Never click on suspicious links, even if they look interesting. A lot of scams and malware in the social network world are spread through links and rogue applications.
Turn off geo-tagging on your smartphone and tablet to enhance your privacy when geo-tagging is turned on the exact latitude and longitude is included in photos you take and post on a social networking site or share or email.  Geotagging can be found in your camera settings.
Set strong passwords.  A good password can help stop someone from hacking into your social networking accounts or changing passwords on your applications.  A good password is at least six characters (numbers, letters, etc.) long. You can make your password stronger by using the first letters of a phrase, instead of a word — ICARMLP for "I can always remember my laptop password", for instance — and changing some letters into numbers or other characters.
Don't forget to log off.  Don't leave social media accounts (e.g. Twitter, Instagram) or applications/games (e.g. Angry Bird) open if you are not using them.  If you don't log off you can become vulnerable to security and privacy risks.  Also, unsubscribe from accounts and apps that you aren't using – think about this –  a dormant Facebook account of a Calgary teen, who stopped using it because it had been previously hacked, was used to lure teens over the Internet by a criminal.
Keep your digital household clean.  Set a time in your calendar every three to six months for you and your family to check your privacy and permission settings on the social media sites you subscribe to and apps you have downloaded. And don't forget to include your parents/grandparents – did you know that more than 40% of Canadians over the age of 65 are active on social media, primarily to keep in touch with their kids and grand kids!
There is so much more that the program covers, and questions are encouraged, so it makes for a really useful conversation. I truly believe we as parents, need this information.
For more information on the TELUS WISE programs, visit their TELUS WISE website.
A special thank you to TELUS for getting the word out – and helping us all "get wise". 🙂 
Disclosure: I am a #TeamTELUS advocate this post has been sponsored by TELUS. As always, all opinions are honest and my own.