We just got back from our amazing Walt Disney World vacation and the Disney Social Media Moms Celebration, and it was everything we could have imagined and more! I have so much to share with you and I can't wait to dive in. The first request I received was from a friend of mine. She is actually leaving to go to Walt Disney World next week so her most important question to me was "what do we need to pack?". I did a lot of research on what to pack before and while some things were very helpful, others were not helpful at all. And if I'm going to be honest, I totally over-packed. So I have put together a list of what I think makes sense for families travelling to Walt Disney World in the spring/summer season.
What to Wear – For travelling:
As a family, we always wear socks and runners on flights, along with long comfortable pants, t-shirts and sweaters. I even bring a light scarf or pashmina since the temperature on the plane can get cold, no matter where you are flying to.
If you are driving to Florida, choose an outfit that is comfortable and light for everyone.
What to Wear – For the parks:
Walt Disney World is gigantic. First, and foremost, know that you will be doing a lot of walking in very warm weather. Let that determine what you want to wear. Even though I brought shorts and t-shirts, I ended up wearing sundresses almost every day. It just felt more comfortable to me. I also opted for fancier Birkenstock sandals instead of runners. They were the most comfortable for walking and I didn't get too hot on my feet.
For the kids, I dressed them in shorts and t-shirts, with socks and runners. With sandals, my kids run the risk of getting blisters. And since they wear their runners to school, they are the most comfortable in them. We also brought crocs as backup shoes, which came in handy in the hotel room as slippers and by the poolside.
Pack for rain:
It is a given in Orlando; almost every day, there is rain. It may not last long, but it will come down and you can get soaked. And there are days when it rains all day (we had one day like that). Ponchos may be hideous and a pain to wear, but they will come in handy. It adds zero weight to your backpack, so bring one each day as a just in case.
Bringing an umbrella is not such a bad idea. But if you are a big family, it can get tricky carrying a bunch of umbrellas around. I suggest bringing one lightweight umbrella for rainy days. And if you have a lightweight, waterproof jacket stick that in your backpack. I left mine at home, and I would have loved it.
After some rain, there are puddles. So plan ahead and bring extras socks on rainy days. If you are more comfortable, wear waterproof sandals. I wore my Birkenstocks in the rain and was more than happy. After a full day of rain, the boys' runners were soaked so the next day they wore their crocs while the runners dried.
Pack for wet rides:
On rides like Splash Mountain and Kali River Rapids, there is no way around it – you will get wet. This is when you can pull out that poncho. Place it over yourself and your bag to prevent soakage. For the Kali River Rapids there are lockers for your things that you can use before getting in line for the ride. On the day we went on that ride, we wore our swimsuits (I wore mine under a sundress) and we dried up fast. I also brought a change of clothes and socks for the kids that day too.
Waterproof your devices:
If you want to keep taking pictures of your family on these wet rides, get yourself a waterproof case for your phone or camera. I also had a waterproof bag in my backpack holding everything we wanted to stay dry. A cheaper solution is a Ziplock bag.
Pack for hot days:
It may seem silly, but bring yourself a water spray or a handheld fan. Three years ago we thought that seemed excessive. We learned quickly how useful those items were. By day two we purchased the park spray fan. For this trip, we brought it back with us and used it often.
Carry at least one water bottle. One suggestion was to not spend money on water because it is available and free at all food counters if you ask. And while that is a great money saving tip, it is a little unrealistic when you are with a big family and need water ASAP but there is a long lineup of people getting food. We kept one water bottle on us and filled it with water from the fountains when we were near them. And when the boys were getting hot, we opted for the frozen treats and lemonades as special snacks. It is worth noting that having a few granola bars or fruit packs in your backpack for wait times is also a good idea.
DO NOT FORGET: Sunhats, sunscreen and sunglasses. You will regret it if you do. And if for some reason you do forget those things, do yourself and your family a favor and go buy them at the local drug store. The sun is just too strong to not cover up.
Pack for fireworks:
If you plan on staying at the parks for fireworks (which you TOTALLY should), consider bringing your kids some light-up toys. We picked up some arm bracelets (for jogging or bicycling) that light up in different colours from Costco. It was a pack of four so each of my kids had their own. Another option is to get some glow sticks and glow necklaces at a party store. Crack them once it gets dark and they will last the night. What's also great about bringing your own light-ups is that yours will be unique (and it will be easy to spot your children in the dark).
Pack for shopping:
If you are staying on grounds, having the magic bands is beyond cool. You don't even need to bring your wallet or cash! I have to say I felt a little naked at first without those things, but it was so amazing just tapping my magic band to purchase things.
If you are staying off grounds and have park tickets only, you will need to pay for things the normal way. My husband remembers seeing bank machines in the parks but it's way easier to bring what you need in advance.
Pennies and quarters are something you wouldn't think to bring, but if your kids want to press pennies at the machines that are throughout the parks, that is what you will need. It's a simple souvenir that makes most kids happy, so bringing change is a good idea.
Other things to have on hand at the parks:
napkins
hand sanitizer or wipes
sunscreen to reapply
Band-Aids and Polysporin
Light sweater for a/c rides, dinners or cool nights
A special thank you to American Tourister for providing us with these fabulous Disney-themed carry-ons. I was so proud to get off my flight from Montreal to Orlando and back with this beautiful luggage! The four wheel feature is fantastic for convenience, and of course, I love the Mickey Mouse pattern. To see/purchase Disney American Tourister luggage and other styles, visit americantourister.com
.
I hope this helps you on your family Disney trip!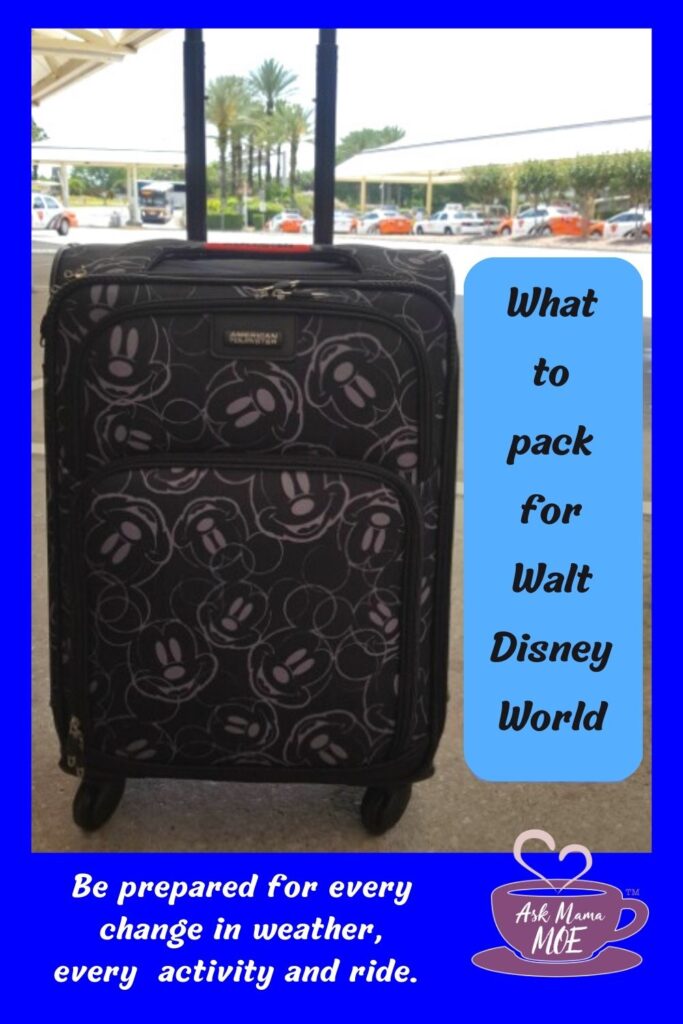 Disclosure: I was invited with my family to the exclusive Disney Social Media Moms Conference. As such, I was provided with various discounts and products. American Tourister was a sponsor of #DisneySMMC and is the official luggage of Walt Disney World and Disneyland. I was not requested to write this post, but am more than happy to share my new-found Disney knowledge with my readers. All opinions are honest and my own.