I cannot tell you how much I simply love the artistic bouquets that my friends Carolina of Fleur&Sense creates. She is not just a florist, she is a floral designer. Here are some examples of her work for the holidays: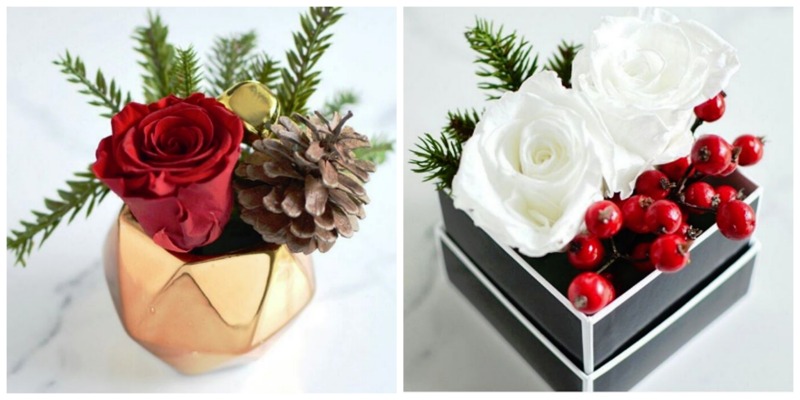 Also, if you want to smile with inspirational bouquets, follow Fleur&Sense on Instagram (gorgeous!)
In my opinion, receiving flowers is not only special, meaningful, and sweet, but it is a true sign of how loved you are. I'm an old-school, traditional mama at heart. I loved being wooed by my husband, and I love when he does simple acts of kindness and romantic gestures to show he cares. Sending me flowers always makes my heart sing!
To me, having fresh flowers in the home brings a sense of romance to the room it's in.
Now, tell me something, what if I told you, the flowers above were indeed fresh flowers, REAL flowers, but they will last for years and look the same?
Don't believe me? Carolina makes gorgeous bouquets out of preserved roses and my proof to you, is that I have a pink rose on my desk that looks stunning and has been sitting there for over two years. She also does fresh cut floral bouquets but there is something about these preserved roses and her designs that is so unique.
That's right!!
GIVEAWAY
To add some romance and floral design into your home this holiday season, Carolina is giving away one bouquet of her preserved roses for you! And by the way, once the season is over, simply change the greenery and take out the silver and make a new arrangement – the roses will last!
You know what to do now, to enter, simply fill out the Rafflecopter form below. This giveaway is open to Canadian residents only. Deadline to enter is December 20th at 11:49pm. Good luck!