Spring has sprung. Ok, perhaps on the calendar it did a long time ago, but here in Montreal, it really just started to feel like spring last week! I literally was wearing a winter jacket two weeks ago. And this week my kids were swimming outside. That's Montreal weather for you!
And it always happens that way, right before Mother's Day. It's a sweet time, with flowers blooming, birds singing, and the kids getting excited with their own surprises for that special day.
My birthday is in May too so my kids exchange whispers all month long. They ask me questions like "Mama, how do you spell 'Happy Mother's Day'? I was just wondering" (they are still young and it's really cute!). They have been hard at work creating and hiding things under their beds for weeks.
Once I got old enough to have some money and go out to buy a gift for my Mama, I always ended up at Hallmark. When I think of sweet and thoughtful gifts for mamas, I automatically think of Hallmark. Don't you?
I love passing by Hallmark for gifts. I always got something for my mama at Hallmark for Mother's Day. One of her favourites from the kids was the blooming expressions flower, which she kept up on her table all year long. Even though the store features themes and seasonal gifts, which I very much appreciate (because I can relie on Hallmark for those gifts), I like that a lot of the gifts can be given for more than one occasion.
These are some of my favourite gifts available at Hallmark right now: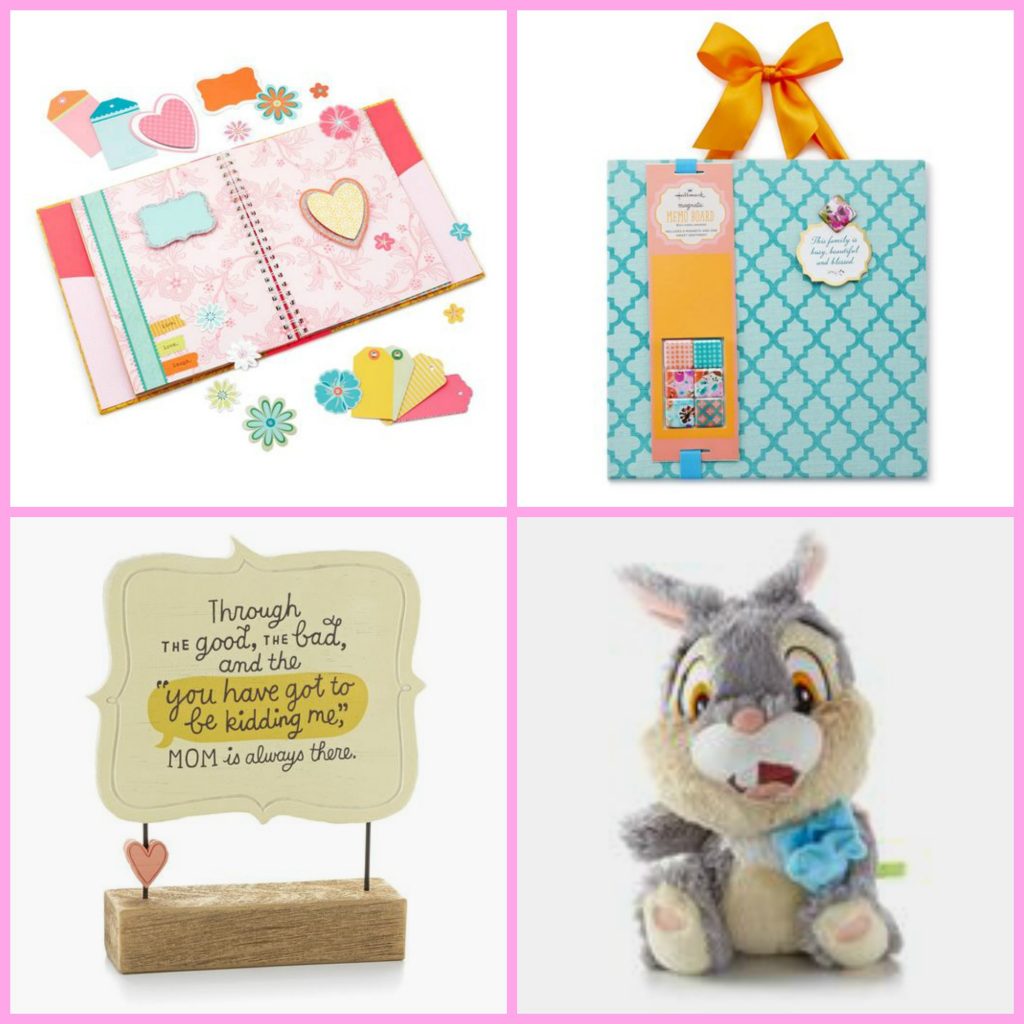 The Snippets and Stories memory book is so sweet for anyone special in your life, and perfect for a teacher. I'm not a scrapbooker, but this is a book I could handle. The pages are already created so beautifully, all you have to do is add pictures and special words to personalize it. If your child's teacher is extra special to you, you can even fill in the memory book with class pictures of the kids and special messages. The magnetic memo board is nice for a classroom or the home to add a special touch of charm. The Mom desk art is just precious. The quote on the piece is funny and oh-so true. It doesn't matter how many they have,my kids always love a new stuffed animal. The new Disney Bambi, Skunk and Thumper stuffed animals are great for birthdays and special treats for a child's graduation.
This year, Hallmark created some beautiful gifts for mamas. And just as I mentioned, they were intended for Mother's Day, but I am looking forward to gifting them to new mamas for a baby shower, or a teacher at the end of the year that is a mama too. One in particular I just adore, is the Pics 'n' Props Baby's First Holidays Activity Kit. It's perfect for a new mama because it's a gift that gives all year long.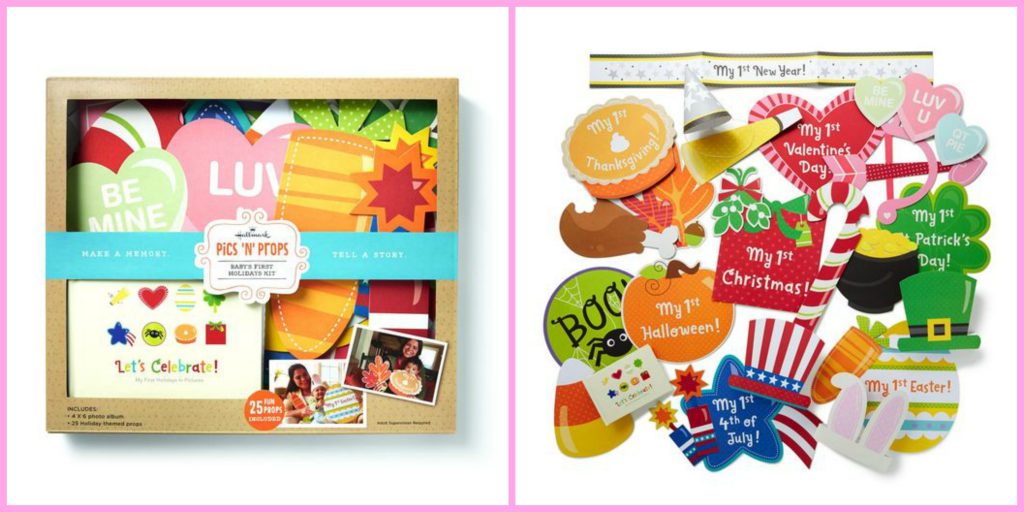 I've seen this in action with a few of my friends in family pictures and I just love it! It's a new take on the photobooth pictures geared to a baby's first year. And of course, you can use a lot of them after the year is up. I really wanted to keep my kit but I was feeling extra generous and donated it to the Shopping From The Heart event. One mama won the Hallmark package I put together and was thrilled!
GIVEAWAY!
Hallmark is gifting YOU a Pics 'n' Props Baby's First Holiday Kit! This is a great gift that I am so happy to giveaway here at Ask Mama MOE. To enter, simply leave a comment below letting me know a gift that you like giving to new mamas or teachers to tell them they are special.
For bonus entries:
Follow @AskMamaMOE on Twitter (leave your Twitter handle in a comment below)
Follow @Hallmark_Canada on Twitter (Leave your Twitter handle in a comment below)
Tweet this giveaway with the message: "@AskMamaMOE & @Hallmark_Canada have a #giveaway perfect for mama http://bit.ly/TgBXy2" (1 entry for every retweet, please leave a link to the tweet in a comment below each time)
Mention this giveaway on any other social media platform you like (be sure to leave a comment with the link, also 1 entry per day)
Subscribe to AskMamaMOE.com (leave your email in a comment below)
The giveaway will end at 11:59 PM on Wednesday, May 26th, 2014. The lucky winner will be notified by e-mail. Open to Canadian residents only. Remember to include your e-mail in all entries!
Good luck to all!
I hope these ideas help you with your gift giving for mamas and teachers this season 🙂
Disclosure: As a Hallmark Press Pause blogger, I was compensated with products for review. All opinions as always are honest and my own.