Families all over are waiting for the opening of Disney's new live-action film, The Little Mermaid, out exclusively in theatres May 26th. I had the absolute pleasure of seeing it in advance during a pre-screening last week and I have been biting my tongue ever since. This might have been one of the hardest films to keep my mouth shut about until I was allowed to share. Is it everything it is hyped up to be? Will you enjoy the reimagining of the classic animation? I break it down for you without any spoilers.
What is Disney's The Little Mermaid about?
Here is the synopsis:
"The Little Mermaid," visionary filmmaker Rob Marshall's live-action reimagining of the studio's Oscar®-winning animated musical classic, opens exclusively in theatres nationwide May 26, 2023. "The Little Mermaid" is the beloved story of Ariel, a beautiful and spirited young mermaid with a thirst for adventure. The youngest of King Triton's daughters and the most defiant, Ariel longs to find out more about the world beyond the sea and, while visiting the surface, falls for the dashing Prince Eric. While mermaids are forbidden to interact with humans, Ariel must follow her heart. She makes a deal with the evil sea witch, Ursula, which gives her a chance to experience life on land but ultimately places her life – and her father's crown – in jeopardy.
The opinion of changing a classic
First and foremost, I will tell you I am a BIG fan of the 1989 animated film. The Little Mermaid came out when I was a kid, at the height of my absolute adoration for musicals and magical Disney stories. I saw The Little Mermaid in theatres, friends. My love has only grown over the years and The Little Mermaid has remained a treasure to me, with its songs embedded in my heart and soul. I feel like you should know that going into my review – I could easily be an audience member that is fixed in my ways when it comes to the songs, the characters, and the story.
It seems that many people have fierce opinions when Disney comes out with reimagined films. If storytelling has taught me anything, it is that stories can be changed and recreated, for the sake of art. I tend to think of reimagining as creative new takes on stories that we know and love. For example, look at Shakespeare's plays. They have been rewritten, recreated, and turned on their heads through the years in songs, movies, paintings, and plays. Some have been amazing, and some have been odd, but people have had fun making something new out of something old. That is what art can be, without any ill-meaning. Might I add, Shakespeare spearheaded taking a story and making it into something different since we know now that most of his stories were taken from others.
One more thing, folks. We are talking about an animated film here. Let's not hold too tightly to The Little Mermaid from 1989 without understanding what it is – a story retold by Disney from author Hans Christian Andersen written in 1837. Here is what I love about Disney stories: from the moment Disney films come out (even before) little kids and big kids start to make it theirs. In the form of costumes, songs, paintings, even Circut styled t-shirts for goodness sake!
And I'm here for it all, without judgment or criticism. Okay, enough about that. Now, onto the movie.
New Songs, Old Songs
Anyone that knows the animated version will be looking for the classic songs to be sung and will want to sing along with every word. This is not a spoiler because it has been shared already in the news, and the new soundtrack is already out, but some songs have been adapted, one has been excluded, and new songs have been created. You will absolutely hear Part of Your World, Under the Sea, Kiss the Girl, and Poor Unfortunate Soul (all these songs come from this one movie!!) Les Poisons is not in the new film, something my son will be upset about as it is one of his favourite songs.
Even though I had not seen the animated film for years, the songs came back to me like a fond friend while watching the new movie. I was able to notice there were differences in the words, but not enough for me to be sidetracked. Alan Menken originally scored the songs with the late Howard Ashman and went on to win two Oscars for their music for The Little Mermaid. Now, in this new live-action film, Lin-Manuel Miranda has collaborated with Alan Menken to create new lyrics. Read that again. I'm telling you, I didn't think it was possible to change these songs and love them…but trust, they have an update with more fun and more depth. I will still always adore the originals, but these songs have the perfect update for 2023's new The Little Mermaid.
The two new songs that had me singing after the movie ended are Wild Uncharted Waters sung by Jonah Hauer-King (who plays Prince Eric) and For the First Time sung by Halle Bailey (who plays Ariel). As well, The Scuttlebutt sung by Awkwafina and Daveed Diggs (who are the voices of Scuttle and Sebastian) will have you laughing out loud. Your kids will love Scuttle rapping and you will recognize that Lin-Manuel Miranda touch in this song for sure.
The songs in this new live-action have more storytelling about your favourite characters. If you wanted to learn more about Prince Eric and more about Ariel's feelings, you've got it in this movie. New audiences of little ones will not have anything to connect or compare but adult audiences that grew up with the memory of the animation will truly love the additions. Disney does what it does best – it pulls on your heartstrings. I cried throughout the movie (but in a good way!).
New Cast, New Voices
I suppose I have been living under a rock because I did not know who Halle Bailey was before this movie. I had not heard her sing before this film. Between her and her sister, the duo has earned five Grammy nominations, and clearly for good reason. However, without knowing anything about this incredible singer and actress beforehand, I will say she blew me away. Her voice is stupendous, and she has a strength in her range that made my jaw drop!
The song, Part of Your World has had many renditions over the years. Jodi Benson originally sang it for the animated film and her voice is the one we most recognize. Benson's Ariel is the one that audiences know and love. Halle Bailey did not try to sing like Benson. Instead, Halle's Ariel, like this reimagined film, is new and unique. She brings a new voice and new depth to Ariel and it's wonderful.
This film is filled with incredible voices, some I would never have envisioned. For example, Melissa McCarthy as Ursula seemed like a perfect fit when I saw the trailer. But McCarthy's voice?! That was a fabulous surprise! Daveed Diggs is the voice of Sebastian and this Tony Award winner sings Kiss the Girl and Under the Sea in a new and fantastic way. Jonah Hauer-King as Prince Eric has an amazing voice and a new song you won't soon forget.
I would be remiss to not mention Canadian actor Jacob Tremblay as the voice of Flounder. It was a pleasure to hear him bring new lines to this famous Disney fish we all know and love.
Is The Little Mermaid safe for kids?
As I always say, you know your child better than anyone, and each child watches a different range of movies at different times without getting scared. That said, please remember this is a live-action film where everything looks real. Mermaids are real, pirates on the ship that catches flames are real, talking fish and crabs are real, and Ursula is very real. At least it is for children. So, if your young child has seen the animated version of The Little Mermaid and was scared when Ursula becomes big in the sea and tries to hurt Ariel and Prince Eric, this will frighten them. The trailer has not done the movie justice with the realistic CGI and green screen effects – they are outstanding. That can give you perspective knowing the story and what will be shown on the big screen.
I will say this is an amazing reimagining of the original classic that tweens and teens and yes, adults that watched The Little Mermaid as a child will love. Go into the movie expecting to be amazed, surprised and full of emotions.
Representation Matters
As mentioned above, there has been tireless talk about how this Ariel does not look like the Ariel in the animation. Nope, she doesn't. And it shouldn't bother you one bit. In fact, it should make you feel very, very proud that cinema is moving into a much-needed direction with people of all colour and ethnicities being represented in film. On my recent trip to Walt Disney World, I got to see the merchandise in store for the new film. The Disney store looked so different from the store I remember when I was a kid. I am a Caucasian woman that remembers that about my childhood. Now, imagine if you will how incredible it is to walk into a store and see Halle Bailey's Ariel, representing a strong, independent princess today. Moana, Mulan, Raya, Coco…what a beautiful sight it is to see! Bailey had the challenge of taking on a role that audiences knew and many have voiced they wanted to stay the same. Again, I will encourage you to see Ariel today, not 1989 animated Ariel. Both are wonderful, beautiful and strong young women. There are two scenes in the film I will not soon forget, where representation is shown with a nod to inclusivity and belonging. I truly hope that is what audiences come away with from this film.
Worth mentioning
"The Little Mermaid" is directed by Oscar® nominee Rob Marshall, and produced by two-time Emmy® winner Marc Platt, three-time Tony Award® winner Lin-Manuel Miranda, Emmy winner John DeLuca, and Rob Marshall, with Jeffrey Silver serving as executive producer. Now, I will say these are the names you might recognize because of their incredible work in the Disney films you love. But as a note of mention, I wanted to acknowledge the slew of people that worked on this movie that make the credits at the end, but you might not know by name. Hundreds of people worked on this movie. The film itself took over five years to produce. Don't forget about that snag they faced in 2020. This movie has so much to be celebrated for and I can't wait to see it again with my three boys. I am so excited for you all to see this movie.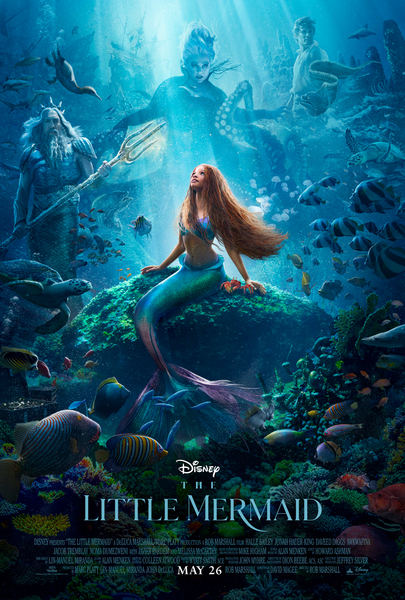 Disclosure: I was invited to the pre-screening to facilitate my review. As always, all onions are honest and my own. All images provided by Walt Disney Studios.