Have you heard about Cottonelle's #LetsTalkBums campaign? It's all over social media. It's cheeky, to say the least! 🙂  The lovely Amber Rehman (a.k.a. @amberzcorner) and I were honored to partner with this awesome brand and their fun campaign during Blissdom Canada 2013. We're going to show you two sides, I  mean, perspectives of how fun and useful the #LetsTalkBums campaign really is.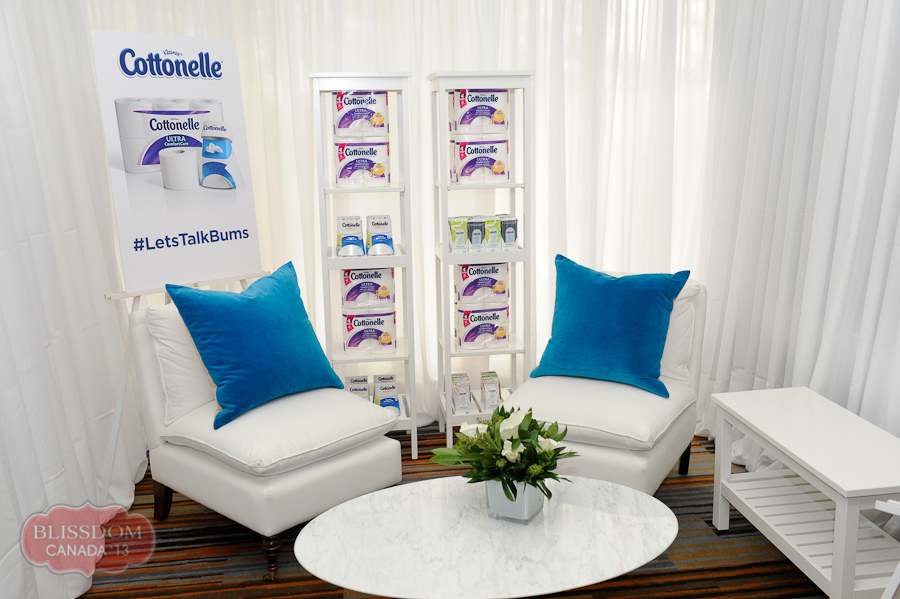 The Conference Side by Amber
Blissdom Canada took place two weeks ago in Toronto, and brought together 400 bloggers, entrepreneurs and more. I'm now in conference withdrawal since it ended. I keep walking around my house expecting a sponsor to hand me some yummy treat or a massage… but it just ain't happening.  Yes, we got spoiled.
As we went from session to session, learning how to work, create and change our businesses, we passed by the Cottonelle booth, which conveniently offered a place to sit, chat, enjoy refreshments and enter giveaways. Cottonelle's #LetsTalkBums booth was there to inform us of their new product, and was very generous with swag, and gave out tons of samples to promote their new wet and dry routine.
The conference bathrooms got quite the makeover with Cottonelle wipes added to every stall.  This was very appreciated by all that walked into the restrooms.
When we were done with all the inspiration from the conference, boy were we tired.  Lucky for all 400 of us, the last event of Blissdom was a pajama party, and Cottonelle as a sponsor, had set up a spa stations for everyone. A manicure and amazing massage topped off the bliss we experienced over the weekend. Thank you Cottonelle for spoiling the attendees all weekend long!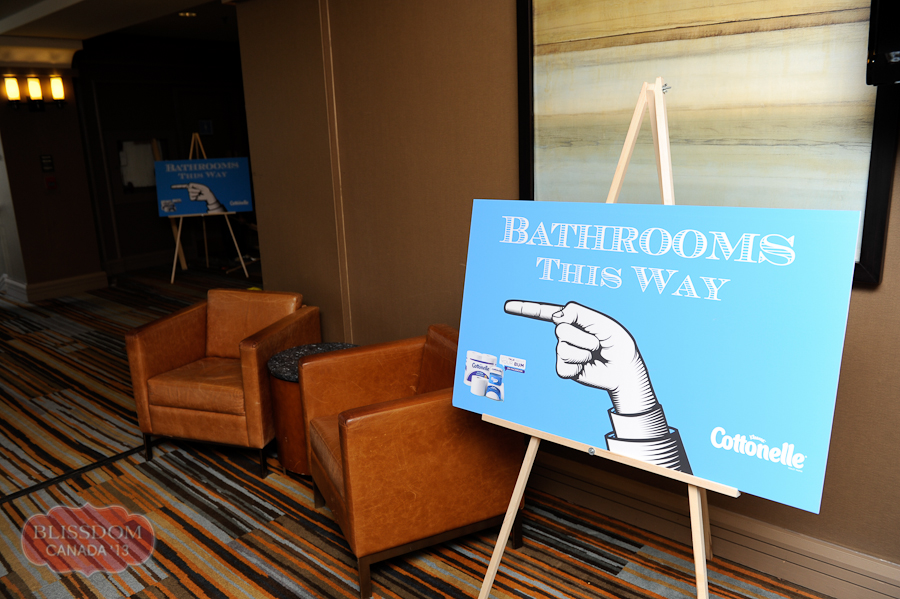 The Family Side by Julia
When I had my first child, I was very intent on getting the healthiest choices of baby products on the market. For the longest time, I used wash clothes to clean up my little one's behind, and dealt with the fact it was going to take a lot of time and effort. In fact, I even considered cloth diapers for my second and rationalized it wouldn't be too much of a leap from wash clothes all day.
Then I found out I was having twins.
And my little one was not even two years old.
My viewpoint changed pretty fast, I have to say. Honestly, I was upset I wasn't going to follow through, but I knew I needed my sanity more than anything, and quick and convenient was going to be the rule of thumb.
Now my three little ones are older and my twins only need diapers at night. What a relief! It's a special time when diapers are not part of your daily routine, especially when three were in them for more than three years at the same time (!).
One thing I always have on hand now, and always have, is wipes. We've graduated from baby wipes to on-the-go wipes in small packets, perfect for the purse. I always have them on hand for any mishap, and I absolutely use them when we're at any public bathroom. I've been using Cottonelle on-the-go wipes for a couple of years now.
Here's why I'm so happy with them now:
Flushable (which means sewer and septic safe)
No alcohol
Perfect size for purse
Great packaging designs
Psst, great for mamas too!
What can I say? To get that confident and fresh feeling, Cottonelle Fresh Care wipes are the way to go for the whole family. I'm really happy to know the wipes I have been using already are now flushable. To see a video on that, click here.
If you are looking to win some great Cottonelle prizes and get in on this #LetsTalkBums chat, there is a Twitter party happening tonight, October 17th! To RSVP and get all the details, click here. Amber and I will be there!
Please note: Some of the pictures used in this blog post were taken by Blissdom's amazing photographer, Anna Epp.
Disclosure: Amber (@amberzcorner) and I (@AskMamaMOE) had the pleasure of attending Blissdom Canada 2013. And we wanted to thank Cottonelle for sponsoring our behinds (pun intended) for the most inspirational blogger conference of the year.