There are still a couple of weeks left before summer is gone so make the most of it! How about taking a trip to the beach? We are! We've been dreaming about it since we booked the trip over a month ago! The sand, the ocean, the waves, the picnics, we can't wait! We're going for one week but with three little ones, there is SO much to think about! I'm planning my strategy for packing today. I have created many lists in anticipation. All necessities have been purchased, now I just have to get them in the luggage…sigh. I'll be posting pictures while we are gone for you all to see.
TIP
When going to the beach, try to get there early for lots of reasons. First, it will assure you first dibs on a great spot on the beach to set up, first dibs on shells that have made it to the shore, and a little peace before the crowds come. Also, getting there early will allow you to park your car closest to the beach which will help if you want to leave some things in the car, or if you have to go back to the car for any reason.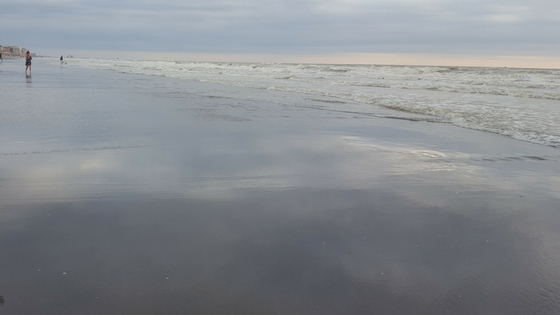 Here are some lists for the one week away. If you are going to the beach as well, I hope this list helps you and your family too!
LIST #1 – For the long drive there:
– New activities and toys. Get a plastic bin or box, not see-through, and pack it with great new things to keep them occupied during the drive.
You'll have to gauge what will be good for your kids depending on their age and level of independence and attention, but here are my surefire winners for my kids right now (toddler level):
– new board books
– new board books with sound buttons (one at a time and when all are awake!)
– drawing boards with magnet pen
– wipe-clean books with dry board crayons (Usborne anew collection!)
– audio books (Usborne and Audible)
– little toys to hold
– music for the car
– LAST RESORT: DVDs or downloaded PBS & CBC Kids shows
– pillows for around the neck when little ones are sleeping
– lightweight blankets (use beach towels to save on doubling up)
– some sort of shade for the windows (blankets still work best!)
– water in car cup holders for all children and Mama and Papa MOE
LIST #2 – ABSOLUTE MUSTS:
– 50-60 SPF sunscreen for body and face
– sun hats that cover the back of necks
– sunglasses
– beach shoes to eliminate cuts of shells or rocks
– beach toys (shovels, buckets, etc)
– umbrella or shade tent
– picnic blanket (JJ Cole has a great one)
– large cooler with great wheels to role on the sand
– cooler just for water with a nozzle (add ice in the morning)
– beach towels
– portable potty (for little ones when they get out of the water) (this can be very discreet in your car or covered with beach towels)
– first aid kit
– Benadryl spray
– aloe vera (in case of a burn…)
– garbage bags
LIST #3 – The Cooler:
Packing a cooler is a bit like playing that 80's game of Tetris. You have to be clever if you going to get all those things in there, no matter how big your cooler is! You also want to make easy access to the things your family will want first (snacks, drinks).
– ice packs, ice and already frozen water bottles or juice boxes
– Yoplait tubes, frozen ahead of time
– sandwiches
– chips (on top!)
– crackers or fish crackers
– macaroni salad (for Papa MOE who doesn't so much like sandwiches)
– hard boiled eggs, shell already removed
– mayo and ketchup packets
– peanut butter & jam packets
– apple slices, cut oranges, washed grapes, cut watermelon, pitted cherries
– reusable plastic utensils
– reusable plastic plates & bowls
– sippy cups, reusable plastic cups
– wipes / washcloths
– bibs
So remember to check back here for picutres of where we are and make a comment on the date you see it. Good luck and Happy Summer!