I had the pleasure of attending the media event for the inauguration of the Frida Kahlo exhibition in Montreal. Frida Kahlo: Life of an Icon, is an incredible journey into the life of the world-renowned Mexican artist.
Following unprecedented success in Spain, the exhibition will tour the US and Montreal will be the only Canadian stop before continuing onward to Latin America. The exhibition is like no other, and everything about it will leave you with the feeling of having had an experience, and not just viewing it as a spectator. This is absolutely the takeaway I wanted to share in my review, because it is so important when introducing children to art. Of course, taking children, young and old, to fine art museums has its place, and certainly can spark inspiration, but this is different. Learning about the artist in this exhibition is far different than reading about her in an art history book or the small writeups beside her paintings.
This is an immersion, full of movement, collaboration and fun.
There is something to be said about the brilliance of taking an already iconic and very Avant-guard artist such as Frida Kahlo and creating a living, breathing world that would likely be something she created in her mind. Produced in North America by Miami-based Primo Entertainment, expect to be amazed with digital art, historical photographs, fashion, music, projections that fill a room and virtual reality experiences.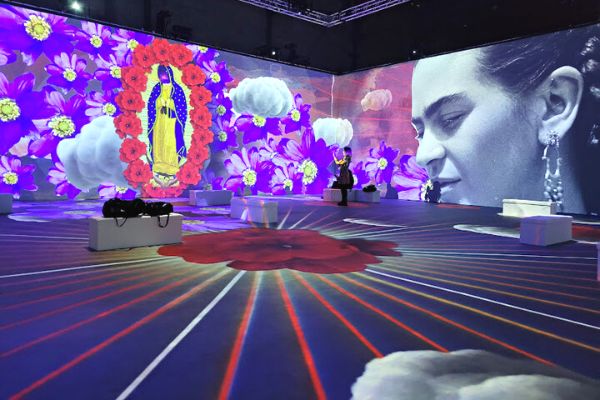 Frida Kahlo, The Life of an Icon is a co-creation of the Frida Kahlo Corporation and Layers of Reality – the renowned digital arts centre in Spain. This truly immersive biographical exhibition of the artist utilizes seven different transformational spaces enabling one to enter into the life and work of the Mexican artist who, in the 21st century, continues to be more relevant than ever.
What you will not see at the exhibit
You will not see Frida Kahlo's art. There is not one single painting of Frida Kahlo in this exhibit. This was intentional. This exhibit is a way of introducing yourself to Frida Kahlo's life, her struggles, her passion and her inspirations. There are many pieces to read, many videos to watch, and all of that helps you understand who Frida Kahlo was. Her life experiences gave birth to her art, her signature style and her shocking portraits. Unlike the other newer exhibits for artists like Van Gogh and Monet that projected the art into the spaces and had them move (which is also interesting in itself), this is a creation of what inspired other artists in the likeness of Frida Kahlo. The creativity is bursting in every space of the gallery exhibit and they are all unique and interesting on their own. Together, they tell the story of the artist.
Why tweens and teens will love it
Experiences are what we all seem to crave now more than ever, especially since our world shut down for over two years. Add to that, the love that tweens and teens have to taking pictures, selfies, hearing new music and seeing new (to them) fashion and you have the perfect recipe for an immersive art day.  Take all the pictures with them, jump into the frames with them, colour Frida portraits with them and have a chat, enjoy the mosaic photo booth and scan your QR code to share, this is a wonderful experience not to be missed with your tweens and teens. And absolutely, when purchasing your tickets, get the additional VR experience because it is wild and incredible. They will love it.*
After the exhibition
When you are home, find Frida Kahlo's art and look at it with them; they will appreciate it way more after the exhibition. They may have even seen some of it already without knowing her name. Or perhaps they have seen the famous eyebrows and flowers in the hair on t-shirts or water bottle stickers. Frida is everywhere. I, myself happen to have leggings created by a Montreal artist inspired by Frida Kahlo and I love them. As well, find the music you heard! Musician, Rafel Plana reached out to me directly, after the exhibit and I have since downloaded the music he created exclusively for it. It will bring you back into the spaces you saw, I love music for that.
One final thought
This is the future of art interpretation and exhibitions and I'm here for it. This new and improved art lesson is a fantastic way to introduce artists to children, tweens and teens, and let's face it, adults! We fully enjoyed ourselves and I will be going again with my children. Art galleries are not the first thing my boys gravitate to, so their may be reluctance, but as I mentioned, this is SO different. This is something they will love, and truly never forget.
For information and to purchase tickets, visit Frida Kahlo Montreal 

To my Montreal readers, great news!
One lucky family will win five tickets to see Frida Kahlo: Life of an Icon , how amazing is that?!
To enter, leave a comment below about your love for Frida. Do you know her work? Maybe you are inspired by her strength as a woman artist that broke barriers, perhaps you don't know anything about her…yet!
For extra entries:
Share this giveaway on social media (Twitter, Instagram, TikTok or Facebook) and be sure to tag me appropriately and leave the link in a comment below each time. You can do this once a day too! Each new share is a new entry!
Check my social media for more ways to enter for your chance to win tickets.
This giveaway is open to Montreal residents. Deadline to enter this giveaway is June 24th at 11:49pm.
Good luck to all!
**UPDATE** Congratulations to Bita Guzman – the random winner of this giveaway.
*You are the best decision maker for your child if they can and will enjoy certain things. However, I would not recommend this exhibit for young children. There are darker moments in the content, and there is an installation that re-enacts Kahlo's accident.  As well, children under 5 will not be able to experience the virtual reality.