Want a new twist to Easter egg decorating? Why not use some washi tape for a unique Easter activity?
Happy Easter, everyone! I hope your Sunday has been filled with peace and joy on this most special day.
Just out of curiosity, did you decorate eggs with your family? Did you use the dyes in the cups and dunk your eggs in different colours? A couple of days ago on Twitter, this conversation started about hard boiled eggs versus blown out eggs, and it got me thinking, I should probably share my easy trick for decorating Easter eggs with little ones.
Easter Egg Decorating with Little Ones
If you thought the task was too daunting with little hands, decorating eggs can be super simple and very beautiful. Don't get me wrong, I grew up dying eggs, and I loved it. In fact I am looking forward to doing that again in the future. But I discovered that at this stage, my little ones just weren't ready for it. Last year we dyed out eggs, and to be honest, although it was very exciting at first, the kids lost focus and interest after a while.
The Magic of Washi Tape!
So this year, I tried something new. It all happened with Washi tape and some white plastic eggs.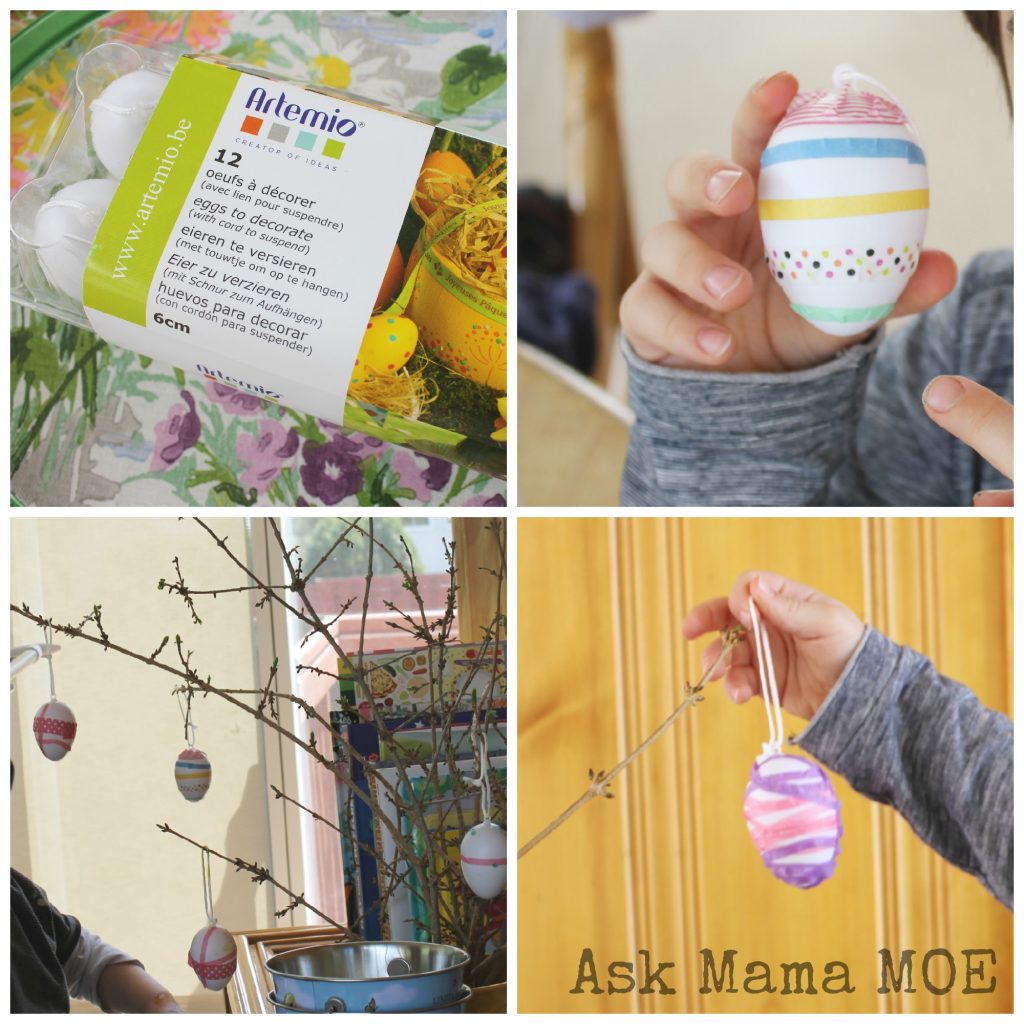 Washi tape is my all time favourite decorating tool, especially for young kids. If you are unfamiliar with it, Washi tape is a simple and easy to tear decorative tape, made of a natural fibre (usually paper) originated from Japan. You can find every colour and so many designs, the choices are endless. It has some give to it too so you can use it in areas you wouldn't think of, like edges and curved surfaces. As well, the tape can be removed off any surface without leaving a mark, and the tape won't lose its tack enabling it to stick again.  I've used Washi tape to decorate real mini pumpkins, frames, and I even use it to hold up photos and drawings on my stainless steel fridge!
So if you are looking to do a craft with young children where glue and/or paint might be the first choice, I suggest using Washi tape in a pinch.
The Kids Will Love Their Creations!
It's also worth mentioning, the kids were very proud of their creations. We had even tried a few other crafty ideas for decorating, but they were the happiest with their Washi taped eggs. In no time at all, they had beautiful eggs ready for hanging on our Easter tree (with no dry time either).
So tell me, are you a Washi tape fan? How did you decorate your eggs this year?
By the way, if you are looking for more inspiration for Washi tape crafts, the place to look is Pinterest. You will be blown away by some of the creative ideas!
For more creative Easter ideas, check out these blog posts:
Happy Easter!