I've had the great opportunity to travel through different parts of Europe for festivals and special holidays while my husband and I lived in Italy before our children were born. I've wanted to write about those experience for some time, so I thought, what better time than the start of a new holy season?
Shrove Tuesday or Mardi Gras as some know it, is a celebratory day with parties and delicious food. It has become a day of over-indulgence before a fasting begins on Ash Wednesday; the start of Lent and the 46 days before Easter. Literally translated, "carnevale" comes from the Old Italian word, "carnelevare", meaning to remove meat (expressing the fasting period).
The Tradition
It is tradition to have pancakes on Shrove Tuesday. The reason dates back to a time when people would use up their fatty foods (butter and milk) before the start of Lent. Still today many people celebrate Shrove Tuesday by having a pancake dinner, and most churches have community dinners in their parish halls. We always have a family pancake meal and the kids think it's so fun to have breakfast for dinner.
The Celebration
With water all around you and buildings dated back over hundreds of years, going to Venice on any given day is like stepping back in time. But going to Venice during Carnevale is magical. When we lived in Italy, one year Valentine's Day landed during Carnevale so we took a road trip to Venice and it was just amazing. The celebrations go on for about three weeks before and end on Shrove Tuesday with a massive event in the San Marco square. To say it was crowded was an understatement, but it was well worth the trip. There was so much to see!
Top Things to Do During Carnevale in Venice
Go mask shopping – Although there are masks found in pretty much every souvenir shop in the city, do a little more searching to find a real mask maker shop. There are a few near the center of the piazza. There, you will find masks being prepared, detailed piece of artful and if you are lucky, you can talk to one of the artists as well.
Bring home a print – Venice is also known for its beautiful paperwork, specifically marbled paper. You'll find it in most shops, along with beautiful watercolours and prints. It doesn't cost too much to get an original piece of artwork, so we bought with a mini piece and framed it at home.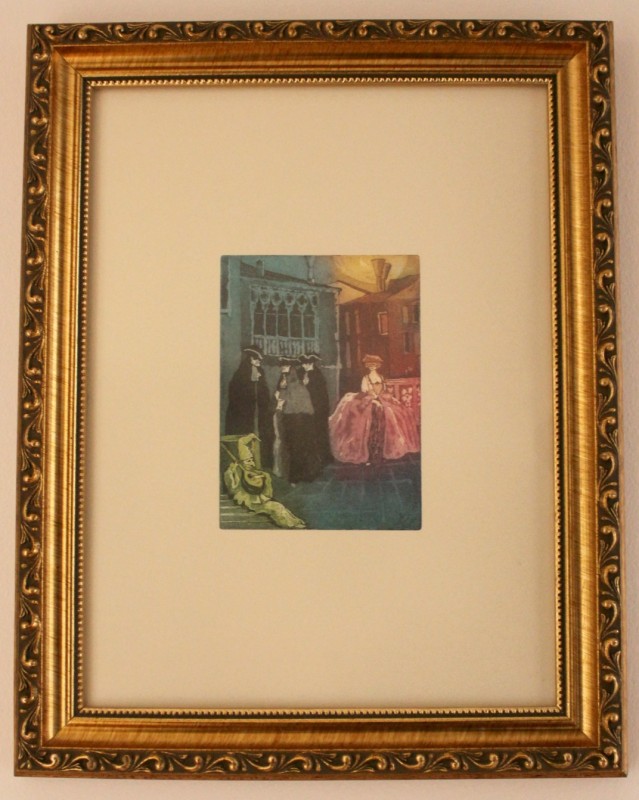 People watch – enjoy the costumes of all that participate in this great celebration. This is also a chance for Italian children to dress up as well (kind of their version of Halloween) so if you are there with your children, bring their Halloween costumes.
Visit San Marco Basilica all the way up – the cathedral is a work of art and worth taking time to visit properly, but be sure to also take the stairs up to the balcony. The view from above is breathtaking.
Have Coffee at the Florian – there's nothing like it. Sit in a booth and admire the interior design of this centuries-old cafe. Try the traditional Venetian pastry called "fritole" (fried pastry dough, usually filled with zabaglione cream).
Attend a live performance – there is so much going on in the city year-round. For Carnevale, Venice has an outdoor lineup every day for about three weeks. If you visit their tourism site, if will give you the full schedule. It's also worth it to check the Florian Opera House schedule as well. Even if you never see a performance there, just go see the opera house! It was newly renovated in 2003 and it is outstanding.
Bring the Spirit of Carnevale Home
For children, Carnevale is a great reason to have a mini celebration at home. Aside from pancakes at dinnertime, here are a few other ideas for you:
Make an easy paper mask with stickers, glitter and feathers
Make dinner festive with paper streamers and confetti at the table
Set the tone with music – do a quick search on a streaming station like Google Play to find a playlist for Venice Carnival music
We are actually planning to take our children to Venice this summer. So we will be able to relive some of these great memories and make new ones with the kids.
For more information and to experience a bit more of Venice from home: