My oldest, who is only four as I write this, is finishing his second session of classes with Coach Matt from the company, Sportball. He was just three when he started and he absolutely loved it. The first day I took him, his eyes lit up. And to be honest, so did mine!
As anyone with little ones knows, their attention span is lacking because they are just too full of excitement for everything life is throwing at them! My guy is extremely social and very talkative, so when I signed up for a 45 min sport class for him, I was reluctant to think it would actually be worthwhile. We had tried other classes before, dance, sing-alongs, but this seemed different.
"When I say go, run to the yellow cones, one two three spaghetti! Ah! I got you!! "
And my son laughs. "Can you say 'nice try Coach Matt'. Say 'I can do it!'"
When the children repeat what the coach says it locks the method in their mind and keeps them focused.
Coach Matt continues: "I went to the movies the other day and I bought this big container of popcorn. But you know what happened? I tripped and my popcorn fell all over the floor. Are you going to help me pick up all the popcorn?" And at that, the coach lets a big container of soft tennis balls fly out for the kids to pick them up – and as they run around, getting their little hearts pumping, they don't have a clue they are actually working out, let alone, doing a chore….now how can I incorporate that into cleaning up the toys at home?
"Can you fly like an airplane back to the magic line?" and my son zooms over. Ah, the magic line, I need one in our house.
Today was basketball.
First warm up, then "I'm gonna stretch, say stretch! I'm going to dribble, say dribble!"
It helps with self motivation and confidence, fair play and sharing.
My son has a lull: "I'm not a good dribbler." Coach Matt is up and at it: "Come over here buddy, because you are an excellent dribbler!" A little bit of one on one, and he's back on track.
Not listening is big right now, not wanting to do what we ask him…but Coach Matt has the patience of Jobe. My guy is in a very small class of three children, but they have classes as big as fifteen! God help him when he teaches those.
I listen in some more: "Do you know who this is, pointing to the cone, it's the green goblin! And you are Spiderman, you have to dribble the basketball through the enemies of Spiderman! You're doing amazing buddy! Great job! Fantastic!!"
Matt, along with all the other coaches, has an upbeat, positive, cheery tone, with smiles. It really makes these kids get excited even about picking up after themselves! "It's not a competition, we all did great!"
"Let's bring all the basketballs back here!" Suddenly the bag for the basketballs turns into a munching monster and Coach Matt makes a munching sound for every ball that goes into the bag.
"You can do it, buddy! High-five!"
Things like getting all the pizzas (basketballs) into the chimney (hula-hoop over his head) to get into the house to eat, gives a great imagination to the games that provide the skills to learn a sport. In this case, they were learning how to shoot.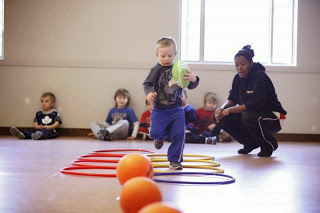 Multilingual at that, the class has both French and English children so Coach Matt does the class in both French and English,  and wouldn't you know it, my guy has already figured out certain words in French because of it. All good stuff. That will give him that much more of an advantage when starting school which is over 80% French in Montreal.
"We're going to take the ball with two, hands, say two hands! Dit deux mains!"
"Great try, let's try that one again."
Parents can either stay on the sidelines or leave for the time of the class. My husband and I have done a bit of both. Generally, since he's so young, I stay to keep an eye on him, if he needs me to go to the washroom or if he's had enough. But he doesn't tire of the class unless he's had trouble sleeping the night before or something of that nature. And I like to cheer him on too!
Classes run for eight weeks and are scheduled throughout Montreal. Ages of classes range from two years old to 14 years old.  They even have after school classes at the public elementary schools now. A great addition since gym is now becoming less scheduled in schools.
Integrating superhero characters and tasty foods kids like helps them enjoy the sport in their own kid-friendly way.
My son asks why he has to do the jumping jacks. Oh no. "Do you know why Spiderman is so strong? Because he practices his jumping jacks." Nice save, Coach Matt.  Want to come over to our house?
The best thing about the classes is that children have a sense of accomplishment after each and every class because each class focuses on a different sport.
The end of the class draws a close with a circle review of what they learned and a cheer.
At the end of the session, children get a ribbon and a certificate and my son's is hanging in his room. One of many more participation ribbons to come I'm sure, but this was his first and he shows it off with pride when friends come over.
To find out more information on Sportball classes near you, visit their website, www.sportball/quebec.ca
Sports that are covered in the classes:
Soccer, Basketball, Volleyball, Baseball, Ball-Hockey, Football, Tennis, Golf
I have received no compensation from Sportball in any manner. I just really wanted to share my great experience with you all.