We were invited to enjoy the fall weather and a beautiful road trip experience, thanks to Ford Canada. Part 1 of this experience can be read by clicking here.
After our visit to the bird sanctuary, we drove about a half an hour to get to Upper Canada Village before Pumpkinferno began to have dinner on the grounds. This was a really nice way to arrive early, have a delicious meal and avoid the large lineup as soon as Pumpkinferno opens in the evening.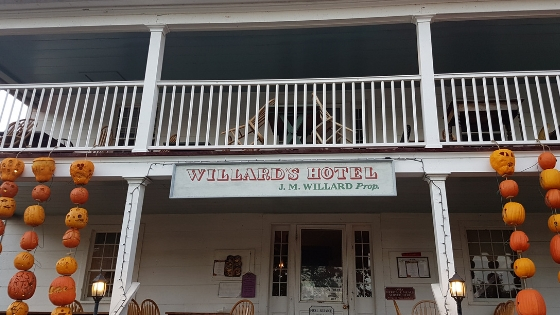 Dinner at the Willard's Hotel restaurant had a set menu and seating at 6pm. Originally an inn, the restaurant's building is over 200 years old and each room is set for just a small amount of people. Decorated for Halloween, the restaurant was pretty creepy, but in a fun way! We had tasty choices for our meals, and I picked a delicious minestrone, chicken with mushrooms sauce and a brownie cheesecake for dessert. The meals are set at $35 for adults and $25 for children, which includes everything, as well as a non-alcoholic drink. It was a splurge, but we were happy to have this special family meal together on a Sunday evening.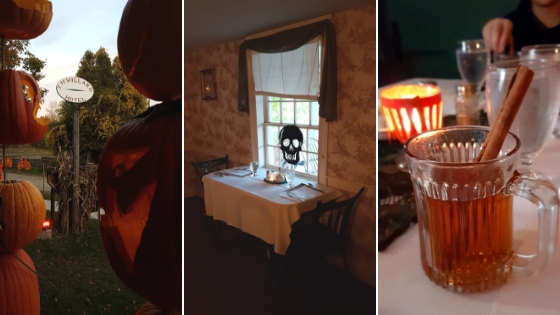 With full tummies, we were ready to get out in the cold air and walk through Upper Canada Village to see the 7000 carved pumpkins in the dark. Without having to start at the beginning, we started our walk right from the restaurant and enjoyed every single scene, without a wait.
It was a such a pleasure to not rush through a dinner or have something from a drive-thru to get to Pumpkinferno from Montreal in time.
After an almost one-hour walk through the pumpkins, we were ready to return home. Even though it was Sunday night, we managed to get home at a reasonable time before a school night. We even let the boys watch a little bit more of their Halloween show on our return in the Ford Expedition to extend the special experience.
As a driver and a passenger, I can tell you I was pleasantly surprised with the comfort and smooth ride of the Ford Expedition. Knowing that the Expedition is built on an F150 frame, I had imagined a pretty rough ride, but that wasn't the case.
Eco-friendly and pickup truck maybe don't sound like two things that go together, but the Expedition is a great fuel-efficient car (20 mpg-lmp) equipped with a 3.5L EcoBoost engine. It took some getting used to as I would stop at a red light and literally feel the car turn off. But the eco-friendly feature is what gravitated me to the Expedition to test drive it.
In today's world, finding a car that is better for the environment should be a top priority and Ford is making that easier for all customers.
As far as a luxury, comfort car goes for a large family, this is amazing for each of the seven seats. The Expedition's best feature is the spacious interior and comfort, more than other SUV and minivans. For our family of five, we lowered the sixth and seventh seat in the back in order to make more trunk space for our luggage.
If you are looking for a car for road trips, and every day use, you will feel so secure, comfortable and luxurious. The seats are a pleasure to ride in. Just a note if you are a seven-person family that travels, there is not much trunk space (I would say two large pieces of luggage, max). That said, as a family of five, we were able to hold our weekend luggage well.
The other features we all greatly appreciated were the Panoramic Vista Roof, the 360-degree camera with split view (with a satellite view from above, what?!), seat warmers were a great bonus as well as the weather is beginning to turn colder in Montreal!
We enjoyed every bit of this family getaway experience. We did something old, something new, had outdoor fun and a sweet ride. It gave us all a refreshed and rejuvenated feeling to face the colder days and school routine ahead. Having decided to extend our trip with a stay-over in Cornwall made the day full of fun and the drive less tedious to go back and forth in just one night. If you can manage a weekend getaway, this is truly a sweet location.
Disclaimer: My family and I were invited by Ford Canada to experience this weekend getaway. All opinions, as always are my own.